With a history of violence, Balochistan Liberation Army has always been in the news for all the wrong reasons.
What started as a Soviet proxy soon gained momentum as a separatist movement with its ties and linkages to the Indian spy agency RAW and Iran.
Today, the group remains as a terrorist organisation and most of its leaders living in self-exile across European countries.
Narratives takes a look at what went into making BLA what it is today.
Inception
Balochistan Liberation Army or Baloch Liberation Army (BLA) is a terrorist group fighting against Pakistani state to make Balochistan an independent country.
The original BLA was formed back in 1964 as part of Soviet Union's plan to expand into Pakistan and Afghanistan. Its inception and leadership was inspired by communist philosophy.
The military, in a counter-insurgency campaign during the 60's and 70's had defeated all the armed proxies of Soviet Union in Balochistan including BLA. Nawab Khair Bakhsh Marri, BLA's key leader, then fled to Afghanistan and lived there till 1992 when Soviet-backed Najibullah government was overthrown by the Mujahideen.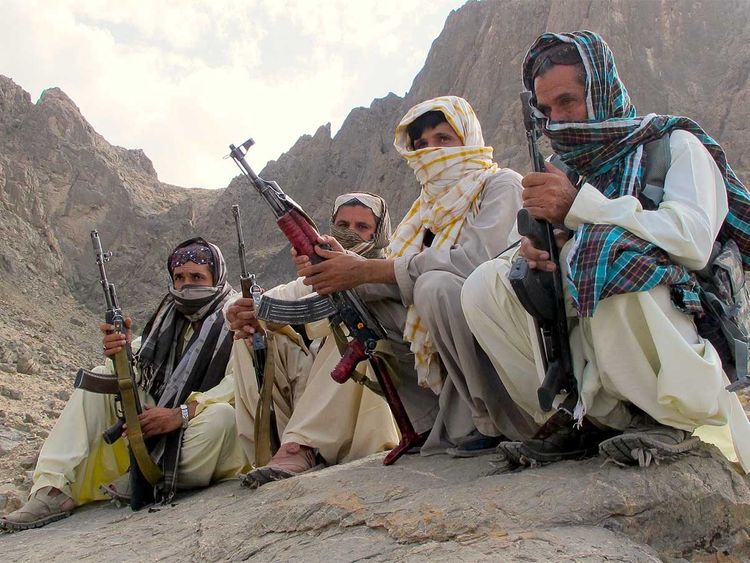 With the demise of Soviet Union, its proxies in Pakistan also vanished overnight. However, with the start of war on terror separatist armed struggle in Balochistan was reignited by the next generation of Baloch leaders. BLA was resurrected by Nawab Balach Marri— one of Nawab Khair Bakhsh Marri's sons— in 2000 and carried out its first attack. Until his death in 2014, Nawab Khair Bakhsh Marri remained an ideologue of the group promoting Marxist ideologies among his followers. Nawab Balach Marri was killed in Afghanistan in 2007 and Nawab Harbyar Marri, another son of Nawab Khair Bakhsh Marri, took over the reins of BLA. He was living in exile and always denied his involvement to justify his political status in Europe.
2010 saw the first defection in BLA when Harbyar Marri's brother Mehran Marri defected and formed United Baloch Army. BLA chief Harbyar Marri had accused Mehran of fund embezzlement. However, Mehran, the alleged head of UBA, had denied the allegations saying the differences were due to Harbyar's authoritarian attitude and disregard for senior commanders of the organisation. There is also a general impression that Mehran had the support of his father, the late Nawab Khairbakhsh Marri.
In October 2021, UBA split into two more factions when differences arose between UBA spokesman Sarfraz Bangalzai alias Mureed Baloch and central commanders, including the head of the organisation. On October 2, 2021, another UBA spokesman, Mazar Baloch, issued a statement saying that Sarfraz Bangalzai had been fired for violating organisational principles and that Mazar Baloch would be the only UBA spokesman.
In response, another spokesman for the organisation, Mureed Baloch, announced that he was being punished because he was pressuring UBA to join the alliance of Baloch Raji Ajoi Singer (BRAS) in the wider national interest. But Mehran did not believe in unity.
Mureed's UBA and Gulzar Imam Baloch's BRA later merged to form the Baloch Nationalist Army and became part of the BRAS Alliance.
Major Split in BLA
In 2017, the Baloch Liberation Army once again had to face internal administrative differences, as a result of which the leadership of the organisation for the first time came out of the Sardar family into the hands of an ordinary Baloch commander Aslam Baloch alias Aslam Achu also known as General Aslam among the militant circles. Without naming the chief Harbyar Marri, Baloch Liberation Army spokesman Jayand Baloch said in a statement in 2017 that the organisation will have no representatives in London, Europe or the United States. However, the BLA faction loyal to Harbyar Marri declared Aslam Baloch and others as rebels. The spokesman Azad Baloch accused Baloch Liberation Front (BLF) and Iran to conspire against the main group. Currently there are two BLA groups. The most lethal and active one is the one which was headed by Aslam Baloch and now by Bashir Zeb while the BLA loyal to Harbyar is least active and its only known face is Azad Baloch who claims responsibilities of attacks or issues statements.
Aslam Baloch was the most prominent commander of the BLA and later remained the chief of the BLA until he was killed along with five others in a suicide attack in Kandahar in December 2018.
Aslam Baloch was also the creator and leader of the Majeed Brigade, the deadliest group in the Baloch terror networks. The Majeed Brigade is known for its suicide attacks, which the organisation calls Fidai attacks. The first suicide attacks after Aslam Baloch became leader of BLA was conducted by his son Rehan Baloch which inspired many young educated Baloch youths to join ranks and files of BLA.
Aslam Baloch is also said to be the creator of the Umbrella Organisation and the broad coalition of Baloch militant groups, the Baloch Raji Ajoi Sanger (BRAS), which was formed on November 5, 2018 by BLA and BLF. Later, it was joined by the Baloch Republican Army and the Baloch Republican Guards. Sindhudesh Republican Army has also joined the BRAS in 2021. Factions of United Baloch Army and Baloch Republican Army have united as Balochistan Nationalist Army which is now also a member of BRAS.
Change in tactics with the change in command
When Aslam Baloch became chief commander of his faction of BLA in 2017, he decided that fighting be brought down from mountains to urban areas. Since 2017, it has been witnessed that BLA is gradually increasing its footprints in urban areas. When the command came out of a tribal elder (Sardar) the BLA started to attract well educated Baloch youths too. Thus, it has been witnessed that unlike the past when most BLA fighters were from poor illiterate followers of the Marri tribal chieftains, now the group also has fighters and even suicide bombers from well-educated and well settled families. BLA's ideological nursery is Balochistan Student Organisation Azad (BSO-Azad) which is a banned organisation but works covertly in educational institutions of Balochistan. Its ideologies are mostly derived from communist/Marxist teachings.
Previously, BLA used to carry out low intensity IED attacks against government infrastructure like blowing up railway tracks, electricity pylons, mobile phone towers, targeted killing of non-Baloch laborers etc. Now the group has become more sophisticated in its tactics. Its IED qualities have tremendously improved. It has acquired modern weaponry of American made weapons left by NATO in Afghanistan. Sniper attacks are also increasing. The most important improvement observed is the ability of BLA to carry out complex style guerilla attacks in which multiple armed attackers storm buildings of potential targets, hold up against security forces, prolong the attacks as long as possible and inflict as much damage as possible. Attacks on FC camps in Panjgur and Naushki in February 2022, Pakistan Stock Exchange Attack in June 2021 are few example of such complex attacks.
Suicide bombing is another new addition in the list of BLA attacks. Previously, suicide attacks were attributed only to religious militants. However, BLA's Majeed Brigade has become a breeding ground of Baloch suicide bombers. The attackers involved in Naushki and Panjgur as well as PC Hotel Gawadar attack were all basically suicide bombers who were tasked to fight till death.
Target killing of 'informers' and pro-Pakistan people in areas under BLA's influence is also a regular activity. The objective is to create fear among the population.
In the past, it was not even imaginable that BLA would be able to carry out attacks like it did in Panjgur and Naushki from February 2 to February 5, 2022. BLA claimed that both attacks were part of the same operation which was code named as 'Operation Ganjal'. Ganjal was a BLA commander who hailed from Lyari in Karachi and headed the Qalat camp of BLA. He was supposed to take part in these attacks but was killed in a raid by Pakistani forces on the Qalat camp five days before the attacks. A total of 16 militants of BLA took part in Operation Ganjal. Nine of them stormed Frontier Corps' camp in Naushki while seven attacked FC camp in Panjgur. It was beyond imagination that BLA would be able to carry out such well-coordinated and lethal attacks simultaneously on two different locations.
In both these attacks the BLA used Vehicle-Based Suicide attacks at the gates of both the camps of FC. Vehicle-based suicide attacks are rare in Baloch militancy. The first such attack was carried out by Rehan Baloch in 2018 against Chinese engineers in Dalbandin. Using two suicide vehicles laden with explosives against Naushki and Panjgur camps of FC show that the group has access to high quality explosive material in abundance.
BLA has also claimed that it had complete support of BRAS for the two attacks. BLA also uses BM-12, BM-85 mm missiles, RPG-7, hand grenades, snipers, kidnapping, target killings and IEDs.
Trends
At the start of 2022, BLA released a detailed report of attacks on Pakistani forces, government departments and Pakistani intelligence personnel and projects in 2021. The 31-page report is titled "From Battle Field to Last Victory".
According to the report published by BLA media channel, Hakkal, 135 military personnel and 23 local agents were killed and 67 injured in 88 attacks across Balochistan in 2021. The report said that 59 bombs were detonated last year, three military camps and outposts were seized and 24 military vehicles were destroyed in attacks on forces during the year. It has also claimed to have carried out one suicide attack in Gwadar by its Majeed Brigade in 2021.
A visible increase in BLA's attacks has been observed in 2022. The group has claimed 41 attacks in first four months of 2022 which means almost 50 per cent of the attacks in previous year has been reached in just four months of the current year.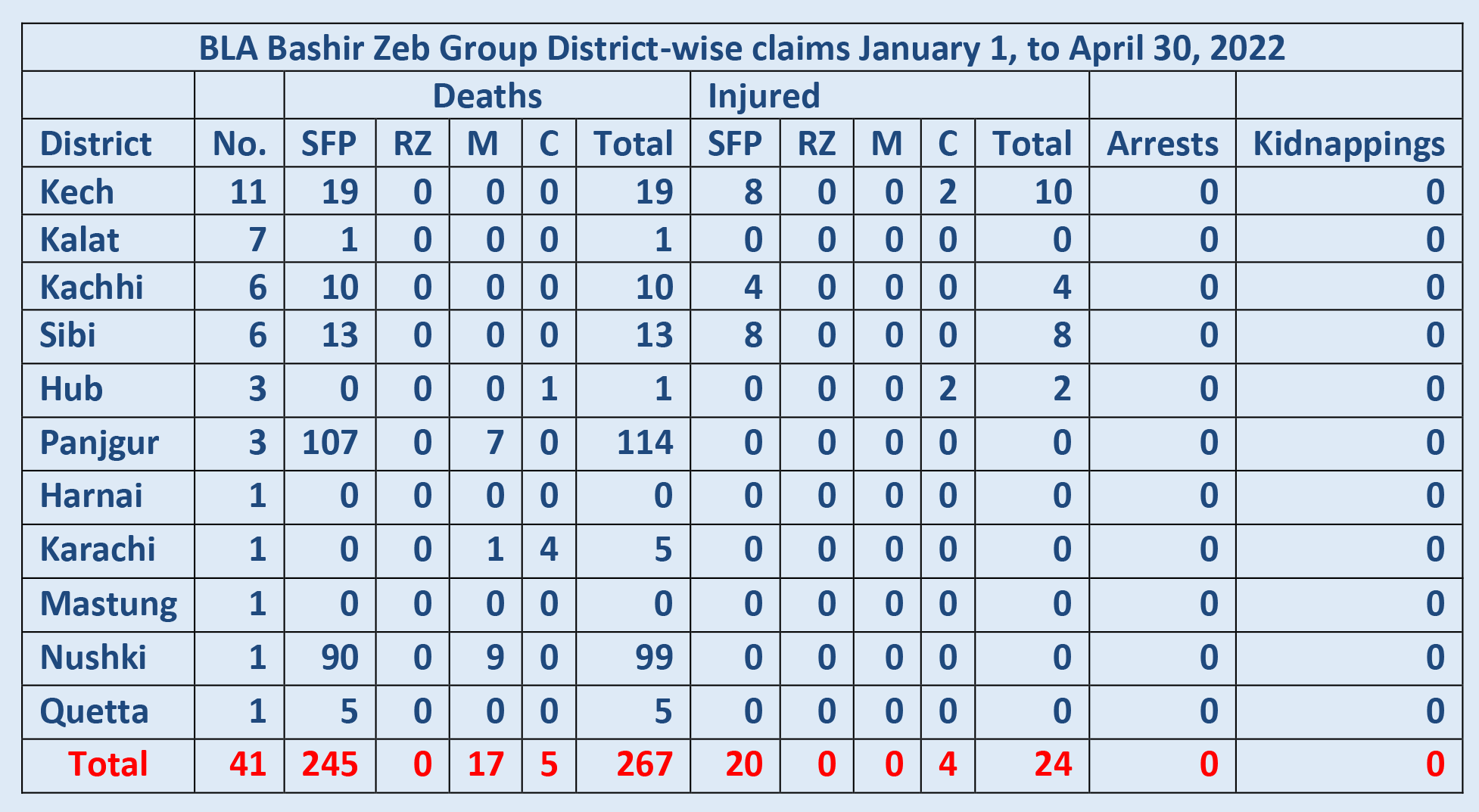 The map below shows that BLA (Bashir Zeb) is more active in northern parts of the province but its attacks in South an Eastern part were more high-profile and lethal. Traditionally BLA remained more active around Kohlu and areas under influence of Marri tribe. However, the split in 2017 and coalition with BLF on the platform of BRAS has helped the group increase its reach and influence in other areas especially areas closer to Iranian border. These areas were considered BLF's stronghold. However, BLF leadership has paved way for other BRAS member organisations to enhance their outreach.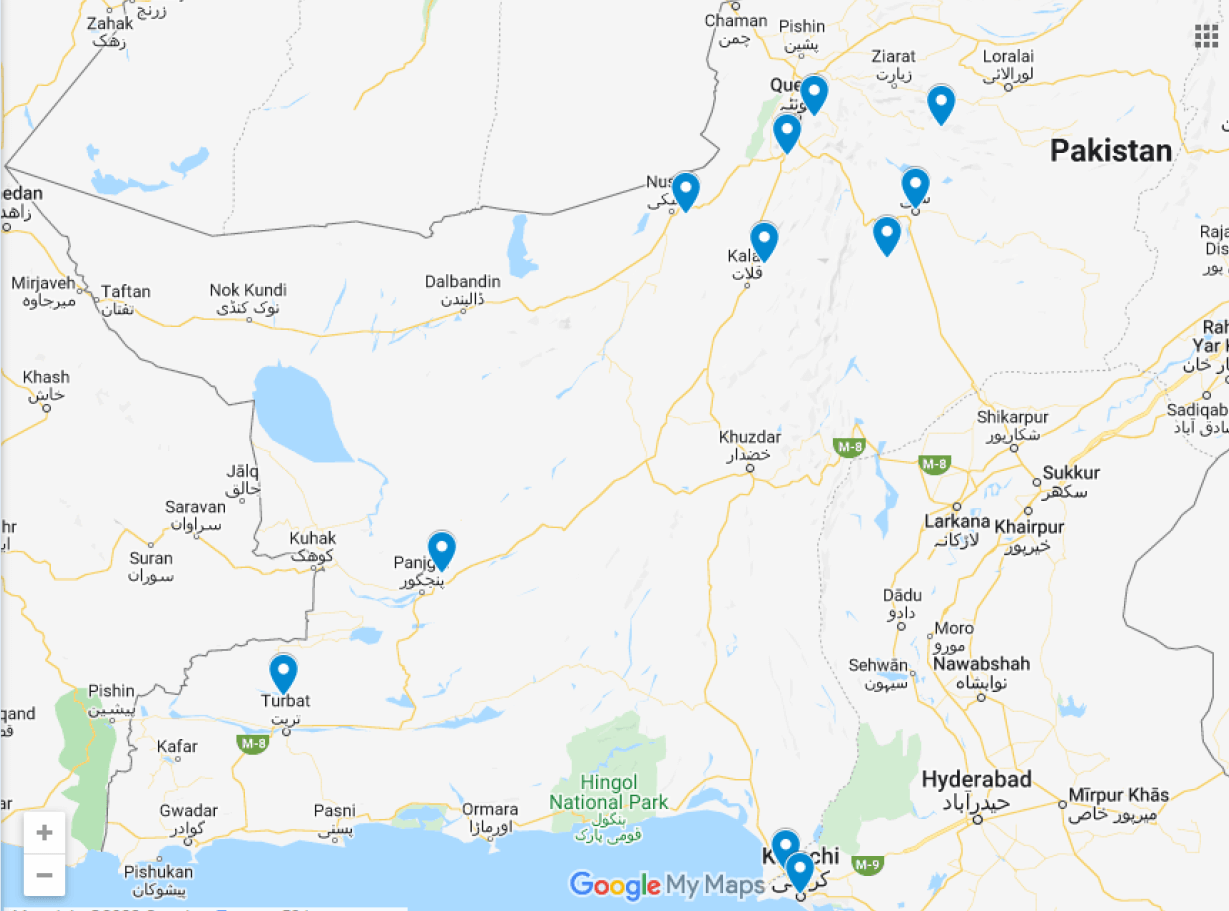 BLA Bashir Zeb's operations in Kech-Turbat area topped the charts with 11 attacks and almost all of them against security forces as per the claims of the group. As many as 19 security personnel were killed by the group in the district Kech in first four months of the year.

The map below shows spread of BLA-Marri's militant activities in the province. The map shows that its activities are mostly limited to and around Kohlu district which is considered the birthplace of the group. The group's rare activities in the south are of very low intensity. Even its activities in the north have no match to BLA-Bashir Zeb group. Bashir Zeb group has claimed 41 attacks in first four months while BLA-Marri group claimed only 11 attacks. With the passage of time the group has become almost irrelevant to the militancy in the province. BLF has exerted its influence on almost all other groups and brought them under the umbrella of BRAS while BLA-Marri is left alone. BLF and BLA-Bashir Zeb group accuse BLA Marri group that its militant activities are not aimed to get liberation from Pakistan but for providing better bargaining opportunities to its leaders in exile while negotiating with Pakistani authorities. There were efforts in place few years back to bring Harbyar Marri and Brahmdagh Bugti (Head of BRA) to Pakistan and give them some political role to quell the militancy in the province. However, as the middle-class well-educated leadership in these groups emerged, the Sardars and Nawabs have become politically irrelevant.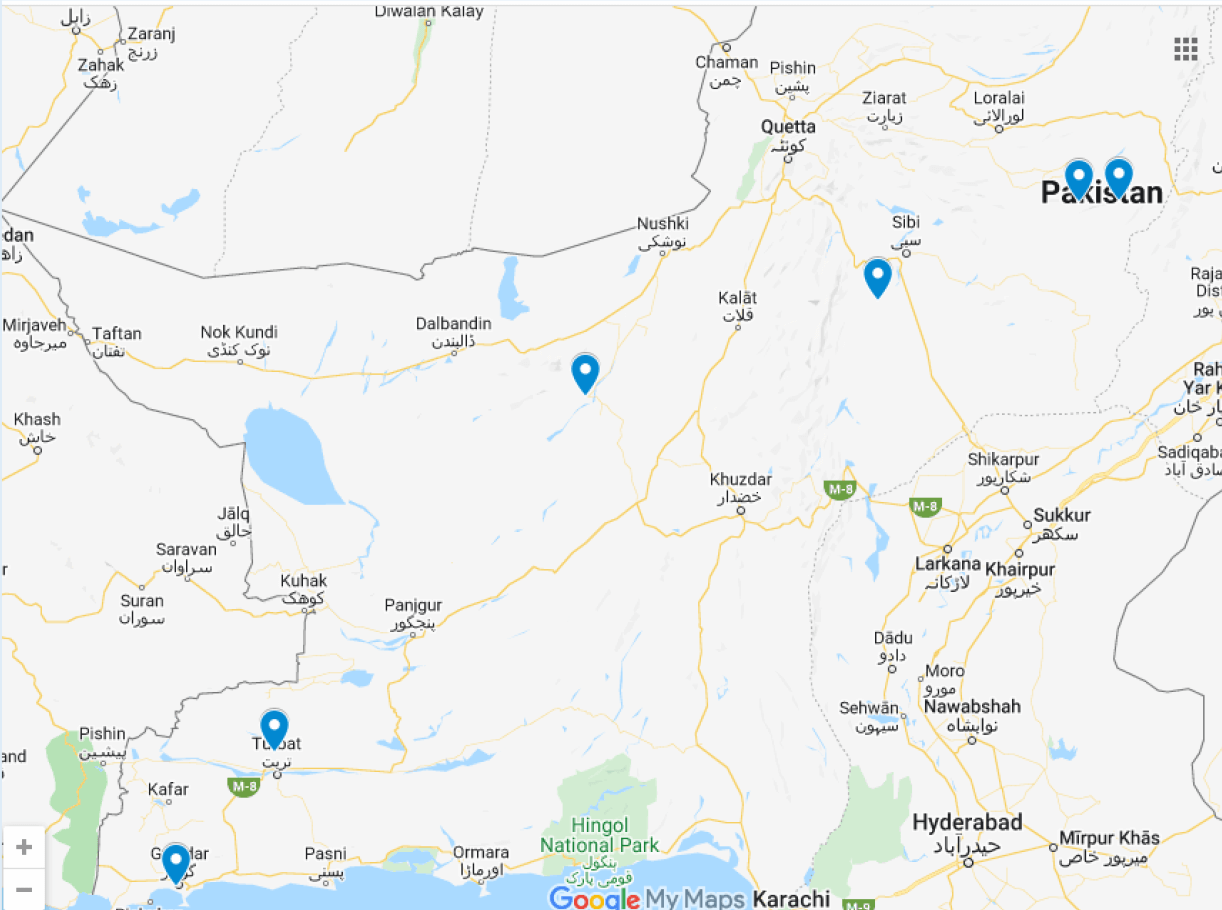 Majeed Brigade of BLA
A Baloch militant Majeed Lango on August 2, 1974, failed in an assassination attempt on the then prime minister Zulfiqar Ali Bhutto during his visit to Quetta as the hand grenade blasted in his hand. After his death, his brother was named after him. The second Majeed Lango also joined BLA and was killed in Quetta in February 2010 in a gun fight with the security forces. After few weeks, in March 2010, BLA commander Aslam Baloch announced formation of suicide bomber's unit and named it as Majeed Brigade in honor of both the killed brothers.
Majeed Brigade introduced a new dimension of terror tactics in the Baloch militant movement, showed the youth the way that they have the choice to attack the enemy very effectively. Although the Majeed Brigade is a military wing of the BLA, it is not limited to the BLA. BLA claims that it is a national platform. Any Baloch, affiliated to any organisation, or any Baloch militant group fighting against Pakistan can be a part of the Majeed Brigade.
The books in the training center of Majeed Brigade include Franz Fanon's book The Falling Dust, Guinea-Bissau's Marxist leader Amlikar Cabral's Living Conditions and the teachings of Mao Zedong. Ironically, Chinese targets are hit by those who are inspired by Mao Zedong.
How BLA selects targets for Majeed Brigade
Before choosing a target, its political and symbolic significance and global influence are considered. Each target has its own political and military dimensions. Military targets may seem large at times, but their effects are far-reaching. While the target for political gain may not seem big at the moment, the effects are far-reaching. The symbolic significance of a goal, therefore, plays an important role in BLA's selection process. The attack by female suicide bomber Shari Baloch against Chinese teacher of Confucius Center in Karachi University in April 2022 was a classic example of getting media attention internationally.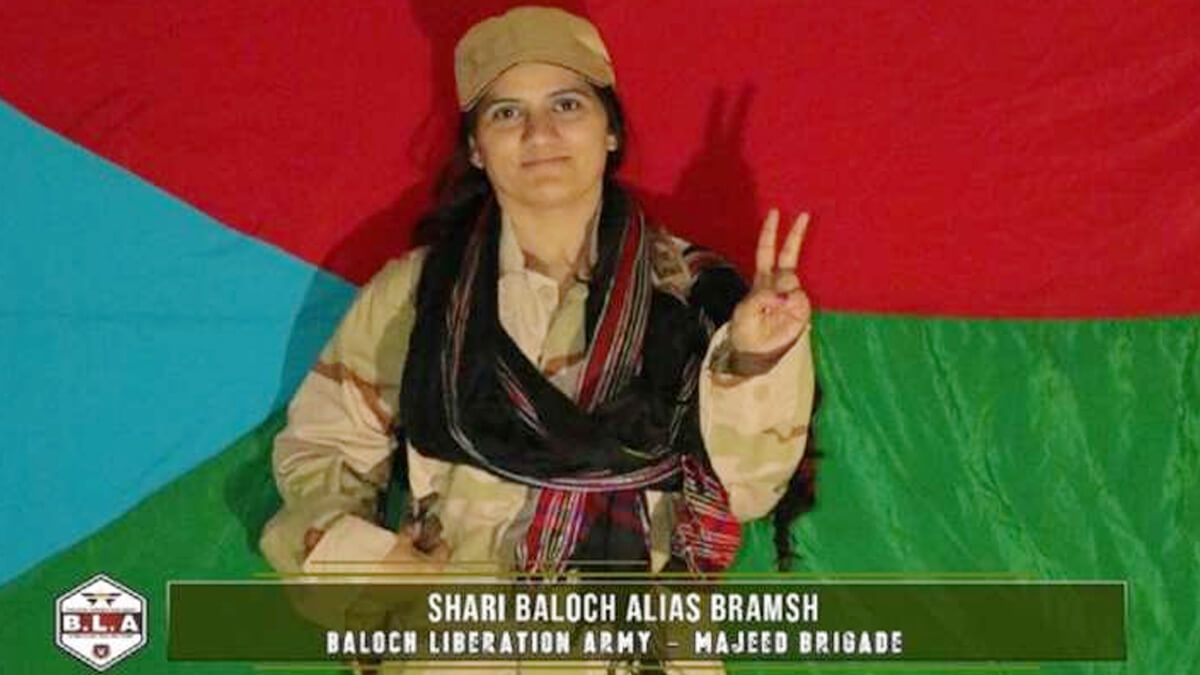 In addition, it takes into account the economic significance of the target for Pakistan. The attack on Pakistan Stock Exchange on June 29, 2020 was an attempt to damage Pakistan's economy by shattering confidence of investors in the stock market. BLA teaches its fighters that if they reach their target and open fire regardless of any losses to the enemy, their mission would be considered successful as their primary goal is to grab attention for their cause.
BLA claims that suicide bomber of religious militant groups like Daaish, TTP are given a target with very less or no knowledge of the target while BLA's suicide bombers are involved in the process of target selection as well as planning.
Majeed Brigade of BLA has three main units
Intelligence Unit: Gathers information about the potential target
Logistic Unit: Responsible for arrangements, transportation of men and material and other aspects of logistics
Operational Unit: Comprises of actual suicide bombers who attack the target
Funding Sources
Baloch Living in Exile: Reportedly Aslam Baloch parted ways from Harbyar Marri in 2017 with the help and funding from Naela Quadri Baloch— a local politician and activist based in Canada with Canadian citizenship. Naela Quadri runs a political party, Baloch People's Congress, as well as an NGO with the name World Baloch Women's Forum. She collects funds from Canada, America and Europe in the name of women and human rights in Balochistan and a hefty amount of these funds go to BLA-Bashir Zeb group through different means. Interestingly, the lady is not an ethnic Baloch. She is basically from Abbottabad district of Khyber-Pakhtunkhwa but has successfully portrayed herself as a Baloch political activist. She has strong ties with Indian intelligence agencies and often appears on Indian TV channels on the Balochistan issue. She is also a founding member of the Hind-Baloch Forum which was formed in India to promote Baloch separatist cause. She was a frequent traveler to India. However, after Pakistan lodged strong protest with strong evidence of her involvement with BLA, India had denied her visa in November 2021. However, her son Mazdak Dilshad Baloch is still in India to campaign for Baloch separatists.
Apart from Naela Baloch, BLA also receives funds from Baloch people living in exile in different parts of the world.
All funds collected are mostly transferred to UAE or Oman to BLA representatives who then transfer the money through different illegal Hawala and Hundi channels to Iran, Afghanistan and Balochistan. Since top leadership of the group mostly hides in Iran and Afghanistan, the funds mostly go to these countries. A recent crackdown by Taliban government against Baloch separatists in Afghanistan have shrunk space for BLA in Afghanistan but it still has significant presence in Afghanistan's southern areas with the help of former NDS networks who operate underground.
Smuggling: BLA facilitates smugglers who traffic illegal petroleum products from Iran and drugs from Afghanistan. It charges commission from these smugglers. Some reports also reveal that BLA itself is involved in drug smuggling from Afghanistan to the Middle East.
Extortion: BLA has a very strong extortion network in areas under its influence. Even small traders have to pay extortion money every month to BLA. In case of refusing extortion, BLA kills traders and businessmen and declare them Pakistani agents. Many times local businessmen have protested and requested Pakistani security forces to help them against BLA's extortion activities but all in vain.
Ransom: BLA regularly conducts kidnappings for ransom. These activities are managed from Afghanistan. BLA militants kidnap people from Balochistan and the commanders would call their relatives from a satellite phone or Afghan number. BLA has a dedicated setup for kidnapping for ransom, ransom collection and sending it to the top leadership. The setup has intelligence wing which monitors a potential target's financial position, activities, routines and linkages.
India: India has been providing active covert support to Baloch separatist militant groups including BLA. Apparently, the BLA-Bashir Zeb group is the closest Indian ally in Balochistan. Its founder Aslam Baloch had travelled to India in 2017 before parting ways with main BLA. Other BLA commanders also stayed in Delhi for years. BLA's connection with Indian intelligence RAW is beyond doubt. The BLA-Naela Quadri nexus is also supported and funded by India. Pakistan has officially accused India on countless occasions that it funds BLA's terrorist activities.
According to sources, Indian financial support is of two types. A general support for BLA's propaganda machinery for which RAW-erected network of websites, TV channels, social media accounts work day and night. The other is direct funds for operations. BLA's high profile attacks get direct funding from India. According to sources RAW also gives extra rewards to BLA if an attack gets more international attention.
Iran: Iran's support for BLA and BLF is increasing. BLA-Marri had accused BLA-Bashir Zeb back in 2017 that Aslam Baloch and Bashir Zeb were acting on Iranian agenda with Iranian funds. The reason why Iran supports BLA and other Baloch militant groups is that it wants to develop Charbahar Port as an alternative to Gwadar. It wants to send China a message that Balochistan will never be a peaceful area and thus China should look towards Iranian ports and territory for reaching to the Arabian Sea. According to sources, Islamic Revolutionary Guards Corps (IRGC) is actively involved in such activities.
Collaborations
BLA is an active part of BRAS the umbrella group of Baloch terrorist organisations. It collaborates actively with the other member of BRAS alliance. Baloch Liberation Front (BLF) provides significant support to BLA's Majeed Brigade activities. Apart from Baloch terrorist organisations, BLA has also developed operational collaboration mechanism with Tehreek-e-Taliban Pakistan (TTP). Both the groups have carried out many joint attacks. However, they never publically acknowledge the collaboration.
Externally, BLA is well connected with Indian, Iranian as well as former Afghan intelligence network NDS's secret operatives who are still active in parts of Afghanistan.
The group is also well connected with Baloch political networks active outside Pakistan. Its collaboration with smugglers and criminal elements in Pakistan, Iran and Afghanistan is also a fact.
Conclusion
Once an ideological proxy of Soviet Union is now working as a proxy of regional and extra-regional forces against Chinese and Pakistani interests. The BLA has become a formidable group. Recent suicide attack by a female bomber will attract more well educated youth to join BLA while its support base within Baloch people will increase tremendously.
As BLA threatens to attack Chinese interests, more high-profile attacks are expected over the next few months. Pakistani forces may launch a major operation against BLA in Balochistan. An intelligence-based operation is already going on in Pakistani educational institutions to arrest BLA sympathisers and other Baloch militant groups. Pakistani forces face serious allegations by human rights organisations for picking up Baloch students from educational institutions—a heavy-handed approach that will help BLA and other groups in the end.