Stones pelted, baton-charged, rubber bullets fired, civilians tear-gassed, people running for water and the only thing you could see for miles was just smoke, bringing everything in the country to a halt.
These are not scenes from occupied Kashmir or Palestine, in fact this is what was witnessed in our own federal capital Islamabad on May 25.
To fully comprehend the whole saga, let's rewind the reel and play it from May 23… Lahore… we started receiving news of former federal minister Hammad Azhar's house being raided by the police followed by attempts to arrest him along with former provincial minister Dr Yasmin Rashid. Then suddenly a stream of videos started circling on social media, where police could be seen barging into houses and illegally detaining Pakistan Tehreek-e-Insaf's (PTI) workers and leaders. Fake cases were registered to victimise them before and after the Azadi March.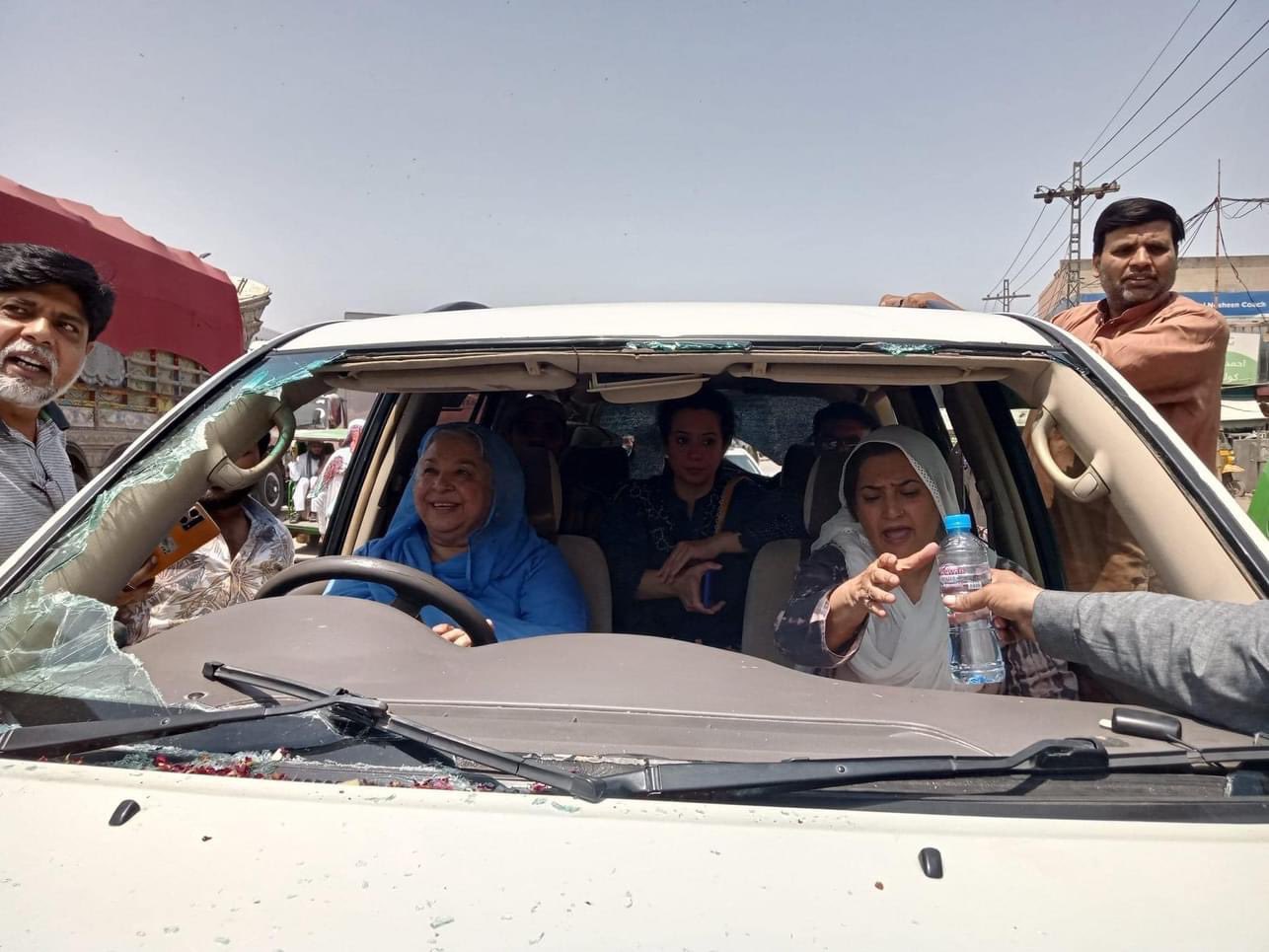 It was later put on record by the Interior Minister Rana Sanaullah that around 1,700 people were arrested by the Punjab Police in 4,000 raids under the Maintenance of Public Order 16. This was an unprecedented 'abuse of power' witnessed on May 23 when the police started breaking into houses of people without warrants or on May 25 (the day of march) when police officials were seen smashing cars of citizens leaving for Imran Khan's Azadi March from Lahore to Islamabad. What I found even disturbing was to see people in civil dress attacking peaceful protesters and smashing their cars. It was something worse than a dictatorship!
On the one hand, we see such extreme measures of the ruling party to limit people attending the Azadi March and on the other hand the government making claims of the march failed.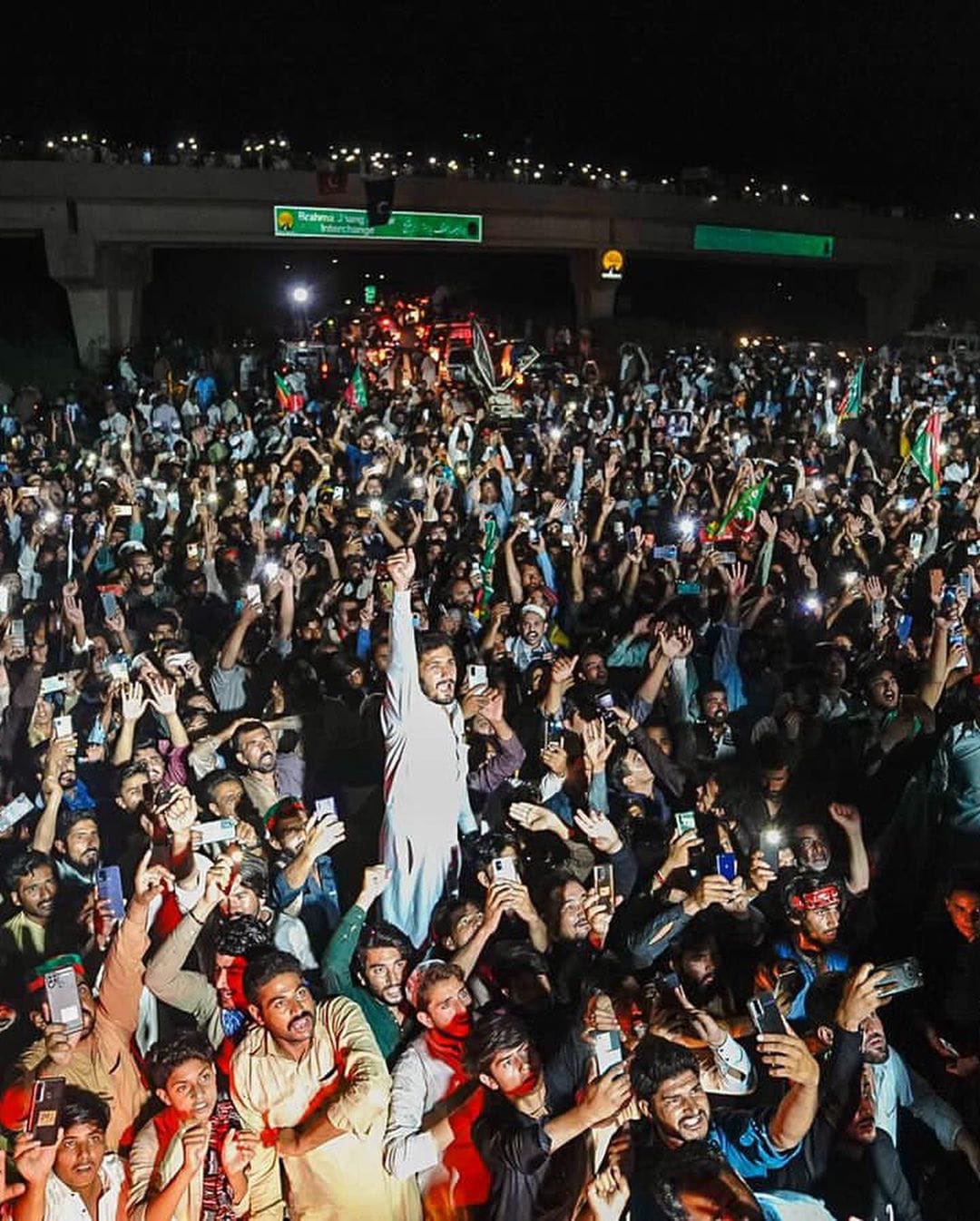 The question that needs to be asked is why were the containers placed blocking all entry points to the federal capital if the government did not feel threatened by the marchers.
On May 25 at 4:30pm in the afternoon, I came out to see how many people came out of their homes on Imran Khan's call. I went to the Blue Area, standing in front of Beverley Centre. I was looking at the road; the crowd wasn't too big as the local supporters were still waiting for Imran Khan to enter Islamabad. D-Chowk was the destination they had in their minds. A couple of other reporters were also covering the situation.
After several hours of observing chaos and saving myself from the tear gas, a thought came to my mind whether this was a democratic state at all or was this a state-run by goons wearing police uniforms
I spotted a family of five; parents with three girls. I walked towards them from the main double road and started talking to one of the girls. I asked her some questions and just when I was about to record her believing that the government probably wouldn't use force, a shell came and dropped near my feet. I was not sure what to do as I couldn't see the gas coming out of it right away. So I kept talking to the girl who was as naive as me and knew nothing about how and when the tear gas shell works. We stood there for a few seconds and then within a minute the shell started emitting gas.… I couldn't breathe, I couldn't open my eyes, I tried finishing that interview with the girl, but she was unable to talk. I wanted to rush towards my car which was parked next to PSO petrol station near Beverley Centre, but because I couldn't open my eyes, I couldn't see what direction I was running into. I somehow got to the car, sat inside, turned the AC on. Fortunately, I had a water bottle and a packet of salt with me in my bag so I poured some water on my scarf and placed that wet scarf on my eyes and took a pinch of salt.
After I regained my senses, I again got out of the car and went towards D-Chowk. I spotted Shireen Mazari standing at the back of a double cabin Vigo, then I saw Amir Dogar PTI's ex-chief whip standing on the roof of his jeep.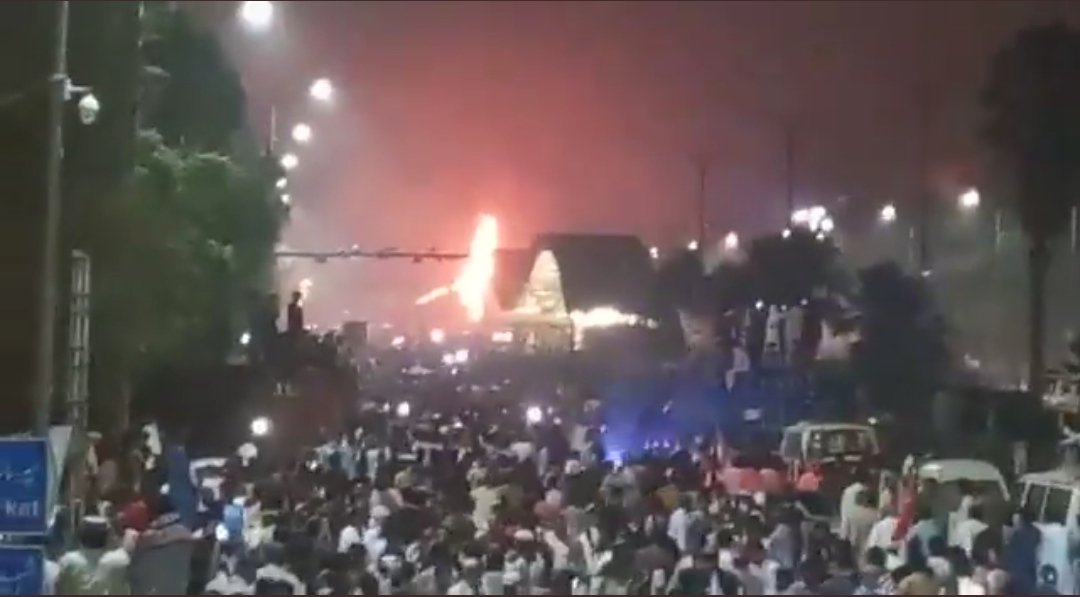 This was now about 7pm or so and other PTI leaders like Farrukh Habib, Iftikhar Durrani, Qasim Suri, Zartaj Gul, to name a few, started to gather at D-Chowk. These came there along with their respective rallies. I could see families, kids and elderly in cars while many had no vehicle available so they were walking. I followed them towards D-Chowk while the police continued firing tear gas on the protesters to disperse them. Shelling did serve the purpose but for a short while. People ran backward as the torrent of shells was thrown upon them, but returned as the shelling paused. This drama continued for the entire night.
After several hours of observing chaos and saving myself from the tear gas, a thought came to my mind whether this was a democratic state at all or was this a state run by goons wearing police uniforms. I am sure the same sentiments were resonated by many.
The tragic Model Town killings started to haunt my mind. Who can forget the day when brutal police force was used against innocent people. And who can forget the shelling on PTI's rally lead by the then K-P chief minister Pervez Khattak in 2016 when they were coming to Islamabad. It was only Imran Khan's tenure when such draconian ways of oppressing opponents were not used other than one unfortunate incident of using force against Mohsin Baig.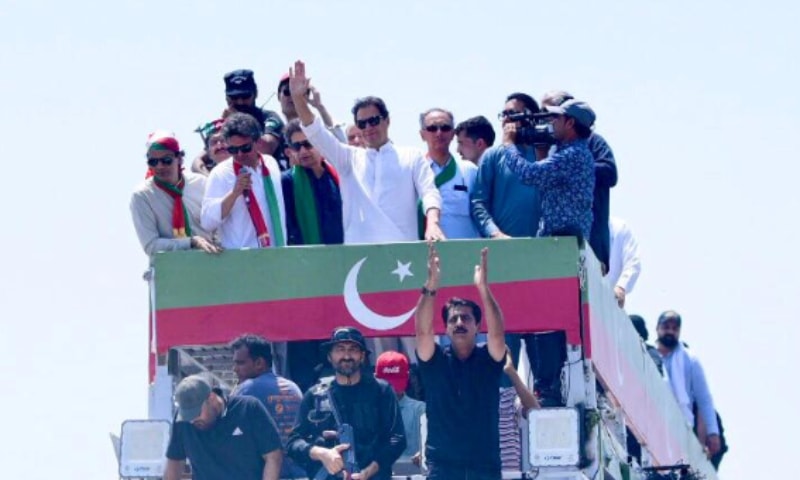 According to reports more than 20,000 shells were fired that night till around 8am in the morning in Islamabad. I was there at D-Chowk almost the entire night. I met another couple with a daughter. The daughter was asthmatic and couldn't breathe in all the smoke and tear gas. Her eyes kept watering and the mother, who couldn't keep her own eyes open continuously kept wiping her daughter's eyes with a wet dupatta. The father, meanwhile, kept running to get more water…
Protesters started lighting fire on the green belts to dilute the tear gas. They also set a few trees ablaze for the same purpose. But the protesters did not damage any public property. News about metro stations set afire was fabricated. People showed great restraint and did not attack the police.
Though many believed that if the attack on protestors continued it might not have been long before the people retaliated and attacked the police.
But they demonstrated unprecedented tolerance during the 15 hours of nonstop shelling and violence. Hats off to these people because we know violence in our region is not something unique in such rallies but then it also reflects the ideology of PTI where families join the rallies, men come along with their wives, sisters, mothers and daughters and they act very responsibly. This political party, unlike some other parties, does not have any militant wing.
I have covered PTI rallies in the past as well and have always seen families coming out for Imran Khan. In such events, people always care not only for their own family members but for other people around too. There were armored vehicles in D-Chowk that night as if some terrorist organisation had launched an attack on the capital. At least I didn't see anyone carrying a weapon on D-Chowk, rather young boys carried water bottles and were distributing them amongst the protesters as water is the first thing you need when you are affected by tear gas. They were also distributing food, biscuits, juices etc amongst the families and elderly waiting for their leader during the night. I met an old man who told me after three days of travel he stepped out of the car here at D-Chowk. He said that he would keep supporting Imran Khan till his last breath. Girls in groups were present there without any male guardian or member of the family post-midnight. This explains how safe women felt in PTI rallies and protests.
Fast forward… Imran Khan entered Islamabad between 2-3am that night and it took him a further 3-4 hours to reach Centaurus junction. That's where he addressed the public in the morning on May 26. The crowd that turned out spoke volumes and was still responsive after an almost entire day of travel and a night of terror created by the state. They were still chanting slogans, responding to Imran's questions. And Imran anticipating further violence and bloodshed decided to not proceed towards D-Chowk and end the rally there giving the government a six-day ultimatum.
It was a crazy night full of chaos and gloom. Whoever was there must have felt strange depression and a thought of being shackled under a police state. Let's keep Pakistan in our prayers as Pakistan needs them the most now.