The 1,100 megawatt Karachi Nuclear Power Plant Unit-3 (K-3), which started trial-run on March 4, has hit its maximum electricity generation capacity, marking another great leap forward for the country's efforts to ensure energy security through safe, clean and environment-friendly means.
Had the country not drifted into a political turmoil, perhaps the Pakistan Atomic Energy Commission (PAEC) would be making grand plans for its formal inauguration in early April. But leaving politics aside, the good news for Pakistan is that K-3, located near Paradise Point, has been supplying 1,100 MWs to the national grid since March 31.
"The formal inauguration of the plant got delayed because of the political uncertainty, but it is now expected sometime in late April," PAEC Director-General Media Shahid Riaz told Narratives Magazine.
As K-3's power generation capacity gradually enhanced from 50 to 60 megawatts to its optimum level within four weeks, the PAEC officials say that this has been done ensuring strict security and safety protocols.
On April 5, the PAEC announced that now all its six nuclear power plants have got operational with optimum capacity, generating and supplying 3560 MW electricity to the national grid.
Four nuclear power plants at Chashma in district Mianwali are supplying 1340 MW, while K-2 and K-3 at Karachi are feeding 2220 MW to the national grid. This means that the total share of nuclear power in the country's energy mix has jumped to 18.3 percent from roughly 9.0 per cent in early March.
The K-3 nuclear power plant had started operations on February 21, and after safety tests and procedures it was connected to the grid on March 4.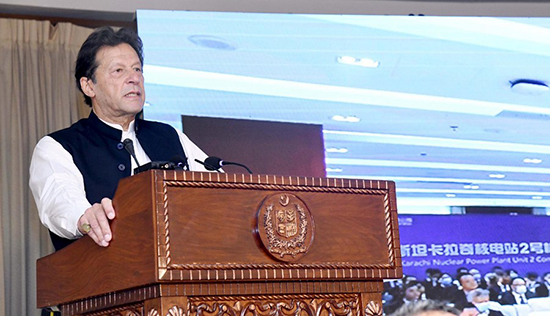 K-3 is the second Nuclear Power Plant (NPP) in Pakistan with a generation capacity of 1,100 MW.
Its addition to the national grid means that low-cost electricity is being added to the country's energy mix. The other one, named K-2 was inaugurated by Prime Minister Imran Khan on May 21, 2021.
"Hydro and nuclear are the cheapest energy sources," said Shahid Riaz, PAEC's DG Media.
Pakistan's total installed electricity generation capacity is around 40,000 MW. The reliance on imported fuel is one of the key reasons for the higher electricity tariffs in the country.
The ground-breaking of the K-3 project was performed on Nov. 26, 2013, and the construction started after getting approval from the Pakistan Nuclear Regulatory Authority (PNRA). The fuel loading of the plant started in December 2021 after PNRA's clearance.
The PAEC DG Media said that K-2 and K-3 are the generation 3, latest Chinese reactors with advanced safety measures. "There is a double-containment concrete walls protecting the plant," he said. "Even if a plane crashes into it, these walls will sustain the impact and won't allow it to penetrate."
In this Chinese design, even if there is a station black-out — meaning zero supply of electricity as happened when tsunami caused the Fukushima nuclear accident in 2011 – the plant's passive cooling system would continue to function for 72 hours, providing ample time to manage things, he said.
There are 442 nuclear power plants operating in 30 countries, including Pakistan.
The China National Nuclear Corporation (CNNC), which built K-2 and K-3 adapting Hualong One plant design, declared it a milestone, which "lays a solid foundation for the subsequent commercial operation of the unit."
These two units are the first exports of CNNC's Hualong One, which is also promoted on the international market as HPR1000.

"After each unit of Hualong One is completed, it is expected to generate nearly 10 billion kWh of electricity annually, which can meet the annual electricity demand of more than 4 million households in Pakistan," the CNNC said in a statement the day K-3 started its trial run. The annual power generation of K-2 and K-3 is equivalent to reducing coal use by 3.12 million tonnes annually and avoiding the emission of 8.16 million tonnes of carbon dioxide every year, the CNNC said.
The Karachi nuclear site is also home to Pakistan's first nuclear power reactor, Karachi 1 – a small 100 MW (90 MW net) Canadian pressurised heavy water reactor, which was shut down in 2021 after 50 years of operation.
The PAEC spokesman said that that the initial life of K-1 was 30 years that got completed in 2002, but it was expanded to 20 more years by Pakistani experts and scientists, which remains a feat in itself.
"K-1 produced only 80 MW electricity but we learnt a lot through it. We trained our manpower on K-1 and got confidence to operate it on our own as the Canadians unilaterally aborted the agreement with Pakistan in 1974 and stopped all the supplies and technological help."
This was done by Canada after India conducted its first nuclear bomb test explosion – aka the Smiling Buddha — in May 1974. The Canadian sanctions, however, proved a blessing in disguise for Pakistan as it was forced to stand on its own feet.
CNNC said the construction of Karachi 2 and 3 helped boost Pakistan's economy and the related industries as the local supply of equipment increased significantly. "During the peak period of the project construction, it has directly provided more than 10,000 jobs for Pakistan, and indirectly created more than 40,000 jobs through the industrial chain."
There are growing calls in Pakistan to build additional nuclear reactors to help meet the rising energy demands as they curb greenhouse gas emissions and counter impact of climate change through low-carbon electricity generation. The peaceful use of nuclear powers remains a key to the socio-economic development of countries like Pakistan.
China has played a fundamental role in developing Pakistan's nuclear power generation capacity under a 1986 bilateral cooperation agreement. The two countries enjoy close economic and defence ties which have stood the test of times. The K-2 and K-3 plants are just another manifestation of rock-solid relationship between them.