Pakistan observed August 5 as 'Youm-e-Istehsal' to mark the completion of the third year of New Delhi's atrocious move that stripped Occupied Jammu and Kashmir of its nominal autonomous status and made this Muslim-majority region part of the Indian union territory.
Pakistani officials issued the usual clichéd statements condemning New Delhi as protests were staged in various parts of the country to express solidarity with our Kashmiri brethren.
But unfortunately, Pakistan's lip-service to the cause now appears more and more hollow, and aimed at placating the home crowd rather than putting any genuine pressure on India. Even Indians know that the members of Pakistan's ruling elite in their hearts and minds have given up on Kashmir. Period. What remains are some half-hearted symbolic gestures, which Indians and their Western allies believe would also wane with the passage of time. And as the time flies by, India would be able to bring demographic changes to transform Kashmir's Muslim-majority into a minority and push its Hindutva agenda there.
While Pakistan appears to suffer from inertia on Kashmir – once described as the jugular vein of the country – India is making concerted efforts to resolve this problem in its favour by hook or by crook. While Islamabad appears without a plan and feebly reacting to the decisive moves made by India, New Delhi has a lethal strategy, which may appear too villainous to us, but it is serving the interests of the Indian state.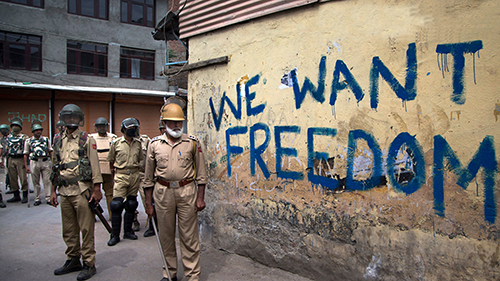 To start with, since August 5, 2019 when the extremist Hindu government of India revoked the nominal autonomous status of Occupied Jammu and Kashmir, the Indian regime intensified atrocities in the occupied region as a short- to medium-term measure to crush the will of the Kashmiri people. State sanctioned extra-judicial killings, torture, rape and arrests of freedom loving Kashmiris remain rampant as Muslim localities are being placed under curfew stretching for days and weeks.
So far Kashmiris are holding on to their dream of ending Indian occupation against all the odds, but given Pakistan's inaction and the world apathy, it appears only a matter of time that India would be able largely achieve its goals. Even if some resistance continues to persist, according to the Indian calculations, it would be at manageable levels. And to ensure this, tens of thousands of fresh troops poured in the occupied region even before India unilaterally repealed the Constitutional guarantees given to Kashmiris, adding to more than 500,000 already there.
This military might is ensuring that New Delhi's plans to scrap Kashmir's Muslim-identity and uniqueness of this region sail through with as little resistance as possible. As Israel deprived Palestinians of their lands, India is also applying similar tactics in Kashmir. Under a controversial scheme more than 500,000 Indian settlers have already been given domiciles of Kashmir and given lands and other facilities to develop their settlement similar to Israeli settlements in Palestine. In the coming years, the number of Indian settlers is all set to grow as Kashmiris are forced to vacate their lands, homes and livelihood in an organised manner.
Lack of commitment to the Kashmir cause by the leaders of our key political parties remains a major factor that badly damaged the Kashmir cause
The Indian government is rapidly squeezing space for Kashmiri Muslims in jobs as well as in trade, commercial activities and even farming. In an attempt to erase Islamic values and traditions, Muslim students are forced to recite Vande Mataram and Hindu mythology. The objective is to first dilute and then altogether scrap Muslim identity.
But Pakistan's weak and directionless Kashmir policy is the biggest setback and disappointment for the Kashmiri people. Pakistan failed to react forcefully when India changed Kashmir's special status in August 2019 under former premier Imran Khan and Army Chief General Qamar Javed Bajwa's watch.
Since then Islamabad lost whatever little focus it had on the issue because of the continued political turmoil and economic weakness. In fact, Pakistan's internal weaknesses and continued political instability, coupled by the pressure from the Western and even some Muslim countries, have altogether stopped Islamabad from taking any practical measures in support of the Kashmir's freedom movement.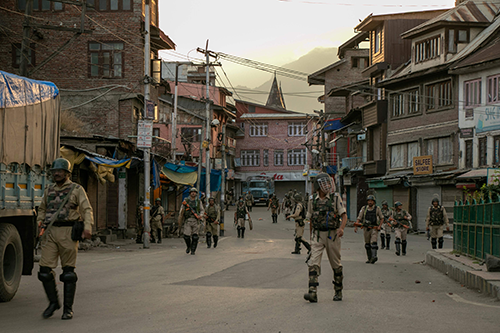 Lack of commitment to the Kashmir cause by the leaders of our key political parties remains a major factor that badly damaged the Kashmir cause. There are many voices from within the past and present ruling parties which want to open trade with India and restore normal relations at the cost of Kashmir.
Many senior Pakistani officials – especially since 2014 when hardline Hindu nationalist Narrendra Modi became India's prime minister — keep repeating the mantra of holding talks with India for the resolution of all disputes at a time when there are no takers for peace in New Delhi.
These 'talks advocates' ignore two important points. First, it is India which does not want to hold talks with Pakistan as it is trying to resolve the Kashmir problem in its favour unilaterally. And second is that in the best of times when the talks were held, they failed to produce any results not just on the mega dispute of Kashmir, but even those issues which were thought resolvable or the so-called 'low-hanging fruits,' including that of Sir Creek and Siachen Glacier.
After India's unilateral move of August, 5, 2019, any talks or attempts to normalize relations with New Delhi would mean that Pakistan has accepted the new status of Kashmir; that it is part of the Indian union territory. This would be the greatest betrayal to the Kashmir cause.
Therefore, former premier Imran Khan's policy of no talks with India until it restores the special status of Kashmir is the bare minimum Pakistan can do for the Kashmiris, who are already confused about Islamabad's intentions because of weak and self-contradictory signals from the top Pakistani officials.
Some Pakistan Tehreek-e-Insaf government ministers stabbed Kashmiris on their back when they advocated benefits of trade with India, while the Pakistan Muslim League-Nawaz led government went even a step further by appointing a trade minister at the Pakistan High Commission in New Delhi. This is seen as the first towards the resumption of trade ties with India.
While Pakistan appears to suffer from inertia on Kashmir – once described as the jugular vein of the country – India is making concerted efforts to resolve this problem in its favour by hook or by crook
But without resolving the core issues, trade relations are no guarantee for peace. This is the lesson of history which Pakistani decision-makers must need to revisit. In the 1960s, India was Pakistan's biggest trade partner, but this did not stop the two countries from going to a war in September 1965.
Similarly, the damaging rhetoric of let's bury the past and move forward – as once advocated by Army Chief General Qamar Javed Bajwa – only means an abject surrender on Kashmir in the current circumstances.
Pakistan needs a cohesive mid- to long-term strategy on Kashmir that should not shy away from practically helping those struggling for Kashmir's freedom along with diplomatic efforts. At the same time, Pakistan should not just keep the trade relations with India off the table, but also reconsider closing its airspace for Indian civilian aircraft. Indeed, India's economic clout and strength would make the task of fighting diplomatic battles extremely difficult for Pakistan, but without upping the ante there is little hope of keeping the issue alive.
Pakistan's decision-makers, especially the armed forces, must realize that the continuing internal political instability and weak economic fundamentals are the biggest impediments, preventing Islamabad from taking a forceful stance on Kashmir. Therefore, the on-going political circus needs a closure as soon as possible.
However, our current weaknesses does not mean that the state sacrifices its long term interests in which Kashmir remains pivotal. Islamabad should be clear that until we ourselves are not prepared to fight for the Kashmir cause, the world would remain indifferent to the plight of Kashmiris.