As Prime Minister Shehbaz Sharif rightly puts it "gone are the days when climate change was [just] the subject of drawing room discussions". The effects of climate change are now ever so close to affecting our day-to-day business. This year the monsoon season has brought devastation like never before, costing Pakistan both the loss of life and livelihood on an enormous scale.
Over 700 hundred people have been killed and millions have lost their homes in the torrential rains during the various spells of monsoon rains lashing across Pakistan since early July. Balochistan being the most hit by the natural catastrophe suffers from the worst flooding situation in over three decades. A total of 18 districts of the province's 25 have been declared 'calamity-hit' by the Provincial Disaster Management Authority. With rising levels of water and a continued looming threat of more rain people have been forced to abandon their homes and move to safer places leaving behind a trail of destroyed crops, dead livestock and devastated infrastructure.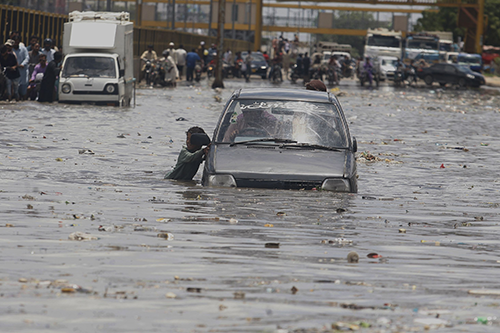 NDMA puts the number of houses destroyed in the rains to more than 36,469 houses— 60 percent of which were in Balochistan. Around 800 schools were affected due to the floods, 600 in Balochistan alone.
Moreover, following flashfloods and the earthquake that hit Balochistan late last month, most routes linking the province to other parts of the country have either been completely submerged or the infrastructure has been destroyed hampering rescue and relief operations. Several villages remain unreachable as their linking roads and bridges have been washed away. Among several others, two important road links that the rains destroyed include the main RCD (Regional Cooperation for Development) Highway that links Karachi with Quetta, and the Makran Coastal Highway which links southern Balochistan, especially the Gwadar Port, with Karachi and rest of the country—making it extremely difficult to provide any relief to those affected.
Apart from braving the weather conditions, people in Balochistan now face rise in cholera cases that have already claimed the lives of two children in Zhob while dozens have been affected after consuming contaminated water after almost all water resources were badly affected by floods and rainfall. Other diseases including dengue, malaria and typhoid have also seen a sharp rise in the past few weeks following the rains.
Sinkholes have emerged on almost all of Karachi's main arteries disrupting traffic and upending the lives of millions across the city. Thoroughfares and bridges, only recovering from the previous spell of rain, remain battered
The torrential rains have superseded all previous records with the National Disaster Management Authority claiming a whopping 302% increase in rains across the country in comparison to previous years. Pakistan being in the 10 countries worst hit by weather events this figure can only be expected to increase over the years to come.
Staying afloat
The recent torrential rains have once more brought Pakistan's financial capital to a standstill. Businesses urged to close and educational institutes shut, life in Karachi has come to a grinding halt. With the city receiving over 200mm of rain the already vulnerable infrastructure has crumpled leaving the metropolis stranded.
Entire neighbourhoods remain partially or entirely submerged in water and people are seen wading through knee-deep water while vehicles stuck in sludge remain stranded. Sinkholes have emerged on almost all the city's main arteries disrupting traffic and upending the lives of millions across the city. Thoroughfares and bridges, only recovering from the previous spell of rain, remain battered. Power outages, fuel shortages adding misery to the miserable city home to almost 30 million people.
Like the World Bank stated in its report, residents and businesses of Karachi witness a city which is unable to keep pace with its physical growth, or to equitably meet the basic needs of residents and local businesses. "Water and sewage networks, for instance, meet only roughly half of the city's needs. As a result, water is available for only a few hours per day. Most sewage is discharged into the ocean untreated. More than 60 per cent of solid waste is openly dumped, with dramatic impacts on drainage and urban environment. Karachi's infrastructure is highly vulnerable to climate-related disasters. Poor residents suffer the most from these challenges. Fragmented city management has led to ineffective institutions, with little coordination among them, leading to insufficient planning and investments, and declining public confidence".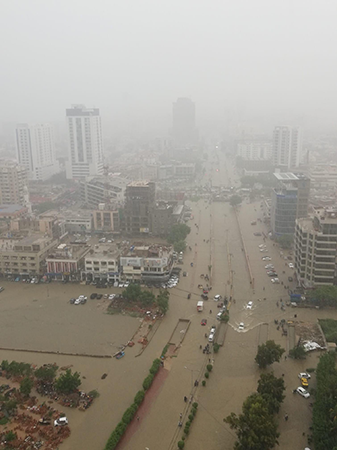 The lack of governance piles on to the problems of the city that almost drowns during every rain not just due to the unprecedented rain but also because of the clogged, damaged and neglected sewage and drainage systems in the city. The metropolis relies on thousands of smaller nullahs to drain rainwater and carry them to the two seasonal river—Lyari and Malir— which eventually drains the water when it falls in the Arabian Sea.
Over the years these storm water drains of Karachi have been misused with encroachment and illegal construction over them involving some of the country's biggest real estate owners. Adding to this, in the absence of sustainable housing societies, people have created informal settlements along the nullahs further constricting them. The Government of Sindh itself has used these nullahs to build car parking, even important state buildings including part of the Sindh High Court and MPA hostel is built over storm water drains.
Further problem arises when most of the city's waste is dumped into the nullahs instead of it being carried to the two landfill sites allocated for Karachi. The untreated solid waste chokes these nullah making it impossible for normal water to pass through it let alone the rainwater following unprecedented rain.
It is a tragedy that despite being so vital for Pakistan, Karachi has continued to suffer the neglect of the numerous governments—both federal and provincial. Be it the MQM, PPP or PTI every political party has only disappointed the people of the city of lights. Each government is sworn-in with promises of better infrastructure for Karachi and to provide basic amenities to the locals but everything is soon forgotten.
The forgiving city then looks up for another messiah who might bring some change for the better only to end up disappointed again. The cycle doesn't end and neither does the misery. One would assume that the number of times Karachi has gone through the worse, the city might be immune to all the vile but every time it hurts differently.
The impending doom of climate change
More than 1.8 billion people—one-fourth of the world's population—worldwide are at risk of severe floods.
A research published in the journal Nature Communications has found that nearly 90 per cent of people at risk of severe flooding live in poor countries and Pakistan Is no exception.
Extreme weather events in South Asia are becoming increasingly frequent due to climate change, with temperatures in parts of India and Pakistan reaching record levels during a heat wave in April and May and steps need to be taken at the earliest to make things better.
NDMA claims a whopping 302% increase in rains across the country in comparison to previous years
Pakistan's Minister for Climate Change Sherry Rehman recently addressing a seminar on climate change said that Pakistan is at the frontlines of a global climate catastrophe and we cannot look towards nature to reset by default. The climate catastrophe is very much here and now for climate frontline states like Pakistan.
"Everybody is looking at the nature to reset to default, which is not happening. We need to build green technology and green goals and we would appreciate initiatives from the tech companies who are not looking for CSR Pilot projects to wash off their carbon offsets," she underscored stressing over the threat that Pakistan faces. But the question remains whether these words actually translate into action and will Pakistan see a major shift in its policies to minimize its carbon footprint.
Pakistan has to deal with climate change on war footings and treat it like a national security crisis to avert any further damage and prepare itself for the catastrophe that Pakistan saw this year is not over yet and might well just be the beginning to the end.