Nabila, a 30-year-old mother of four young children, recently lost her battle with breast cancer due to the very late diagnosis of the fatal disease. Coming from a village in the remote part of Punjab, she was reluctant to talk to her family members about her disease. The cultural taboos restricted her from seeking medical help from the only male doctor accessible to her in her village. She went to the local spiritual healer to get treated for her illness, but it did not help. By the time she sought professional medical help, it was too late.
Nabila's tragic case is one of around 40,000 women who lose their lives to breast cancer in Pakistan annually. Pakistan has the highest breast cancer incidence rate in the Asian region with one in nine women at risk of the fatal disease. As Pinktober 2022 approaches us, we need to ponder on what the causes of the high incidence of breast cancer are and what we can do to deal with it.
Limited health facilities and poor healthcare services are to blame for the high mortality rate due to breast cancer in Pakistan. With only 1,282 public hospitals, 45,987 registered doctors, and 116,659 registered nurses in 2020 for a population of 221 million, the healthcare facilities and the number of healthcare professionals in Pakistan are much below the minimum standards set by the World Health Organisation. The situation of healthcare services in the rural parts of the country is more critical. Pakistan is among the few countries in the world that do not have a universal healthcare system.
There are no breast care screening centres in the majority of public hospitals in the country
The access of Pakistani women to healthcare services is severely limited especially in the rural areas. There are no breast care screening centres in the majority of public hospitals in the country. In fact, there is only one breast cancer screening center established by the government of Pakistan at the Institute of Medical Sciences (PIMS) in Islamabad. Qualified oncologists, radiologists, and psychologists needed to treat breast cancer patients are not available in many public hospitals. The high cost of treatment in private hospitals makes it impossible for the majority of breast cancer patients coming from the middle and lower strata of the society to receive treatment.
The social taboo around the disease is also one of the biggest causes contributing to the high mortality rate among Pakistani breast cancer patients. Pakistani women feel reluctant to talk about their health issues with their family members. Breasts are considered a 'secret organ' in Pakistani society and they cannot be discussed in public spaces. Women in rural areas are especially reluctant to go to male doctors due to the cultural restrictions, even when they find lumps and changes in their breasts. They turn to alternative medicine or seek help from spiritual healers initially instead of seeking professional medical help.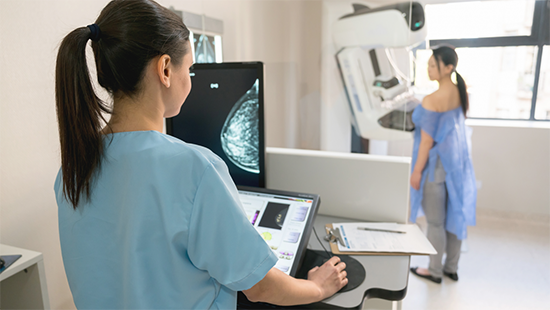 The lack of awareness about the symptoms of breast cancer is also contributing to the rise in deaths caused by the disease. Women in Pakistan are mostly not aware of the early signs of breast cancer and they often ignore them. They are not educated about it in colleges or universities nor do they receive any information about it from their elders or local health workers. This lack of awareness results in 89% of breast cancer patients getting diagnosed at later stages of breast cancer in Pakistan which severely limits their chances of survival.
What can we do to fight breast cancer in Pakistan? I believe a comprehensive and well-coordinated action plan is needed to fight breast cancer among Pakistani women. Firstly, the government needs to set up Breast Cancer Screening Centers at all major public sector hospitals and Basic Health Units (BHUs) across Pakistan to ensure early detection and timely treatment of the fatal disease. BHUs can play a key role in providing healthcare services to people in the rural and remote areas of the country. The government needs to provide sufficient funding, well-trained staff, equipment and medicine to BHUs to ensure their effective and smooth functioning for the betterment of the community.
Pakistani women feel reluctant to talk about their health issues with their family members. Breasts are considered a 'secret organ' in Pakistani society and they cannot be discussed in public spaces
The government also needs to consider running BHUs in partnership with the NGOs working in the health sector of Pakistan. The NGOs can resolve the administrative issues in managing BHUs and significantly improve their performance in serving the community. My organisation, Pink Pakistan Trust, has applied for the adoption of four BHUs and has been waiting for the Sindh government's response.
Secondly, Breast Cancer Awareness Centers need to be set up in educational institutions, community centres and women's workplaces to create much-needed awareness about breast cancer symptoms among Pakistani women. These centres will organise workshops, seminars and interactive talks by doctors, religious scholars and community leaders to break the taboo around breast cancer in society. Pink Pakistan Trust has taken the initiative to set up Breast Cancer Awareness Centers in universities across Pakistan including the University of Karachi, Quaid-e-Azam University, Government College University (Lahore), Benazir Women University (Peshawar), University of Lahore and Superior University.
Thirdly, financial assistance needs to be provided to breast cancer patients coming from middle and lower-income families. Many breast cancer patients do not seek treatment as they do not want to burden their families with their medical expenses. A separate fund needs to be set up for needy breast cancer patients to help them receive treatment for their disease.
Finally, we need to use technology to create awareness about breast cancer among the masses in Pakistan. Mobile phones and the internet have become part of our lives and people in rural areas are also using social media, Tik Tok, and YouTube now. We must utilize social media platforms to create awareness about the symptoms and treatment of breast cancer among the public. Pink Pakistan Trust has recently launched the first mobile application to create awareness about breast cancer and provide medical assistance to Pakistani women. Available in English and major local languages for both Android phones and iPhones, the Pink Pakistan application assists women to do self-screening for breast cancer by explaining the step-by-step procedure and provides free of cost consultation with national and international specialist doctors and psychiatrists. Breast cancer is a silent killer which is depriving thousands of Pakistani women of their dreams and scarring their families for life. It is high time that the government and people of Pakistan come together to fight breast cancer and give Pakistani women a chance to live their lives fully to pursue their dreams.