Pakistan's healthcare system is in a crisis. Ranked 154th out of 194 countries in a 2018 study, it has been struggling to meet the healthcare needs of the country's teeming population of more than 220 million people. Unfortunately, we only spend 1.2 percent of our GDP on healthcare (Economic Survey of Pakistan, 2020-21), which is much lower than the 5 percent GDP recommended by the United Nations to be spent on healthcare by a country. Even smaller countries in our region spend more on healthcare, such as Nepal which allocates 6 percent of its GDP to healthcare.
With only 1,282 public hospitals, 45,987 registered doctors and 116,659 registered nurses for a population of more than 220 million — according to the 2020 data — the healthcare facilities and the number of healthcare professionals in Pakistan are below the minimum standards set by the World Health Organisation (WHO). The maternal, infant and neonatal mortality rates of Pakistan are quite high as compared to the other Asian nations, indicating lack of access to the basic health facilities. Pakistan is among the few countries in the world that do not have a universal healthcare system.
The COVID-19 pandemic further exacerbated Pakistan's healthcare challenges. The hard fact remains that our country's healthcare system, even now, is not ready to provide an emergency response to a pandemic even on paper. With some luck and a lot of hard work, we managed to mitigate the impact of COVID-19 despite the insufficient number of hospitals and limited and untrained staff. Moreover, the pandemic also exposed our outdated medical equipment and dysfunctional and scarce resources. We saw many tragic incidents of patients losing their lives as they could not find beds in the Intensive Care Units of both the public and private sector hospitals around the peak of the COVID-19 pandemic in Pakistan.
The healthcare system of Pakistan needs a comprehensive and purposeful master plan of reforms to increase its effectiveness, efficiency and equity. A stronger integration of medical education and health services needs to be created in order to improve the quality of training, the equity in access to healthcare, and the focus on serving the community. Hospital-autonomy also needs to be increased to allow them self-growth as well as self-management. A family physician programme can also be implemented to provide the population in the rural and remote areas access to healthcare.
A purposeful and sustainable health policy needs to be formulated and implemented to provide a universal healthcare system and substantially increase its budget. Universal healthcare protocols and guidelines need to be developed to improve the quality of healthcare services and reduce the disparity between the public and private sectors hospitals. More hospitals, diagnostic centres and medical universities need to be established for producing more healthcare professionals. However, I would like to single out one step that can significantly improve the healthcare system of Pakistan: Reforming, strengthening, and fully utilising Basic Health Units (BHUs).
The primary healthcare in Pakistan is provided mainly through more than 5,500 Basic Health Units. The BHUs are the only source of healthcare for a large number of population, especially in the rural and remote areas. They are supposed to play an instrumental role in providing preventive, curative and rehabilitative healthcare services to the masses and decreasing the burden on the secondary and tertiary care hospitals. However, BHUs in Pakistan are plagued by a number of administrative and infrastructural problems. The unavailability of experienced medical professionals, lack of medicine, equipment and testing facilities, and unavailability of ambulances for critical patients are some of the hindrances that have crippled BHUs across the country.
The government needs to formulate and implement a proper policy and allocate sufficient funds to BHUs to enable them to function effectively. Financial incentives need to be offered to medical professionals to work in the BHUs in the remote areas. Strict disciplinary actions need to be taken against the BHU staff who are irregular, inefficient or involved in any kind of corruption. The BHU staff need to be trained to treat the patients with respect and care to encourage them to seek medical help without any inhibition. The funding for BHUs needs to be increased to provide medicine, latest equipment, diagnostic facilities and ambulances to transfer critical patients to secondary and tertiary care hospitals.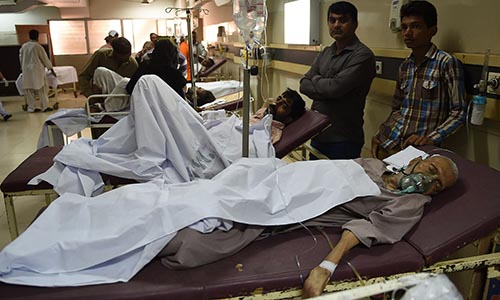 I believe that BHUs have untapped potential to be used in a variety of ways to provide health care to the community. BHUs can create awareness about the common diseases, especially the communicable diseases, among the community to prevent their spread. They can be used to collect data to identify the trends of diseases prevalent in a community to find out the causes behind their high incidence rate. In fact, the data can be used to develop the first patient directory of Pakistan to facilitate medical research in the country.
Breast cancer is one of the biggest causes of deaths among Pakistani women. The lack of awareness and social taboo around it are the major hurdles in fighting this fatal disease. BHUs can be used to create awareness about breast cancer among women belonging to all the strata of the society. Breast Cancer Screening Centres can be established at BHUs to ensure early detection and timely treatment of the fatal disease. My non-for-profit organisation, 'Pink Pakistan Trust,' has recently launched the first mobile application to create awareness about breast cancer and provide medical assistance to Pakistani women. Available in English and major local languages for both Android phones and iPhones, Pink Pakistan application assists women to do self-screening for breast cancer by explaining the step-by-step procedure and provides free-of-cost consultation with national and international specialist doctors and psychiatrists. BHUs can guide women about the application for seeking medical help and counselling sessions for breast cancer.
Finally, the government needs to consider running BHUs in partnership with the NGOs working in the health sector of Pakistan. The NGOs can resolve the administrative issues in managing BHUs and significantly improve their performance in serving the community. Pink Pakistan has applied for the adoption of four BHUs and has been waiting for the Sindh government's response since 2020/21.
BHUs can become a force of change in the Pakistani healthcare system if the administrative and infrastructural problems are resolved and its true potential for providing health services is fully exploited.