Pakistan and China are celebrating 70 years of their friendship, with a measure of satisfaction and trust. It is a unique relationship, which does not follow any logic or any protocols of international relations. It is not based on rhetoric, but action. History is witness to the exemplary cooperation between them at all times. The China-Pakistan Economic Corridor (CPEC) is just one example of this time-tested relationship.
However, Pakistan needs to be cognisant of the fact that the world dynamics are changing. The major driver of change is the unprecedented march of China on the path of economic development and in the global power structure. The West, led by the US, considers it a threat to their hegemony and are trying to erect stumbling blocks to check the growth of China. The scenario is becoming more complicated by the day. The US adopted it as a policy goal and a strategic plan of action has been launched to achieve this goal. The situation presents a complex web of challenges for Pakistan. Interestingly, Pakistan, on the one hand, cherishes its friendship with China and on the other hand, it has had a close working relationship with the US for several decades now. Intriguingly, Pakistan also has the unique experience of brokering a deal between China and the US.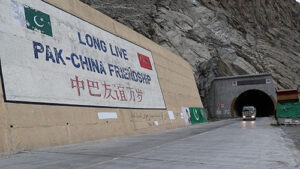 It wishes to carry the legacy forward and is willing to help negotiate a new agreement for ensuring a durable peace in the region and at the global level. Unfortunately, the changing geo-strategic interests of the US do not allow Pakistan any leeway to pursue the 1970s' policy. In the 1970s, the geo-strategic realities forced the USA to forge a partnership with China. The conflicts between China and the USSR (Soviet Union) in 1969 provided the US an opportunity to undermine the Soviet Union by forging a relationship with the biggest Communist country. The US requested Pakistan, which was a close friend of China's, to facilitate the process. China and Pakistan were hoping that the new deal would lead to a peaceful and stable region and world. The collapse of the Soviet Union gave the world a hope that there would be no new Cold War.
But that did not happen; the US has initiated a new Cold War and, this time, China is the target. The scenario presents two lessons for Pakistan. First, the US builds relationships on the basis of strategic interests and proceeds to support it with financial resources. In the past, the US had strategic interests in both China and Pakistan, so it kept on enhancing cooperation with the two. But that changed with the collapse of the USSR. The US adopted a new strategy and targeted Pakistan by imposing sanctions against it. Second, the US wants to keep every other country as a junior partner; if anyone shows signs of surpassing the US, it immediately starts to take counter-measures. This is evident from its present campaign against China.
As for Pakistan, it now stands at the crossroads. The new strategic interests of its Western friends revolve around containing China. They need allies who can help them achieve this goal, and India is willing to do the job. However, this is not an option for Pakistan primarily for three reasons. First, Pakistan has had a bitter experience of working with its Western allies. Although, Pakistan is an ally and a frontline state in the war against terrorism, its allies do not miss any opportunity to malign and undermine Pakistan. Second, Pakistan will have to accept India's hegemony, which is not acceptable to us. Third Pakistan will have to cut off all ties with China, which is simply out of the question. Consequently, Pakistan is no longer viewed as an ally. The situation compels Pakistan to adopt a wise, smart and aggressive strategy and strengthen its relationship with partners who are trustworthy, who can stand by them through thick and thin. Fortunately, we do have such partners, and China stands tall among them. It will, hopefully, be a win-win proposition for both, as China also needs trusted friends, which can stand by it. Pakistan needs to adopt a policy which helps to strengthen its relationship with China.
For this purpose, Pakistan, first of all, needs brains that are free of western influence and personal biases. Also, they must have an understanding of China and the Chinese philosophy of conducting international relations. Unfortunately, there is a dearth of such brains in the policy-making and narrative circles. Presently, the affairs are being run by those people who have a limited understanding of China and are deeply influenced by western philosophy. The discourse is being led by such people. They use a western lens to analyse China and accordingly devise policies. There is a need to identify a specialised cadre of people who understand China and can develop narratives and policies that are in sync with our respective interests. Pakistan needs to get rid of those experts who have a one-sided or blinkered vision.
Second, Pakistan must stand with China if it wants China to stand by Pakistan. China has always supported Pakistan on the Kashmir issue not by rhetoric but with practical actions. It has also used its veto power to safeguard Pakistan's interests at the UN. Moreover, it is generously assisting Pakistan in building its defence capabilities, not by selling arms but by enabling Pakistan to manufacture the JF-17 Thunder. Pakistan reciprocated by extending its cooperation where China needed it the most: it provided them an air corridor for connectivity to the world, helped China secure a legitimate seat on the UN Security Council and has unambiguously supported it on the issue of Taiwan. The same spirit is needed to counter the propaganda against China on the issue of Xinjiang and Hong Kong. Pakistan should show the true face of Xinjiang to the world and highlight China's fight against extremists.
Third, there is a need to understand that there is a difference between asking questions and indulging in baseless, targeted criticism and propaganda. It is an unfortunate reality that the so-called liberals and democrats love to criticise China on the basis of personal assumptions. Pakistan's own media runs stories, without bothering to understand the real story. For example, the debt trap conspiracy stories against China were spread without understanding the issue of debt trap. It is a proven fact that the China-Pakistan Economic Corridor (CPEC) will provide debt relief to Pakistan, but the conspiracy stories linger on. On the contrary, one does not find any such anti-Pakistan stories in the Chinese media or among intellectual circles. This negative practice must end.
Fourth, the best way to consolidate and enhance cooperation with China would be for Pakistan to strengthen the implementation mechanisms for CPEC. For that purpose, the CPEC Authority must be strengthened in all aspects. It should be given the power to plan and execute the programmes. This would help to improve efficiency by avoiding unnecessary red-tape and involvement of multiple institutions. Its status should be upgraded so that it can work directly with Chinese institutions. This would help to forge partnerships with multiple stakeholders, national and global, and realise the full potential of CPEC. The debate centred around military and civil engagement should be parked on the side. Political point-scoring and credit games must be avoided at all cost. Pakistan should not waste time in these senseless activities, as it only strengthens the narrative of the opponents. It should only focus on who or what can serve its interests best.
Fifth, Pakistan should also request China to give due consideration to the weaknesses of our economy, which is currently in recovery mode. Although, China is already cognisant of the fact, Pakistan still needs to prepare a comprehensive document to pinpoint where Pakistan especially needs assistance and time.
Lastly, China and Pakistan should sit together and devise a future agenda of engagement by analysing the prevailing circumstances and future scenarios. For example, QUAD is a new reality and it will pose a direct threat to both China and Pakistan. The Quadrilateral Security Dialogue — QSD, also known as the QUAD — is an informal strategic dialogue between the US, Japan, Australia India and Taiwan, widely viewed as a response to increased Chinese economic and military power. Hence, there should be a joint strategy to counter it. This is just one example, but there are other areas where China and Pakistan need to work together to adjust their approach to navigate the uncertainties ahead. It is the only way to counter all future global challenges.