His hair has more salt than pepper in it now and he exudes a quiet calm as opposed to an earlier intensity, but Feica's pencil is as sharp as ever and his illustrations as lively. One of Pakistan's most famous cartoonist, and someone who played a pioneering role in this genre, he still enjoys drawing, painting and commenting on the world around him. "An artist never retires," says Feica. "I'm still the same person I was."
Born as Rafique Ahmed in Multan, the cartoonist deliberately chose to do away with the formality of a family name. "There is nothing before or after my name," he says. "No affiliations or classifications. I am just a human. I was always simply 'Feica,' at home, in school and continue to be so. In fact, my good friend Mohammad Hanif thought Feica was a girl's name before he met me," he laughs.
Born into a large and loving family, Feica's parents did not object when he decided to pursue art as a career. So he went to Lahore and enrolled at the National College of Arts (NCA) earning a degree in Fine Arts. "I was fortunate to have had teachers like Colin David, Khalid Iqbal and Salima Hashmi. Whatever assignment I was given, even a still life, my teachers always said my work seemed to carry a comment. My final thesis work too was a comment on the whole art college system."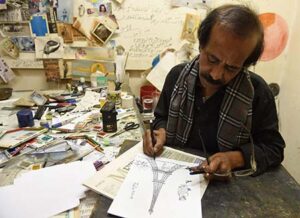 After graduating from the NCA, Feica found a job as an illustrator at The Muslim, a daily newspaper, in Islamabad. After a short stint there, he moved to Karachi where he joined an advertising agency, MNJ. "Here I met Zohra Yusuf and when she moved to The Star evening newspaper, I followed." It was at The Star that Feica evolved into a cartoonist, the journalistic setting stoking political and social commentary in his drawings. "I worked with some wonderful colleagues there and they gave me the freedom to express myself," recalls Feica. "It was the early days of the spread of religious fervour in Pakistan, and I made a cartoon of a woman's hands knitting a sweater with the threads being drawn out of a man's beard. In another cartoon, I depicted a maulvi's open brain with a woman sitting inside it. And the paper carried these."
The skilfully executed and incisive cartoons began to draw attention almost immediately. "I changed the traditional classical cartoon format, which was always with a caption. I introduced a more illustrative style which spoke for itself," says Feica.
Feica continued at The Star until he ran into trouble with some other elements. "The MQM was very strong at the time; they had a strong support base even within my work place and I was constantly running into conflict with them. I was also hot-blooded then and I knew I would end up getting into a fight. So I decided to leave for a while." Feica returned to The Muslim. And the cartoons continued to roll thick and fast from his pen. "The editorial cartoon became a regular feature in newspapers, whereas earlier it was always consigned to a less significant spot," he recalls.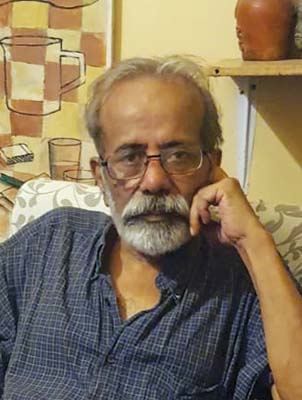 These were the bleak General Zia years in Pakistan and it was not always easy to stay out of trouble. "I was sitting around with friends at home in Islamabad when a police mobile picked us up and took us to the local thana. The next day was a Friday, a holiday, so we couldn't get bail and ended up in Adiala Jail." The Ojhri Camp blast also occurred around this time. Feica and some friends actually witnessed explosives and munitions flying through the air. "We decided to hold a demonstration at Zero Point to protest against the accident. The same magistrate who had charged me in the earlier case showed up with the police and they beat us up. We also fought back and were arrested and treated to another stint at Adiala," laughs Feica.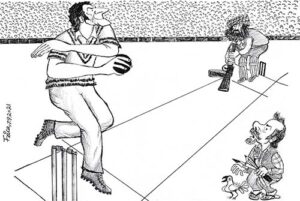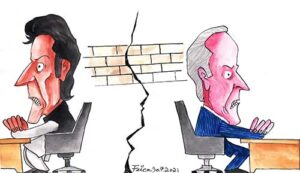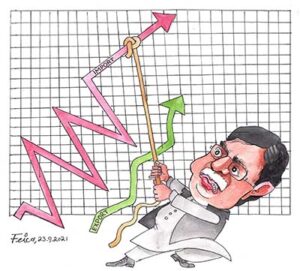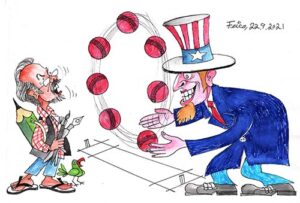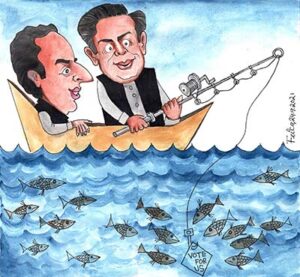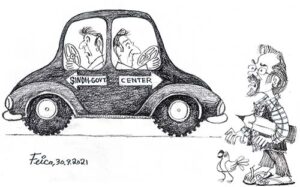 After these run-ins with the law, Feica decided to move once again and took up an invitation to join The Frontier Post newspaper in Peshawar. "I was young and full of energy," says Feica. "I would make two cartoons whereas I was earlier making one. I also mentored other aspiring cartoonists who would come and watch me work." The Frontier Post holds a special place for Feica. "It was a very rich experience. It was the time of the Afghan war and mujahideen era. The rugged terrain and mountains had a special appeal and I made friends among the local sardars. We would go into the off-limit areas – ilaqa ghair – and spend days there."
Then the owner of The Frontier Post decided to start an edition of the paper from Lahore, and asked Feica to move there. "Rehmat Shah Afridi was a very nice man and I couldn't say 'no' to him" says Feica. "And so The Frontier Post Lahore was founded and we introduced a six-column cartoon which became very popular. I also inducted two NCA graduates and trained them for the paper."
For a while now, Feica had been deferring a long-planned trip to the US. "In 1989, I finally left for the US. I had some very good American friends who were studying law at Columbia University and that's where I landed."
He spent almost two years, first in New York and then touring the rest of the country. "I had saved up enough money to be able to live there without working for a while. I spent my time visiting museums, observing the city, architecture…. The work of artists, whom I had heard of and studied in art school, was now before me. It was a privilege and I thoroughly enjoyed it. "When it was time to leave New York, Feica boarded a Greyhound bus for a 'See America' tour which took him across the country all the way to San Francisco and Los Angeles. "I finally ended my trip in Houston where I had a good friend."
Then it was time to leave, but not for Pakistan just yet. Feica flew to England where he spent another year. "I made some paintings and sold them, which was enough to keep me afloat in London," recalls Feica. He was also asked to make cartoons for Jang London. Then he was invited to Birmingham to make cartoons for a magazine printed there. "They gave me board and lodging and I spent some very good times," says Feica. When that gig was up, it was finally time to return home.
Dawn and Herald welcomed him back with open arms in 1992. His work was featured on the cover of the Herald several times, with the cartoonist churning out drawings for posters and election specials as well.
"I have made thousands of cartoons in my career and I have been very lucky in my editors," says Feica. "They never censored me; in fact, they always supported me."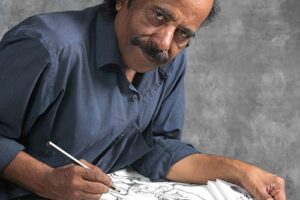 During this time, Feica also started conducting drawing classes for the children of members of the Press Club. "We would have a finale competition on 14th August that was very popular with the children."
Although, Feica did go to jail twice, it was never for his cartoons. "I am an artist and a journalist. There are certain ethics which everyone knows. I don't get personal or rude. At most, supporters of Nawaz Sharif or Maulana Fazlur Rahman would ask me to make more flattering caricatures of them."
Feica recalls being invited to an iftari at Pir Pagara's residence. "He invited me personally and met me very graciously. While sitting there I made a caricature of him and asked him to sign it. He did so after saying, 'I never give autographs to anyone.'"
When Feica was interviewed by international papers on the Charlie Hebdo incident, he explained to them that while he considered it fine to poke fun at bigots or fanatics, he would never do that with religious figures.
Somewhere along the way, Feica got married and today has two daughters and a son, all of university-going age. "I don't think I have changed but I can walk along with the modern world," he says. "My children are free to live their lives."
After his retirement from Dawn, he started focusing more on his painting. At present, the cartoonist is working with the Bol network but continues to paint seriously. "When I have enough paintings, I do plan to have an exhibition," he says. "I want people to see my paintings."
When asked if Feica considers himself a cartoonist or a journalist, he says, "I'm a double-edged sword. I am both. Although unfortunately, even art colleges do not appreciate the value of this genre. They do not consider it important enough to make it a dedicated subject."
Perhaps the true measure of his success is that he has thoroughly enjoyed his life and his career. "The last 25, 30 years have just gone by in a flash. And along the way, I made a name for myself," he says. "People started to recognise me. I don't know when that happened. I have worked very hard and honestly, but I never hankered after fame."