(The objective of this piece is to take you down memory lane to understand the kind of journalism that we practised in those initial days of an independent and sovereign Pakistan. It has somehow transformed itself into becoming a profession that is difficult to recognise by measuring it against the lofty standards of professionalism, truthfulness and credibility set by its forefathers.)
I opened my eyes in an environment where our morning would begin with a copy of Pakistan Times or Dawn. The weekly Time Magazine was a bonus. A few other newspapers, including the Civil and Military Gazette in English and Jang, Nawa-e-Waqt and Imroze in Urdu, appeared regularly. Radio Pakistan was the only other source of information as well as entertainment and music.
In Lahore, Progressive Papers Limited, which published Pakistan Times (starting February 4, 1947) and Imroze alongside Lail-o-Nihar and Sports Times, was the epicentre of journalistic excellence with legends like Mian Iftikharuddin (founding chairperson), Syed Amir Hussain Shah (managing director), Faiz Ahmad Faiz (editor-in-chief of the group), Mazhar Ali Khan (editor of Pakistan Times) and Zaheer Babar (editor of Imroze) setting the traditions of left-leaning, progressive journalism in the country. Among the staff were luminaries like Abdullah Malik as the chief reporter, who later served as the foreign correspondent of Pakistan Times based in London, I. A. Rehman in the editorial board and writers of the calibre of Khalid Hasan. Despite setbacks, including the arrest of Faiz Ahmad Faiz in the Rawalpindi Conspiracy Case, journalism continued to flourish under the caring supervision and guidance of the pioneers till the advent of the first martial law in 1958. From there on, it has been a downhill slide that has only accentuated with the passage of time.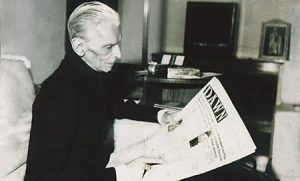 In Karachi, Dawn was the torchbearer of professional journalism. Founded by Quaid-e-Azam Mohammad Ali Jinnah, it started publication in Delhi on October 12, 1942. Upon partition, it moved to Karachi. With editors and editors-in-chief like Pothan Joseph (Delhi), Altaf Hussain (Delhi and Karachi), Jameel Ansari, Yusuf Haroon, Mazhar Ali Khan, Ahmed Ali Khan, Saleem Asmi and Tahir Mirza, it was one paper that set its editorial section apart from its business section — a distinctive tradition which few others have been able to emulate. While some may disagree, Dawn would still like to be known for its independent editorial policy.
Some other English papers came later, which continue publication to-date, including The News, The Nation, The Express Tribune, Daily Times, Business Recorder and Pakistan Today. In between, The Muslim appeared with a lot of promise, but had to be shut down because of multiple issues.
The advent of television added a key vista to the domain of journalism. To begin with, we had some phenomenal people associated with PTV, including its founding father, Aslam Azhar, Nisar Hussain, Shahzad Khalil, Yawar Hayat Khan, Nusrat Thakur, Zia Moheyuddin, Shoaib Mansoor and others who, in their days of glory, produced some unforgettable classics. That was the golden period of PTV when all traffic would come to a halt in the country and across the border in India to watch some phenomenal productions that remain fondly in memories despite the passage of decades.
The electronic media exploded during the tenure of General Pervez Musharraf when cross-ownership was allowed. All the leading newspapers came out with their television channels: The Jang Group launched Geo, Dawn came out with Dawn News, Business Recorder with Aaj News, The Express Group with Express News and, The Nation/Nawa-e-Waqt Group had Waqt (closed down since). Some others were surviving on the fringes.
What were the outstanding features of those nascent days of Pakistani journalism, both in print and electronic formats? There was a purpose, a commitment and a deep-rooted sense of responsibility among the journalist community that they were setting the trends for the future generations to follow and improve upon. There was no yelling, and there was no shouting for ratings. Creative concepts were turned into powerful scripts made ageless through memorable acting skills and music notes. There was beauty penned into every line that was written and every word that was spoken. There was a calm candour and deep devotion that described the atmosphere they worked in, which they endeavoured to maintain even when there were differences of opinion.
From those phenomenal days, journalism has witnessed a steep fall, in print and electronic versions. Innumerable factors may have contributed to this decline. Still, the quest for excellence is no longer a constituent of one's appetite stands out by way of its importance and relevance. There is a compromise with rank mediocrity. Creative germs have been replaced with an overwhelming occupation with making profit irrespective of the cost one would pay in terms of downgrading the quality and professionalism of the work done.
Newspapers and television screens have become vehicles for churning out a plethora of sub-standard stuff in terms of reporting of news or penning of views, anchoring talk shows or producing plays. Everything is dictated by the need for making it profitable rather than professional. There is no credence to what is published. There is no substance in what is discussed and no rationale in how it is discussed. The written and the spoken word both have lost meaning and relevance. In the process, journalists have become arrogant pontiffs, who cannot be denied their prerogative to state whatever and howsoever they may desire to do so. Many lies are packed attractively to be sold to an illiterate, unenlightened and unsuspecting readership and audience. In the process, they degrade themselves. But, more importantly, they pollute the profession. There is no regret or shame in promoting a debased brand of journalism, which has little to do with what it should be and how it was practised by the pioneers who shaped it into an honourable profession designed to transform the destiny of nations.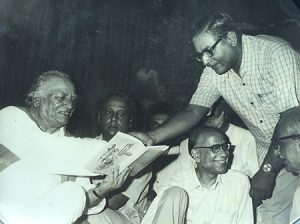 Money, political affiliations and a gross level of self-opinionated approach are the key factors that have contributed to this enormous decline in journalistic standards. Instead of the integrity and credibility of the written and the spoken word, it is perpetuating an agenda that matters more as it has the coffers overflowing. The extent of damage a false and fabricated piece of news may cause is not of any consequence. The profession, unfortunately, has been devoured by a twin scourge: the lust for profit and the hubris emanating from the presumption of being more equal than others.
The fall across the electronic media spectrum is even more abominable. The anchors, whose job is to pilot a substantive and meaningful dialogue on the given subjects, hand out judgements even before the discussion has commenced. After that, they try to influence the participants blatantly to get the verdict as per pre-orchestrated agendas. Their affection for some and hatred for others — nothing is kept hidden from the audience. It is as if a fully paid up drama is being enacted in the name of journalism to the sponsors' satisfaction, some of whom are rendered holy. No harm can ever come their way.
After the parliament, the executive and the judiciary, journalism is the claimant to being the fourth pillar of the state. But, does it deserve to be even considered for the elevated role? The answer would be a definitive no unless, of course, it was to transform itself to those glorious days of journalism when distinguished practices were cultivated by the harbingers of the profession in the country. They were the traditionalists epitomising the benchmarks that journalism was known by. These are difficult standards, but standards that must be met by those who want to be inducted into the tribe of professionals.
Much has happened since those glorious days. Much more may yet happen in the coming times. Journalism has come down many notches, and it may be difficult, almost impossible, to climb those steps to the elevated position where its original adherents had placed it in their heydays. It may be difficult, but it will have to be done if ever the profession is to reclaim its lost glory and stature. We may not be able to get back the likes of Faiz Ahmad Faiz, or Mazhar Ali Khan, or I. A. Rehman, or Khalid Hasan, or others from the illustrious clan. Still, people around could look inward to review their approach and their commitment to a profession counted among the very best that humans may choose to be associated with.