With an eventful career in aviation and two books on the subject behind him, Captain Johnny Sadiq is full of interesting stories and anecdotes. He joined Pakistan International Airlines (PIA) in 1958, when the fledgling airline was just getting off the ground and continued to serve as a commercial pilot for the next 37 years. He has seen the airline from soon after its inception through its heydays to its later tribulations.
His two books, Come Fly With Me Propellers and Come Fly With Me Jets, offer not only a wealth of interesting stories but also serve as a chronicle of the country's international carrier. "After retirement, I went on a trip around the world to meet old friends," says Captain Johnny. "Everyone wanted to hear stories about flying and my wife said, 'Why don't you write a book?' And so I did."
With his ready smile and easy demeanour, Captain Johnny continues to have an admirable zest for life. He is an avid small yacht sailor and racer, loves to sing karaoke and has more books in the offing.
So how did your journey in aviation begin?
I was born and spent my formative years in the UK. The family lived in Wales during the Second World War, where my father, a Guys Hospital man, was the area doctor. He was so popular among the Welsh that they made him a Justice of the Peace. After the War he went to India, and in 1947 went to the new country, Pakistan.
Initially I wanted to join the RAF (Royal Air Force) but later I decided to go to Pakistan. But when my father met me at the airport, he told me that I had missed the recruiting session. So I joined the Karachi Flying Club so as not to waste time before another recruiting session.
And that's where you received your training?
The Pakistan Air Force (PAF) had taken over the flying club in Karachi and I asked to be trained in aerobatics and formation-flying on Tiger Moth training planes. The PAF instructors complied and that flying was lots of fun.
The Flying Club had an air display in 1957, to earn money to improve training facilities. I was lucky enough to be partnered in the aerobatics with the great PAF pilot, Wing Commander F. S. Husain. He was a legend in the Air Force and, at that time was the Wing Leader at the PAF Base at Mauripur. He was a very exacting instructor and, with his tuition, our display went well. My performance earned me a trophy and more. My senior instructors called me to the office and handed me an envelope. Inside was a letter saying that I had been selected by the state to receive free training to become a commercial pilot. It was an offer I couldn't refuse.
Pakistan was under martial law at the time?
Yes, this was in 1958 and Air Marshal Nur Khan was heading the airline. He may have brought in a few people from the airforce but he managed a great team of civilians — people who knew their job. Air Force flying is completely different from commercial flying. The mindset is completely different. Over the years, members of the air force did join the airline as pilots but they converted to the new system.
However, I did run into trouble with the then martial law authorities. I was sacked twice from PIA but, thankfully, reinstated both times. The first time, I couldn't pass the medical assessment. The air force doctor kept failing me and others who wouldn't bribe him. That racket was finally put to an end by Asghar Khan who had received many complaints.
The second time the ISI had an issue with my father, who invoked their ire for treating a child at the Indian High Commission. My father extricated himself from that situation by contacting Ayub Khan who had been his junior at Aligarh College in India. But then they dismissed me from the airline. I think I am one of the few people who took the ISI to court over the matter. The ISI officers, however, didn't want Ayub Khan to hear of the matter so they asked me to withdraw the case and I was given my job back. I finally joined again in 1961.
Flying was a very glamorous profession in those days.
Yes, it was. And PIA was a great airline. We were rising up very rapidly, first under Nur Khan and then Asghar Khan. One time I was coming back from an early morning flight at the airport. Another flight had also landed and the airport was very busy. I saw Asghar Khan standing behind a pillar with an assistant who held a stopwatch. I asked if I could help them and he answered that he had received complaints about delays in baggage retrieval. He said, 'I want it to be completed within 20 minutes and if it isn't then the whole shift responsible will be in my office to tell me why.'
Did you fly during the wars with India?
In the 1965 war, we flew super constellations into Turkey to pick up arms and we re-fuelled in Iran. We had to enter Pakistan Airspace during daylight on our missions, but our Air Force had complete air superiority over India.
In 1971, I was stationed in Jordan where King Hussain had asked PIA pilots to help train their men to transition onto the big jets.
What was the situation like after the 1971 war?
Well, that was the toughest challenge. Zafar Chaudhry who was heading the airline at the time decided that since we had lost half the country, we should also downsize the airline. He sold half the fleet and, that too, at a very low price. But the gentleman who followed him was Rafiq Saigol and he had a different view. He was a businessman and very keen on aviation. He flew with us one time and asked permission to enter the cockpit. Naturally we said yes and he started soliciting our opinions. I told him that it was a great pity that we would have to downsize and let so many talented pilots go. He said, 'Get your pilots association together and tell them that no one will be fired. Instead, we are going to expand and in two years we will have wide-bodied jets and will need to hire foreign pilots.' I later told my colleagues, 'I met the new MD. Lovely guy but he's crazy.' (laughs)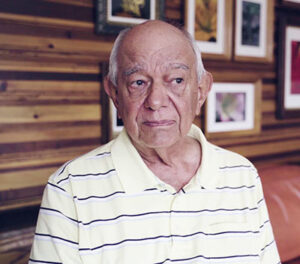 Two years later, I was called to our office in London and told that the boss has said we have to hire 20 British pilots.
Those were the heydays of the airline?
Yes. You couldn't get a seat on PIA; it was so popular and full of foreign passengers. Our first class was one of the best. The food, the service, the punctuality…. We chose the first pilots for Emirates, I helped hire them in my office!
And we were never complacent. So every year we had the big companies like Boeing, Fokker and others who would come and carry out checks.
What was Karachi like in the sixties?
It was a fantastic place. I have travelled the world but Karachi was the best place to have a good time. It was cheap, friendly and fun. Everyone was happy.
So when did the airline start to lose its glory?
I would say it was in the eighties, the decline began when we started to put undeserving people in positions [of authority]. And the competent person under him, who should have gotten the job, was sidelined. Many of them left the airline and they were snapped up by others, Middle Eastern airlines, because PIA had such a good reputation.
Even in the eighties, we flew so many routes. We had big jets, when other airlines, like Turkish were flying smaller ones. They would turn to us for advice.
But we lost so many routes mainly because someone's incompetent relative was posted there. Then there were ticketing scams in foreign stations. There were many people who weren't loyal to the country or the airline.
Do you think PIA can return to its glory days?
I think it can because we have so much experience. But we have to be honest. We have to put the right people in the right job. We can have an air force chief but under him we must have professionals. I would recommend hiring top professionals from other airlines. Place them over relatively young Pakistanis who they can train. The Emirates staff was trained by the Irish. In the Far East, it was the Americans. They were called counterparts.
The main things passengers look at are: fare, punctuality, safety and then what they can get on board. And there is tough competition.
You spent 37 years flying for PIA. Where there any tense flying moments?
There always are, but we were very well trained. One time when flying out of Muscat at night, both engines on one side of my Boeing 707 were inoperative — one was on fire. The plane was too heavy for a normal landing and had to be flown on landing approach faster than usual because of the two inoperative engines on one side. And when we landed we later found the runway littered with dead seagulls. We had run into a flock of birds!
Another time, there was an incident in China in which the plane, a Boeing 707, kept rolling upside down. But we were given so many emergencies in training, that we knew how to handle them. Pilots are trained to handle difficult situations.