In an economic landscape that in recent years has been characterised mainly by stagnating growth and rising prices, remittances have arguably been one of the few sources for optimism. Backed by a diaspora numbering approximately 11 million, Pakistan's annual remittances clocked in at a record $23.12 billion in fiscal year 2020 (FY20) and are on track to break this record in the current fiscal year, with $14.2 billion in remittances as of December 2020. Accounting for almost 10 per cent of the gross domestic product (GDP), remittances serve as an economic lifeline for millions of Pakistani families that have relatives working abroad and also enhance the nation's creditworthiness by providing a steady flow of foreign exchange. Nevertheless, as impressive as these numbers may seem, in fact, Pakistan still lags behind other countries in the region in attracting non-commercial monetary inflows. For instance, Egypt received $29.6 billion in remittances in 2020, despite having a population around half of that of Pakistan's.
This can be attributed, in large part, to the difficulty many expatriate Pakistanis have in sending home remittances, particularly those working in non-professional, low skilled sectors. Regulatory requirements, the lack of physical presence of Pakistani banks overseas and expensive intermediary fees often create hurdles for the free and easy flow of expatriates' money into Pakistan. In addition, expatriates often find themselves unable to purchase real estate, bonds, equities and other financial assets in Pakistan, inhibiting a potential source of long-term growth and development.
This is where the Roshan Digital Account (RDA) comes in. Aside from making the process of sending remittances to and investing in Pakistan more seamless, the RDA initiative is a part of a broader pivot of the Pakistani economy towards an export and investment led model of growth, in which overseas Pakistanis have a key role to play.
Developed by the State Bank of Pakistan (SBP) and launched in September 2020, the RDA is a digital banking facility that enables expatriates to access banking services within Pakistan without having to visit a consulate, embassy or physical bank branch in their country of residence via opening an online account with one of the 12 banks in Pakistan that have signed up for the initiative. Accounts can be set-up within 48 hours and are available in both Pakistani Rupee and foreign currency denominations. Through these digital accounts, Pakistanis living overseas can perform all banking activities in Pakistan and also invest in a wide range of asset classes, including stocks, real estate and government securities. This simplifies the process of remittances by allowing overseas Pakistanis to make purchases and pay bills for their family members directly through their RDA account and allows them to participate in Pakistan's economy in a more meaningful way by investing in assets that lead to long-term growth.
Speaking at a recent webinar on the RDA initiative hosted by AKD securities, a subsidiary of the AKD group, Deputy Governor, SBP, Dr. Murtaza Syed noted, "as a former overseas Pakistani I felt the frustration of many overseas Pakistanis at being unable to connect to Pakistan's banking system and its economy in a way that is seamless, in a way that you will have confidence that you will have full control over your funds." Furthermore, many "overseas Pakistanis are fearful of having to deal with the tax authorities in Pakistan," Dr. Syed said. Hence when Prime Minister Imran Khan reached out to the SBP last year asking them to find a way to better connect overseas Pakistanis to the local economy, Dr. Syed and his colleagues at the SBP, "thought about the various bottlenecks that existed and how to get rid of them. We decided we had to use technology and took Pakistan's regulations in a direction that they had never gone in before."
In keeping with Dr. Syed's observations of the concerns many overseas Pakistanis felt when dealing with the motherland, the RDA, along with its digitally enabled ease of access and broad range of investment options, offers account holders a level of control and autonomy that was previously lacking. Funds are fully repatriable and account holders will not have to deal with the Federal Board of Revenue (FBR) or file any taxes in Pakistan, only a 10 per cent withholding tax will be deducted from profits. This appears to have been a winning combination as barely 10 months since its launch date, more than $1.5 billion have been sent through RDA accounts, which, at the time of writing, number 180,000 and are spread across 171 different countries. "Many other countries are now reaching out to us, having seen the success of RDA to try to understand how we went about it, this idea of digitally on-boarding a customer that doesn't actually live in your jurisdiction is not a very easy thing to do, most emerging markets don't actually have a mechanism like this," Dr. Syed shared.
About two-thirds of this new money has gone into Naya Pakistan Certificates (NPCs), government-backed securities that offer returns of up to 7 per cent on dollar denominated securities and 11 per cent on securities denominated in rupees. These are highly lucrative rates that far exceed what fixed-income investments and government securities elsewhere in the world have to offer. Though, as of writing, only 1 per cent of the money sent via RDAs has gone into stocks, this number is expected to grow rapidly in the coming months. According to Dr. Syed, the SBP is now working to "really improve the integration with the stock market…we are allowed to invest in stocks right now but I think the experience has been a bit patchy for customers and we want to try to get that right and… improve the integration, improve the user experience." Furthermore, the SBP has committed to increasing the number of investment products available under the RDA umbrella. "We first had the NPC, now we also have a car loan that you can get for your families living here… we also want to bring a housing finance product soon," said Dr. Syed.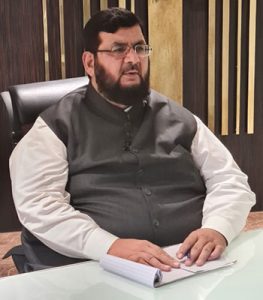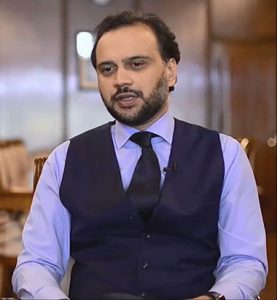 Chairman and founder, AKD Group, Aqeel Karim Dhedhi (left) and
Deputy Governor, SBP, Dr. Murtaza Syed, emphasised the many lucrative
investment options Pakistan has to offer expatriate investors via the RDA.
Speaking at the same webinar, Chairman and founder of the AKD Group, Aqeel Karim Dhedhi, emphasised the tremendous opportunities that Pakistan's housing and equity markets had to offer expatriate investors. "In terms of the equity markets we have many stocks that offer dividends of up to 10 and even 20 per cent, also there are many stocks that are trading at half their book value, you will not find investments this attractive anywhere else in the world… in the past, our weightage in the MSCI EM (Morgan Stanley Capital International, Emerging Markets) Index was not improving because we were not getting enough listings but now new listings have started coming in," said Dhedhi. In particular, Dhedhi highlighted the current government and the SBP's efforts to clear regulatory hurdles and introduce mortgages to the Pakistani housing markets for the first time, facilitating home ownership among the lower and lower-middle classes and setting up the housing sector for an unprecedented expansion. "It is on this basis that we will see several new construction projects in the coming days, due to which sectors like cement and steel will have to go into expansion" said Dhedhi, predicting that "there will be a demand for 20 million new houses over the next 25 years whereas Pakistan only has 10 million as of now," and that the "impact of new construction projects starting this year will be unbelievable because as many as thirty to forty industries are tied to construction and poised to benefit from its growth."
Other participants in the webinar included: Managing Director, Deposit Protection Corporation, SBP, Irfan Ali; Consul General of Pakistan in Los Angeles, Abdul Jabbar Memon; Executive Director — Research, AKD securities, Usman Zahid; CEO, AKD Securities, Farid Alam; Chairperson, AKD securities, Hina Dhedhi Junaid; Director and CEO, Bank Alfalah, Atif Bajwa and Deputy Consul General, Shahras Asim.
These factors make for an investment setting where entry is cheap, returns are high and the ingredients for long-term growth in value are present. The trends underscored by Dhedhi also boost confidence in the Pakistani economy overall. Given Pakistan's history of economic instability, this element will be crucial to retaining funding from overseas Pakistanis. While Dr. Syed acknowledged that many were still "haunted by what happened in 1998 when Pakistan had to freeze foreign currency accounts," he remained adamant that Pakistani policy makers have learnt from their mistakes and that "the Pakistani economic situation is also very different from 1998," pointing out that Pakistan's current account, a key indicator of a nation's economic health, had gone into surplus and that legislation in the form of the Foreign Currency Protection Ordinance, offered overseas investors a safety net in the highly improbable outcome of an economic crash.
All in all, the RDA accounts seems like the rare occasion where a Pakistani government actually got something right. That it involved building a digital infrastructure that could work across the globe only makes it all the more impressive. Alongside the economy turning a corner, the government's economic team appears to be building up a solid winning streak, and one can only hope that it continues.