In his inspiring and optimistic budget speech, Shaukat Tarin, Pakistan Tehreek-i-Insaf's fourth finance minister in three years, emphasised the positive aspects of Pakistan's V-shaped recovery: Economic growth up to 3.94 per cent, supported by growth in large-scale manufacturing, remittances, foreign exchange reserves, tax collection and an impressive recovery in the stock market.
The sad reality is that Pakistan's economy is now a laggard in the region, overtaken even by Bangladesh with its higher growth rate, higher per capita income, exports double those of Pakistan, half the debt size, four times the foreign exchange reserves, and a stronger currency. The country is still struggling to recover from the low performance of the last two years and get back to the level it was in 2018, before the devaluation.
The weakness of Pakistan's economy is not the fault of any one government or leader, but the result of a system in which short-term and superficial solutions are preferred to real cures and economic expertise is sacrificed at the altar of populism. Each government blames its predecessors, but subsequently fails to introduce the necessary reforms, opting to pamper powerful interest groups as it focuses on the coming elections. Pakistan's budgets are not medical cures to economic problems, they are like publicity campaigns designed to retain government popularity. The current financial team of Imran Khan's government, comprising Shaukat Tarin, Razzak Dawood and Ishrat Hussein, is highly competent, but it does not have the mandate to tighten people's belts and impose short-term hardships that are necessary to build a strong and healthy economy.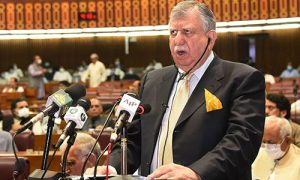 Poverty levels have risen, jobs are difficult to find, and unemployment is growing. Inflation is making life impossible for all and the rising cost of wheat, sugar, electricity and petrol is imposing a heavy burden and lowering the quality of life of Pakistanis in a country characterised by inflation, rising poverty, mounting debt and growing unemployment. The economy still has a long way to go before it can catch up with the hype of news headlines.
The growth of Pakistan's economy is handicapped and held back by its population growth, lack of education and discipline of its work force and, above all, bad governance. In the coming years, these weaknesses are likely to remain. The political will to control population growth is simply not there. It takes years for the benefits of education to kick in, and our work culture and ethics that stand in the way of good governance will remain unchanged.
This year's budget and the budget to follow are election budgets, whose prime objective is to woo a disgruntled electorate and give the Imran Khan government another term in office. Will it work? The budget focuses on giveaways rather than measures to increase productivity. The strategy is to put more money into circulation so that the buying power of consumers increases. The problem is that increased buying power without increasing productivity will inevitably raise prices even further. Voters want roti, kapra, aur makan. The emphasis on the construction industry will provide makan but increased money in circulation will raise the price of roti and kapra to unacceptable levels.
News headlines announce a bumper wheat crop of 28.75 million tons in 2021. Favourable weather conditions and the higher support price of Rs. 1800 (as against the previous price of Rs. 1300) have undoubtedly helped. But due to population growth, the presence of Afghan refugees, the smuggling of wheat to Afghanistan, and losses sustained due to pests, the bumper crop is not sufficient and the government will still need to import 2 million tons. Even after this bumper crop, Pakistan produces 3 tons per hectare as compared to India's 4 tons and China's 6 tons. More fertiliser and better seeds could help raise wheat production in Pakistan. Fertiliser prices are higher in Pakistan than in neighbouring India. Urea costs Rs. 422 per bag in India but Rs. 1760 in Pakistan; and DAP (Diammonium Phosphate) costs Rs. 1224 in India but Rs. 3250 in Pakistan (the prices in both countries are calculated in Pakistani rupees).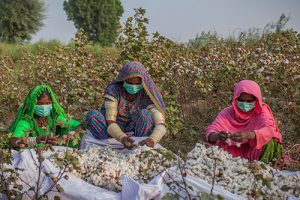 Livestock, including meat, milk, and poultry, now make up more than half of Pakistan's agricultural output. The productivity of this sector can be raised significantly through greater investment and the latest techniques, but this sector has been ignored.
Cotton production for 2021-2022 is forecast at 5.3 million bales, 'up by 18 per cent from the previous estimate.' But Pakistan's cotton output remains at a historic low (down from 14 million bales at its peak) and import of at least another 5 million bales will be required to keep Pakistan's textile industry running. Cotton has suffered due to years of government neglect. The sugar barons in all three parties, the PPP, PML-N and PTI, are powerful and they ensure that it is their interests rather than the interests of Pakistan's economy that are served. Consequently, the growth of sugarcane instead of cotton has been promoted. Sugarcane is not water-efficient and it is unsuited to a water-starved country such as Pakistan, but the government, with its over-generous support policy has created a sugar surplus, which now has to be exported with the help of subsidies and pay-offs to the sugar barons, since our sugar cannot compete with world prices. This anti-cotton, pro-sugar bias must be corrected in order for the economy to revert to a healthy policy balance.
Agriculture is the key to the growth of Pakistan's economy, but neither the budget nor government policies have seriously addressed the main problems that hold back agricultural production in Pakistan — bad water management, wastage of water, waterlogging and salinity, weak infrastructure, disrepair of canals, insufficient storage and pest control, lack of education and farming skills, high input prices, and outmoded and inefficient agricultural practices. The agricultural sector is likely to continue underperforming in the coming two years before the next election, with the result that inflation and the high prices of roti and kapra will continue to burden the population. Without a 5 per cent growth in agriculture, Pakistan cannot achieve a satisfactory growth rate in the GDP (Gross Domestic Product) or provide the jobs that the young and growing population require.
No serious privatisation programme of state-owned enterprises has been presented, so it seems that the country's white elephants — Pakistan Steel Mills, PIA, WAPDA and Pakistan Railways — will continue to bleed the treasury, diverting funds away from constructive deployment. Privatisation could put an end to these annual losses and provide funds to boost our agricultural production.
The new budget targets 18 per cent higher tax collection without raising taxes. This will be a remarkable feat, if achieved. An important part of government revenues are the levies on petroleum products and gas. While the Dawn headlines on 19 June 2021 state: PM SAYS CHEAP ELECTRICITY IS KEY TO PROSPERITY, the price of electricity continues to rise. The oil and gas prices are a key component in the price of electricity (a one-rupee rise in petrol prices jacks up inflation by 4 basis points). The petroleum levy is being increased from Rs. 450 billion (last year) to Rs. 600 billion (this year). Gas levy is also being increased. The finance minister predicts lower oil prices due to the lifting of US sanctions on Iran. We hope he is right, but it is more likely that international oil prices will rise this year as the world economy recovers from the Covid depression.
Savings and investments, particularly Direct Foreign Investment, are the key to growth. The government praises its own performance, saying, 'Improving efficiency, reducing the cost of doing business, improving regulatory environment are increasing productivity, increasing investment, stabilising inflation, and improving investor confidence.' Investment comes either from businessmen at home, or overseas investors who invest in Pakistan. At first, the PTI government was antagonistic to the private sector and conducted a witch hunt against money launderers and corrupt businessmen. This was counterproductive and scared away private sector investors. No economy can progress if it is not friendly to the private sector. But recently, this anti-business populist rhetoric has quietened, and the new budget has tried to woo the private sector by reducing capital gains tax on the stock market. The recent stock market rise shows that the PTI government has corrected its anti-business policy mistakes and is now moving in the right direction. The coming year should win the PTI more rich friends who will prove to be valuable supporters in the coming election. However, there is little positive news on the FDI front, other than the CPEC (China-Pakistan Economic Corridor).
Over the last few years, the foreign investment scene has completely changed. Previously our foreign investors came primarily from oil-rich Muslim countries, Europe and the US. However, over the last few years, China has been the predominant foreign investor in Pakistan. But, over the last year, the pace of Chinese investment in Pakistan has slowed, with several projects on hold. This slowdown is caused by the Pakistan government's failure to honour some of their commitments to Chinese investors. This needs to be dealt with on an urgent basis. Even traditional investors from the West have reduced their interest in Pakistan because of their frustration with the government. The greatest example of this is the Reko Diq project, which has resulted in a $6 billion penalty imposed on Pakistan in international litigation for non-performance of contractual obligations. In business, credibility is essential. The government claims that its credibility is increasing. The coming year, and the amount of foreign investment that comes in, will prove whether sufficient credibility has been established or not.
China's move to exit low value-added industry and enter artificial intelligence and other high-technology sectors provides a great opportunity to labour-surplus countries to develop industries that China is exiting. Bangladesh and Vietnam have been major beneficiaries of this trend. Pakistan needs to follow their lead.
Pakistan has failed to provide good governance. The parliamentary system inherited from the British has not and will not provide good governance. The formerly excellent senior civil service, the CSP, has degenerated due to political encroachment on their turf and the constant threat of the National Accountability Bureau (NAB). Lower levels of government are antiquated, and incapable of providing 21st century governance, in which everything needs to be computerised. E-government must replace the millions of low-level bureaucrats, whose only contribution to the economy is to create obstacles and delays to extract bribes, which rise in proportion to the roadblocks they can create. The PTI government has rewarded these trouble-makers by increasing their salaries, even as they continue to hold back the economy, while they remain invincible. They seek the protection of the courts by getting interim orders passed, followed by never-ending adjournments.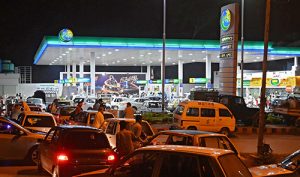 The PTI government's last year's performance was better than the two disastrous years that preceded it, but Pakistan's economy performed worse than other comparable countries and worse than the world average. Yes, there have been successes, such as the rise in remittances and the wheat crop — perhaps a gift of God or due to the astute price rise. But overall, even the targets for the coming year are mediocre as compared to other countries. Regardless of newspaper headlines, Pakistan's performance has not been great; in fact, our GDP has not yet recovered to a level above $300 billion, where it had stood three years ago. Hype is a short-term strategy, you cannot fool all of the people all of the time. The budget, whether good or bad, is far from sufficient to save us from the quagmire which is sucking our economy under. The greatest problem of the people now is that they are unemployed. The biggest problem for Pakistan is that they are unemployable. Without education, without vocational skills, and without any understanding of the importance of merit in building a career, they are more of a liability than an asset. The carpenters are not fully qualified to be carpenters, the plumbers don't know the basic elements of plumbing; certificates and references are fraudulent, and degrees forged. Year after year, the numbers of the illiterates rise as the population increases due to lack of birth control. In order to build a sustainable economy, we must improve the calibre of our people and reduce their numbers. Meanwhile, our governance will continue to malfunction under a system of western parliamentary democracy, which is totally unsuited to the reality of Pakistan.