The Islamophobic rhetoric of a rather middle-of-the road Emmanuel Macron that would better suit his main rival — far-right's Marine Le Pen — has provoked and angered Muslims across the globe and once again exposed the systemic oppression of minorities in France.
Still licking the wounds of a painful defeat in France's local elections in the summer, Macron's party La République en Marche failed to take a reasonable and balanced approach to the murder of a school teacher by an 18-year-old Chechen Muslim refugee in France last month. The slain teacher reportedly showed students controversial depictions of the Holy Prophet Muhammed (PBUH). Yes, a murder cannot be justified, but an individual act also should not be used to stigmatise an entire community and followers of a global faith like Islam. And that's exactly what the French President did.
Overnight, the cry for freedom of expression started to resonate in the streets of a country that had recently made it illegal for women to wear the hijab. Macron added fuel to the fire by defending the provocative caricatures and accusing Muslims and Islam of extremism, though a leader of his stature should have known the implications of his offensive remarks.
Freedom of speech is important and should be defended but as is rightly pointed out by Canadian Prime Minister Justin Trudeau, that it is "not without limits" and should not be used as a justification to "arbitrarily and needlessly hurt" certain communities.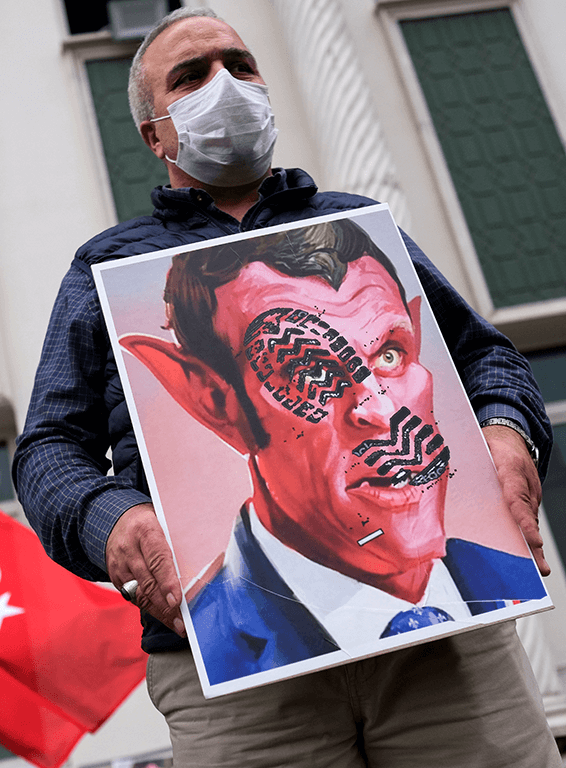 The western concept of political correctness needs to be broadened. It should now also stand up against Islamophobia, as it does against anti-Semitism, racism and sexism.
National leaders should not divide communities or incite hate and violence through their words or actions. Macron's handling of the teacher's murder and its fallout remains inexcusable and shocking. His provocative and irresponsible remarks have only intensified polarisation and strengthened extremists on both sides of the divide.
Even before this latest crisis over caricatures, France has been witnessing a series of violent protests in which immigrants have taken the lead, underlining their feelings of alienation and deepening fissures within French society.
And this has a history. Ever since the guest worker recruitment from French African colonies was initiated after World War II, France witnessed the unanticipated development of African labourers' permanent communities, many of whom were Muslims.
Despite the consistent promotion of French monoculture and the assimilation model for integration, the Muslims' segregation remains a harsh reality. When the Black Lives Matter protests started in Paris this year, these disenfranchised African immigrants, majority of whom were Muslims, were the loudest.
Similarly, the riots of 2005 and 2020 served to visualise the unseen "other" within French society. Arguably, Muslims and, in particular, African Muslims are the most visible and problematic immigrant group in France today. The situation of Muslims in France is a crucial test case for the robustness of contemporary French democracy.
Racism also continues to plague French society in areas of housing, employment, education and everyday life. Negative racial stereotypes from the colonial or even earlier times make non-white citizens' daily lives challenging.
With less than two years to go to the next presidential election, La République en Marche failed to take any of France's large cities in this year's second-round vote, and allied incumbents elsewhere were swept from power.
In Paris, its campaign was scampered by scandal and infighting. Its candidate for mayor of the capital failed even to win a seat on the council. The only success for the government was Prime Minister Édouard Philippe's comfortable victory in the port city of Le Havre. It says a lot about the handicaps of Macron's party, which is split between left and right-leaning factions and has few compelling senior figures, and of which Philippe is not even a member.
Macron has fallen in the camp of the right-leaning, anti-immigrant faction. His attempt to regain popularity in France has put him in the same box as other xenophobic, Islamophobic politicians like Donald Trump and Narendra Modi.