Karachi ranked among the bottom 10 cities in the Global Livability Index, ranking 57th out of 60, according to a World Bank report of 2018. The rate of urbanisation has been highest in the city, to which people from all four provinces migrate to earn a living. Amid the rising population, incompetency and mismanagement of civic authorities, coupled with meagre allocation of development funds have exacerbated the infrastructure problems of the city. Consequently, doing business in Karachi has become extremely difficult. Furthermore, in its seven industrial zones which are major contributors to the national exchequer, exports and employment generation, the situation is no different and in some cases even worse.
The Sindh Industrial Trading Estates Limited (SITE) in Karachi is the oldest and largest industrial area in Pakistan. It is a government guaranteed company, formed in November 1947 by the Government of Sindh. It is represented by the S.I.T.E. Association of Industry. It should be noted that the first industry established after the independence of Pakistan was at S.I.T.E Karachi, with the nation's founder, Quaid-i-Azam Muhammad Ali Jinnah, laying down the foundation stone.
S.I.T.E is one of the largest industrial estates in Asia, spread over 4,460 acres with more than 3,500 factories, including a large number of export-oriented industries. It provides direct employment to over 500,000 people, while over 75 per cent of the factories contribute directly or indirectly to exports.
Such an important industrial area has debilitated infrastructure where, in certain places, roads and walkways are almost non-existent and there is overflowing sewerage water. The sewerage system is in bad shape, requiring repair and maintenance. Under these circumstances, it has become very difficult for industrialists to access their factories. Even pedestrians face a lot of difficulty in reaching their destination. The situation is so bad that many transporters have refused to pick up export consignments from factories in the SITE area, while those who agree to do so demand four times more freight charges. The increase in freight and transportation costs has a direct impact on production cost, thereby making exports uncompetitive in international markets.
In the absence of streetlights the situation becomes more precarious at night. There are also issues of waste management, as the garbage-lifting mechanism is inefficient, while this zone does not have a single dedicated garbage dumping point. Moreover, there is scarce availability of water and businesses and industry have to depend on subsoil water to fulfil 95 percent of their requirement. In fact, the Water Board supplies less than 1 mgd (million gallons per day), whereas the overall demand of this zone is 50 mgd.
Responding to the protest of industrialists, Chief Minister (CM) Sindh Murad Ali Shah approved Rs. 1.037 Billion worth of infrastructure development works in the SITE area in September 2020. These funds were allocated for the construction of 19 roads in SITE, out of which Karachi Development Authority (KDA) was given the job of rehabilitating two roads, while the remaining 17 were to be built under the Karachi Mega City Project. Despite approval of funds for the uplifting of infrastructure of SITE area by the Sindh government, the rehabilitation work of roads and revamping of drainage system could not be properly implemented, which has worsened the state of infrastructure.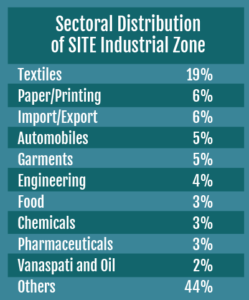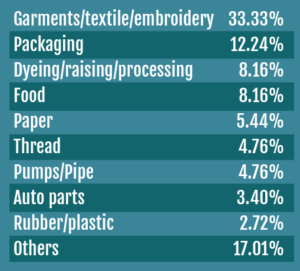 The employees of S.I.T.E Limited manage this industrial zone under the Ministry of Industries. However, funds are not being utilised efficiently and promptly. Industrialists have demanded that this setup should be replaced with a board of directors from the private sector. Industrialists entrusted to carry out and oversee the development work should be provided with the needed funds on the same pattern as other industrial zones have their own independent companies for development of Infrastructure. All other industrial zones receive funds from the Sindh government through their respective companies, set up by presidential orders of then President General Pervez Musharraf.
The Landhi Industrial Area is among the earliest industrial estates in Pakistan. Established in 1949, it covers an area of around 11,000 acres. There are over 150 factories in this area, comprising almost 90 percent export-oriented industry and providing employment to over 400,000 skilled and unskilled labour. Industries cover a diverse range of sectors, including Textiles, Steel, Pharmaceuticals, Automobile, Chemicals, Engineering and Flour Mills. The Landhi Association of Trade & Industry (LATI) was established in 1967 to provide services to this area.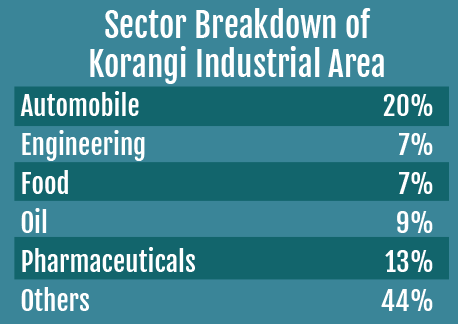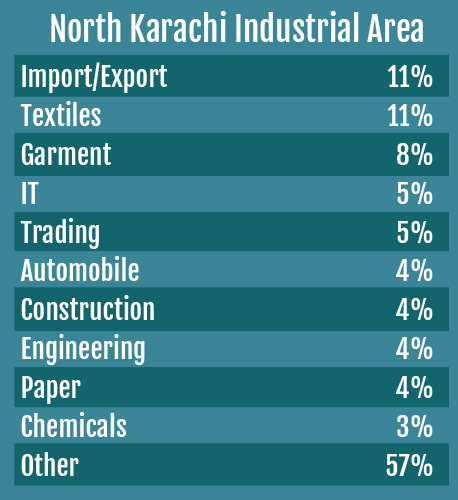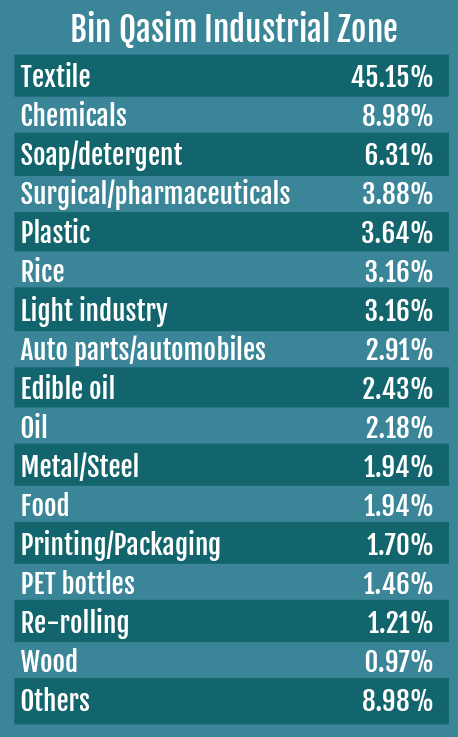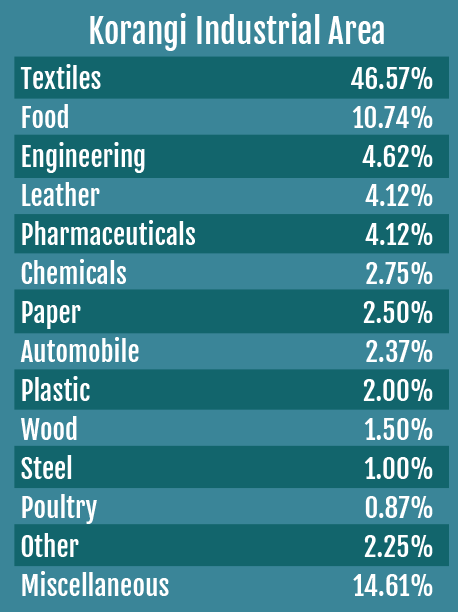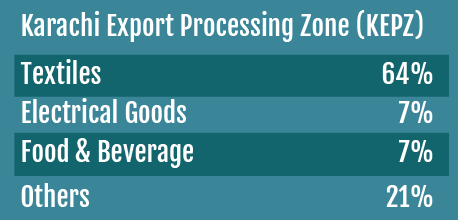 This zone also faces multiple challenges pertaining to debilitated infrastructure and lack of civic amenities. The road infrastructure is badly worn out and walkways are non-existent in most of the area, causing serious issues of commuting which are aggravated by the absence of traffic signals and traffic police. Streetlights are also either non-existent or dysfunctional in about 90 percent of the area. The sewerage system is old and needs to be redesigned and repaired. Water shortage is also a major issue in this area, where only 50 to 60 percent water is supplied by the Karachi Water and Sewerage Board (KWSB). Then there are water line leakages due to the old water supply system, with a lack of interest and mismanagement on the part of KWSB.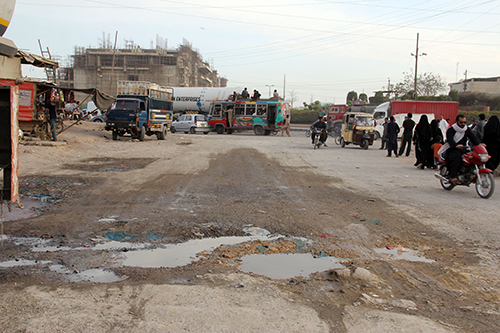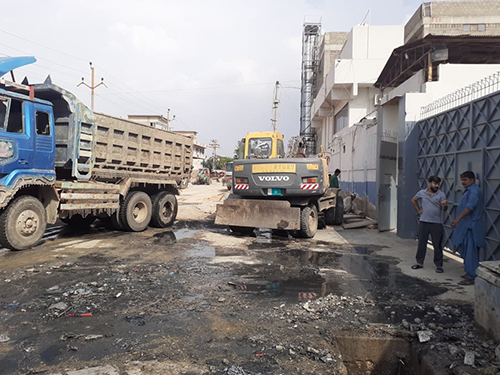 Overflowing sewerage and potholes have become commonplace in Karachi's industrial areas.
Waste lifting and cleaning activities are executed by the Sindh Solid Waste Management Board and Hangzhou, a Chinese company. It needs improvement and proper management.
The Federal B. Industrial Area is the 5th largest industrial area in the province of Sindh and falls under Federal B. Area Association of Trade and Industry (FBATI). It can be divided into 22 blocks, where blocks 1 to 20 house residential and commercial areas also containing cottage and small industries, whereas blocks 21 and 22 only contain large and medium size industrial units. The Federal B. Industrial Area has almost 2,000 industrial units, 90 percent of which are export oriented and it also provides employment to around 8 million people.
FITE is the independent company formed for the development of infrastructure in this industrial estate. It has received development funds for projects in this area. It is also expecting some additional funds this year through the Sindh government. The problems in this area pertain to shortage of water and gas.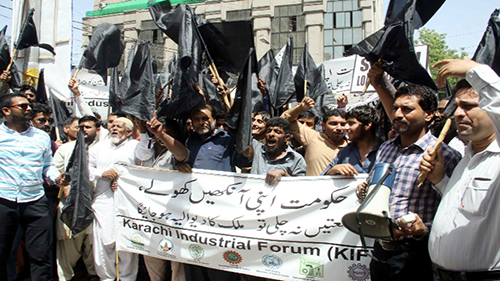 The Korangi Creek Industrial Park is enclosed in a walled area, with the aim of becoming a high standard industrial area. It is built over 250 acres in the Korangi Creek Cantonment Area and can be divided into two zones: low density and high-density.
• Water Supply: KWSB.
• Power Supply: Captive Power Plant.
• Telecommunication System: Telephone Lines with Broadband wireless internet connectivity.
• Gas Supply: Sui Southern Gas Company (SSGC).
• Roads: Major and minor arterial roads, utility corridors and sidewalks, green belts and median for street lighting.
• Other Features: Effluent Treatment Plant, Solid Waste Management, Transport Hub, Weigh Bridge, Vocational Training Centre, One Stop Service.
The Bin Qasim Industrial Zone is managed by the Bin Qasim Association of Trade and Industry (BQATI) and is divided into four main areas. Three of these are industrial and the fourth is related to port operations. Located just besides Karachi's Port Qasim, this zone provides a major advantage to those companies that rely on shipping channels for production. This industrial zone spans more than 17,000 acres of land and is capable of catering to numerous industries.
Represented by the Korangi Association of Trade and Industry, the Korangi Industrial Area was made operational in 1970 and is one of the largest industrial areas in the city. It is estimated that the industrial area contains around 4500 industrial, commercial, and service units, employing approximately 300,000 people and generating around Rs. 270 Million on a daily basis. Factories in the Korangi Industrial Area account for 40 percent of Pakistan's leather exports and 7 percent of the total textile exports while the two oil refineries process 78 percent of the crude oil used all over Pakistan.
Situated over an area of 8500 acres, the huge industrial area caters to a diverse range of industries and has branches of all major banks and insurance companies.
The North Karachi Industrial Area (NKIA) has the highest concentration of Small and Medium Enterprises (SMEs) among the industrial areas in Karachi. This area comes under the supervision of the North Karachi Association of Trade and Industry (NKATI) that has developed and maintained the area over time. NKIA contributes Rs. 3.5 billion per annum in income tax, about Rs. 5.5 billion per annum in duties and taxes and around Rs. 9 billion per annum in total taxes. The area measures around 725 acres, with more than 2500 SMEs, among which around 90 percent are export oriented.
KEPZ falls under the Karachi Export Processing Zone Authority (KEPZA). KEPZ was formed to facilitate export oriented projects, in order to accelerate the growth of exports from Pakistan to the rest of the world while contributing to industrialisation in the country.
The S.I.T.E. Super Highway industrial area consists of large and medium sized, mostly export oriented industrial units. The area is supervised by the S.I.T.E. Super Highway Association of Industry Karachi, which was formed in 1995. There are around 400 plots in phase one and 468 in phase 2, spanning over 300 acres and 1000 acres respectively.
It was estimated that, upon completion, this Estate would provide employment to more than 40,000 persons. The industries covered in this industrial zone include the following sectors:
• Textiles
• Pharmaceuticals
• Auto engineering
• Food processing
• Cold storage
• Packaging
• Plastic
• Flour Mills
• Rice Mills
• Oil & Lubricants
• Warehouses
• Godowns
• Chemicals
Transport issues confront the inhabitants of the city and are a major hurdle for the smooth running of business and industry. Karachi's transport problems cannot be resolved by simply investing in more infrastructure and facilities. The solution lies in a comprehensive strategy and efficient institutions. No cohesive transportation policy exists for Karachi, even as a thousand new vehicles are added to the roads each day. Buses, which are the main means of transport in the city, are not in a position to meet the needs of the growing population, and hence private transport is used predominantly. Traffic congestion and environmental pollution can only be reduced significantly through alternate travel means e.g. Rails and Metros. An effective transport system would also help in increasing business efficiency of the delivery system by road.
The people of Karachi have been waiting for the inauguration of a long pending Green Line Bus Rapid Transit (BRT) project. The Administrator Karachi, on March 5, 21, while reviewing measures for the Red Line BRT System, said that work on the project would be started soon and be completed within two years.
The Karachi Circular Railway (KCR) has started partial operations on a 14 kilometre (km) cleared stretch of the around 55 km route of the old KCR. Initially, trains would run along the Karachi City-Orangi route, while operations on the remaining tracks will be launched later. KCR has long been delayed by financing issues. With its inclusion in the China-Pakistan Economic Corridor (CPEC) and the interest of multilateral agencies, work needs to be expedited.
There is a need to completely overhaul the entire traffic policing system in order to improve traffic flow and this has to be done at the grassroots level.
Karachi needs to build on the concept and effective implementation of parking plazas. Many countries have adopted the technology of Smart Rotary parking to accommodate a large number of vehicles in a very small parking space. Trucks and heavy loaders moving across the city contribute a great deal to traffic jams, creating difficulties not only for citizens but for businesses that face delays and incur additional costs to transport their goods. In order to resolve the issue of traffic, the city requires additional road corridors for heavy vehicles to and from the Karachi Port, for efficient transportation of goods across the country and to industrial zones without burdening the existing traffic within the city. Ideally, no up-country port traffic should pass through Karachi's main city area.
In this regard, two bypasses, namely the Northern and Southern Bypasses were conceived somewhere in the late '90s, to link Karachi Port Trust (KPT) with two grand trunk roads without touching major residential areas, particularly for the movement of heavy traffic. Unfortunately, the Southern Bypass project was abandoned in 2008, apparently due to a paucity of funds. The Karachi Northern Bypass or M10 was completed, it is a 57 km long two-lane road built at a cost of Rs. 2.2 billion that directly connects the M9 motorway to Karachi Port. Since this is a single carriageway, it gets clogged by traffic, creating difficulties for motorists and heavy industrial traffic. There is a need to develop it into a dual carriageway so that commercial and heavy traffic can move smoothly on track.
On the other hand, the Southern Bypass was envisaged as an alternative inter-city route from KPT (East and West Wharf) to the National Highway (NH). The first phase was completed, which consisted of a double road starting from KPT, the Jinnah overhead bridge, M.T. Khan Road, branching off to the right at Mai Kolachi Road and finally ending up near Boat Basin. However, in the second phase, it was to merge into NH and there were three alternative proposals.
According to the first proposal, a track was to be constructed along the seashore from Boat Basin to Orange Creek, where it was to join the NH. The second proposal was to have an elevated road to be constructed alongside the railway track near the Boat Basin, which was to merge into the NH near Malir. The third alternative suggested a raised road from Schon roundabout in Clifton, Sunset Boulevard and Korangi Road intersection, from where it was proposed to merge into NH through Korangi Industrial Area.
This project should be revived to ease traffic woes and to have an alternate, more efficient route available to heavy and commercial traffic, which is critical for economic growth.
The Lyari Expressway project is also an important project, aimed at reducing traffic jams in the city but it is mostly utilised during peak hours and remains idle otherwise. This 39 km project on both sides of Lyari Nullah, stretching between Mauripur and Sohrab Goth, was started in 2002. It is unfortunate that this project was not designed to cater to heavy traffic. However, if it is made fit for the movement of heavy vehicles, it could serve the purpose well.
Waste management is another major issue. According to the Sindh CM, the lifting of garbage and cleaning of the city was the responsibility of the District Municipal Corporations and other civic agencies. Currently, Karachi has an inefficient solid waste management system. It produces over 9,000 metric tons of household, commercial and industrial waste per day. This waste, if utilised well, could help in recycling into reusable products, which would be beneficial for the economy and industries.
Rapid growth in waste generation has driven technological advancements globally in turning solid waste into energy. The waste to energy industry is expected to reach $35.5 billion by the end of 2024. A number of countries like Germany, Sweden, and Luxembourg are engaged in producing electricity through this waste disposal technique.
Sewerage is another issue, which hinders day-to-day movement of traffic in the city and is becoming a worsening problem in the industrial zones. The government must also expedite setting up effluent treatment plants for managing industrial waste.
Water shortages are rampant. To resolve Karachi's water provision issues, apart from the wholesale revamping of KWSB, rainwater-harvesting projects (implemented in India) need to be considered.
The city has vast stretches of arid land along both the National and Super Highways and towards Balochistan. Utilising these areas to serve as rainwater ponds, and connecting them to a filter station in Karachi via a pump and pipeline system can provide an alternate water resource to Karachi for at least a couple of months of the year.
One more initiative would be to use the long coastal belt to develop desalination plants. This will enhance overall living conditions in the city, with its fast approaching water crisis. For this, a public private partnership model needs to be developed to ensure that private investors get a healthy return on investment.
In August '20, former Chairman BMG & President KCCI, the late Siraj Kassam Teli, had recommended the task of rebuilding Karachi's infrastructure be given to the National Disaster Management Authority (NDMA) and the Frontier Works Organization (FWO), as they had the requisite capability and capacity including machinery, workforce, and expertise to work on Karachi's infrastructure development and resolve this serious issue over four to five years.
FWO took part in cleaning three nullahs of Karachi back in August 2020, the Gujjar Nullah of District Central, the CBM Nullah of District Korangi and the storm water drains on both sides of Karachi's key thoroughfare, Sharah-e -Faisal.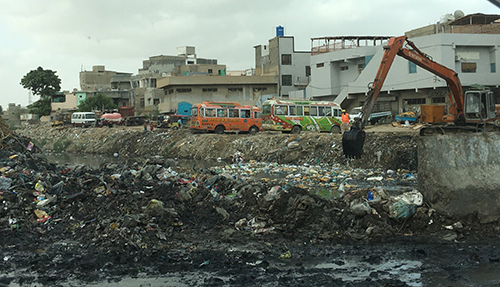 The FWO has set up a Network Operation Center (NOC) to facilitate smart tolling systems, and manage traffic loads on motorways. The FWO is already establishing an upgraded version of Electronic Tolling and Traffic Management System (ETTM) on motorways, whose Proof of Concept (POC) is being deployed on M9 (Karachi-Hyderabad Motorway).
Construction of new Operation & Maintenance buildings of latest design at Karachi and Hyderabad toll plazas of M-9 Motorway by FWO is in full swing. These facilities will provide a better and controlled operational environment to work and facilitate commuters. Modern M-Tag facilities are also being developed at both Karachi and Hyderabad toll plazas with multiple customer service counters for swift M-Tag recharge.
In November 2020, the FWO inaugurated the DHA City Karachi (DCK) Interchange. It spans across M9, connecting south and north portions of the DCK. The project comprises 8.1 km roads, 5 underpasses, 2 loop and 4 slip roads. It has been completed by FWO in just 16 months, despite COVID-19 and unprecedented heavy monsoon rains in 2020.
Following torrential rains that further damaged the city's neglected infrastructure, the government in September 2020 launched a Rs. 1.1 trillion Karachi package. The Provincial Coordination and Implementation Committee (PICIC) was also formed under the Chairmanship of Sindh CM Murad Ali Shah, to steer affairs related to the special development package for Karachi.
Hence, the task of rebuilding infrastructure including sewerage lines, water, and electricity distribution network, reconstruction of roads and other civic facilities, etc. can be given to NDMA and FWO, which would certainly yield positive results and provide the desperately needed relief to Karachiites.