Sabina Khatri exudes a quiet strength and kindness that draws you in. You would pick her out in a crowd as the person to turn to if things went awry. And you would be right. As the head of the Kiran Foundation in Lyari, she has transformed the lives of the families which come under the umbrella of this unique organisation. When I ask her to define the Kiran Foundation she smiles and says, "In the words of the mothers who are with us, they say Kiran Foundation is their home. They say the abbreviation KF should stand for the Kiran Family." And Sabina herself is the "Maa" of Lyari. That is how all the children address her. Motherhood is, in fact, the transformative superpower that is the basic ethos of Kiran.
It is indeed difficult to define the Kiran programme which offers education, for both children and their parents, plus counselling and therapy, recreation and a whole lot more. "Our programme has many layers," explains Sabina. "So it's much more than just a school." The centre remains open seven days a week till eight in the evening for children and their families to participate in the various after-school clubs, which range from archery and music to robotics and gymnastics. It is open even on Sundays because that is the day most fathers can come in and study or participate in the centre's activities.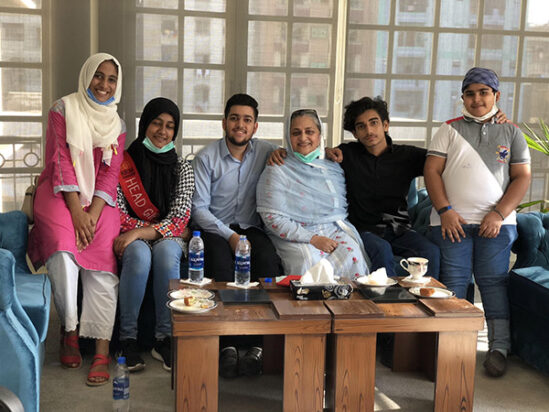 I ask Sabina if working such long hours seven days a week isn't taxing? "Not at all," she responds. "I enjoy it so much. I do all this to fill my own void. I do it for myself."
This takes us back to Sabina Khatri's own life experiences which, she firmly believes, were preparing her to take on the role she occupies today. "The way Kiran Foundation has evolved is so organic. The basic motivation behind it I would say is to allay pain. And that pain resonated with me. Every child I have touched had an experience that I could identify with."
Sabina was born in Hyderabad but moved to Karachi when she was very little. Her mother was half Hungarian and half Indian. She had met Sabina's father at medical school in Germany where the two fell in love and got married. But the marriage could not last, mainly Sabina feels, because of societal constraints. And at the age of six, Sabina and her brother left for Germany with their mother. As a single mother with two small children in a foreign country, Sabina's mother struggled and the children were moved from place to place and even plucked out of school. Finally, Sabina's father won custody of the children and they were moved back to Pakistan. "So at the age of six I was separated from my father, and then at the age of nine I was separated from my mother. And that was forever."
Sabina's father re-married and she and her brother grew up with a new family and siblings. Sabina was on the surface a happy child. "I was very talkative, bubbly. I was always singing, writing poetry, drawing — and dreaming. I had very vivid dreams, to which I gave expression through art." But she was also always told that she thought too much. "I was called 'pagal' (crazy) a lot because I asked difficult questions." Today Sabina is a big advocate of being a caring adult in a child's life, "because I didn't have that."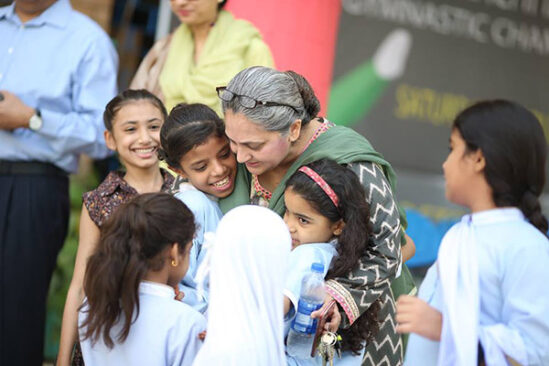 "But I never felt resentful or bitter," she says. "And I think that this is just a blessing from God. Allah guided me and all the negatives thrown at me became my training; they built a resilience within me. And I always found helping others to have the most profoundly healing effect on me."
Even as a young student at St Joseph's College, Sabina would take a bus and visit the children's ward at Jinnah Hospital. "I didn't tell anyone at home because they would have stopped me. But I would go and spend time with the children there, take them games, tell them stories. Sometimes I would spend time with the children selling flowers on the streets. And this was the highlight of my day. I can't tell you how much I enjoyed it."
Married off at an early age, Sabina's little adventures came to an end. She was disappointed that though she was a good student and came from a family of doctors, she was not encouraged to study further. But she didn't put up a fight and got married. "If I feel I'm not wanted or needed somewhere, I just step aside," she says. "Even now, I just feel it's a sign that I should move on."
Sabina had the first of her three children when she was only 18. "When I became a mother and experienced that intense bond with my child, I found myself questioning how my mother could give up her children," says Sabina. "And that answer too I found when helping others. One learns that circumstances arise when a mother will be forced to do that, for her own or her child's survival."
When Sabina's children were older, she decided to go back to school. But finding the local educational environment extremely discouraging for an older student, she decided to opt for online courses in nutrition and physical fitness. She then began conducting fitness classes from home, which were hugely successful. "I made some lifelong friendships there. Those ladies who were my students are today my biggest donors and are on the board of Kiran Foundation," says Sabina.
It was during these years that she met the mother and child who were to become the catalyst for the creation of the Kiran Foundation. "My cook's sister came to me with her eight-month-old daughter. The child had been dashed against the wall by her father. The child's lips were blue and her eyes bloodied. We didn't know if she would survive, but thank God she did. I kept that mother and daughter with me for four or five months. The mother had nowhere to turn to since she had married for love and was too ashamed to return home. So she was at the mercy of her abusive, drug-using husband. She eventually did go back to her husband, who subsequently tried to throw the baby down from the third floor."
At this point Sabina took decisive action and intervened in the situation. She got the woman, who was pregnant again, a divorce from her abusive husband. And the family came back to live with Sabina in her home "The little girl grew up in my home and became very dear to me. She blossomed into a confident, happy child. I also educated the mother and made her the secretary of my gym. Today she writes poetry and loves reading novels."
But when the little girl came of school age, her mother was scared to put her in school for fear that her father would kidnap her. "The family lived in Lyari and I started visiting Lyari to get a feel of the area," recalls Sabina. This was in 2004, the era when Lyari was at its most notorious and gangs ruled. No one at home knew about Sabina's visits to Lyari; she would don a burqa and wander around on foot. "I noticed that all the street dogs in Lyari had been mutilated, tails cut off, legs broken. It was very disturbing," recalls Sabina. "I have seen men carrying bazookas and rocket launchers on their shoulders and roaming around. I have seen cross-fire and bodies lying in the street. But worst of all, during the crossfire I witnessed children cheering and clapping from the balconies. And then later running down to collect discarded bullets." She worried about the future of these children. The danger did not daunt her; in fact, it made her more determined.
It was by pure chance that Sabina found out that her husband's company was funding a small school in Lyari as part of their Corporate Social Responsibility (CSR) activity. "God connected the dots," smiles Sabina. "For two years I had been researching Lyari, writing down my findings and now I had found an entry into the community."
The school that was being funded was a mere two rooms next to a mosque. A driver, Haji Nazir, at the factory had requested funds to start this school in his home area. "My husband was reluctant to go and visit the school but I was very persistent," recalls Sabina. "I remember the first time we visited with cars and guards," she laughs at this absurdity. "I clearly recall, when we were walking up the stairs, I could hear the children reciting 'Lab pe aati hai dua.' This was a direct sign for me. This is my absolute favourite poem and each word resonates with me, as if it is addressed to me personally. I broke down and sat there on the steps crying."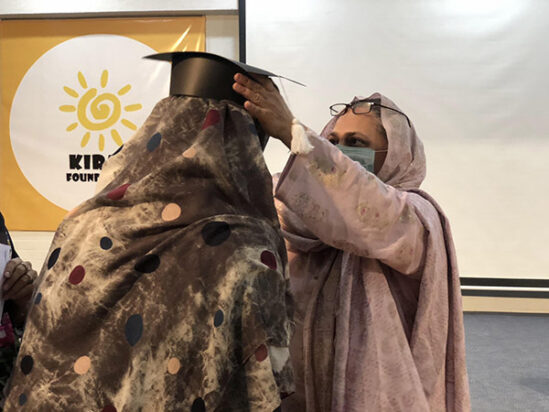 Now Sabina set to work in earnest. Over the next four months she prepared a comprehensive five-year plan for a unique programme. The goal was to address the long-term effects of trauma. "I wanted to replicate the work I had done at home with my cook's sister and her daughter. I had seen wonderful results with them. I mapped out a trauma-sensitive, holistic, interventive mother-and-child programme that I could carry out with 20 children. And I would be with them every step of the way like a mother." She e-mailed this plan to her husband and in-laws, who could not refuse in the face of her determination and this systematic approach.
Haji Nazir and the principal of the two-room Kiran School, who is today Senior Manager of the Foundation, helped Sabina identify the families which had suffered trauma and most needed help. "I had some rules," explains Sabina. "I would not take on anyone who used drugs, ghutka etc, I would only take the first-born children, although I made some exceptions. These may have sounded harsh but I had my reasons. I could not allow myself to fail with this first batch."
The children from that first batch are today studying on scholarships in the leading elite schools of Karachi like Nixor College, Sceptre College and Cedar College.
The transformational approach taken by Sabina aimed to see the Kiran children entering competitive elite schools within a span of two years. "I had given myself a huge challenge; the transformation of mother, father and child."
The first mainstream school a Lyari child managed to get admission in, on merit, was St Michaels School. "The principal was very surprised when she met the parents of the child who were obviously from a different social class. She asked to meet me and I became the surrogate parent for that child in the school records." In fact, Sabina registered herself as surrogate parent for all the children of the first batch.
Today all children from the Kiran School regularly move on to O and A level schools or the Agha Khan Board schools of Karachi. But Kiran is still home to these children who continue to spend their after-school hours here for support and recreation.
The Kiran Foundation has also adopted a government-run school of 700 children in Lyari. The same trauma-sensitive approach has been implemented here. "The school was earlier in the control of the gangs," recalls Sabina. "Some rooms were used as torture cells." Didn't Sabina herself face trouble from the notorious gangs of Lyari? "In the beginning I did," she recalls. "I did get some threats but I could not have started work here if I didn't have protection from the locals. And later, the gangs stopped harassing me. They wanted their children to attend my schools as well."
Sabina was awarded the Sitara-e-Imtiaz for her ground-breaking work with the Kiran Foundation. What does this mean to her? "For me personally, nothing compares to the loving messages I receive from mothers and children. That is my Sitara-e-Imtiaz."
An important task on the cards for Sabina is to put her unique programme at Kiran through academic research, so that it can be recognised as an approved educational system. "My daughter, who is a trained psychologist, has put my 10-year work into a structure," says Sabina. "But it needs a PhD thesis to be done on it and that requires funding."
Sabina is keenly aware of the need for the Kiran Foundation to run independently of her one day. "My successors will be my first batch," she smiles. "They have been bred with the idea that Kiran is theirs and they have to carry on the work." Currently, the Kiran Foundation is conducting drives in the remote areas of Balochistan to distribute basic goods and set up thalassemia camps. Sabina sees a powerful metaphor here. "I asked a boy who was receiving blood how he felt. He said 'I feel alive.' And that is what Kiran Foundation is for me. It's my lifeline."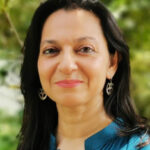 Zahra Chughtai
The writer is a prominent freelance journalist and runs her own interiors and lifestyle online publication.