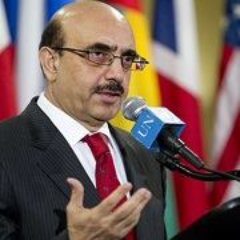 When it comes to presenting and pleading the case of Occupied Jammu & Kashmir before the world, no other voice appears as articulate, effective and committed on this side of the Line of Control (LoC) as that of Masood Khan, the 27th President of Azad Jammu & Kashmir (AJK).
A career diplomat, Masood Khan has served on several high-profile international assignments, including as Pakistan's Permanent Representative to the United Nations both in Geneva and New York, and as the country's ambassador to the People's Republic of China. Indeed, Khan's immense experience of diplomacy and international relations gives him a huge advantage over many run-of-the-mill politicians, with their half-baked knowledge and unprofessional approach when it comes to presenting Kashmir's case objectively and rationally, both at the national and international level.
Whether he is engaging world leaders or international rights groups, think tanks or academic forums, mainstream national and international media or social media, the AJK President fights Kashmir's case forcefully from each and every platform.
In this interview with Narratives, Masood Khan answers some tough questions such as, whether lowering of tensions between Pakistan and India is being done at the expense of the freedom movement in Kashmir, and should Pakistan engage India — in the near or distant future — unconditionally?
The reported back-channel talks between Pakistan and India have led to the restoration of ceasefire along the Line of Control (LoC). There is a possibility of more confidence-building measures that may eventually lead to a formal resumption of talks. How would it impact the overall situation in Occupied Kashmir?
Ceasefire along the LoC is a step in the right direction. It saves the lives and properties of more than 600,000 citizens living on the AJK (Azad Jammu & Kashmir) side of the state of Jammu and Kashmir and also on the other side, though our soldiers take precautions not to target civilians across the border. Indian soldiers would deliberately target AJK civilians to "punish" Pakistan. For years, Pakistan had been calling for the observance of the 2003 Ceasefire Arrangement but India would flout it deliberately and frequently. So, it is a good workaround for both Pakistan and India. However, confidence-building measures beyond that are fraught with uncertainties about India's real intentions. Any nod from us about bilateral talks on Kashmir and other consequential agenda will be tantamount to endorsing India's fascism in IOJK (Indian-Occupied Jammu and Kashmir) and its continuing war crimes in the occupied territory including forced and massive demographic changes, land grab, killings, detention of thousands of political activists, and cultural invasion. The protracted and brutal military siege of Kashmir must be lifted, and the status quo before August 5, 2019 has to be restored. These are the minimum confidence-building measures required. All illegal domicile certification for citizenship given to non-natives, numbering more than 3 million, have to be revoked. All such confidence-building measures must be taken before any engagement, informal or formal, could be conceived.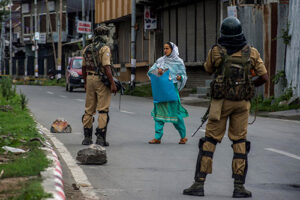 Pakistan has been saying that there will be no talks with India until it withdraws its August 5, 2019 measures that changed the status of IOJK and assimilated it in the union territory. Should Pakistan stick to this condition for resumption of talks?
Pakistan should definitely stick to this condition. The history of bilateral talks — Simla, Lahore, or broadly the talks that started in the late 1980s and dissipated after 2008 — is a testament to the illusiveness and futility of the process. India abused them to blur the focus on Kashmir, to consolidate its occupation of the territory, to clutter the agenda with less important issues and to accuse Pakistan of sponsoring terrorism. India would start each round with hubris and condescension and Pakistan, ever so keen for a diplomatic solution of the Kashmir dispute, even through bilateral diplomacy, was made to supplicate India for a continuation of the talks.
Thank God, since 2016, after the martyrdom of Burhan Wani, and 2019, when Indian troops invaded and besieged IOJK, Kashmir has been internationalised. It has been discussed in the UN Security Council, the European Parliament, the US Congress, the British Parliament, and ASEAN parliaments, among others. It has been covered extensively by the international media and taken up by leading international think tanks and human rights organisations. This has hurt India because it has been called out. It is no longer the holy cow it projected itself to be. Its fascist, Hindutva-driven agenda has been questioned globally, though the criticism is not as sharp as it should have been. India now wants to seek indemnity and immunity for its crimes against humanity in IOJK. A non-substantive photo-op or any semblance of normalisation of relations with Pakistan is all it wants. Kashmir should remain in the international space it has acquired; otherwise there would be no pressure on India to engage on Kashmir.
What are the potential risks of entering into unconditional talks with India? Will it weaken the case of Kashmir's freedom struggle?
Nobody is so naive as to start talks with India without conditions. Don't underestimate your diplomats, military commanders and politicians. They have decades of experience of dealing with India. The risks of starting another round of talks with India without clearing the deck could be disastrous. For instance, why does India falsely accuse Pakistan of terrorism in IOJK, while it brutalises the people untrammelled, wantonly and criminally? India must climb down and disavow its false narrative. The biggest risk for Pakistan, however, is that any unilateral concession on Kashmir will imperil Pakistan's own national security because Hindu zealots, who rule the roost in India, want to demolish the state of Pakistan, which they think is an aberration from their averred faith in Akhand Bharat.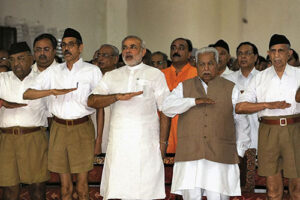 Is there any pressure on Pakistan from world powers or even friendly countries to start unconditional talks with India?
Of course, there is always pressure; there has always been pressure. The US wants to take Pakistan out of China's sphere of influence and prevent it from having closer ties with Russia. Perfectly understandable from Washington's point of view because it wants India and Pakistan to be on the same side in its heightened confrontation with China. But, while maintaining close ties with the US and western countries which have their own strengths and rationale, Pakistan has to pivot its diplomacy in its own neighbourhood, guided by its core interests. Would the US, for instance, ever supplement the economic and military technology lifelines that come from Beijing? The stark dilemma is that the US has bound itself to strengthen India's defence capabilities vis-a-vis China and, by extension, Pakistan, because the bulk of India's formidable war machine is deployed against Pakistan. Like the US, the Gulf states would also like to see Pak-India relations normalise because of their own huge, astronomical interest in India and because they do not want to choose between India and Pakistan. The question that Pakistan should be asking is not whether it should engage with India but what dividends could accrue to it in tangible terms — as regards Kashmir, economy, connectivity, national security, nuclear capabilities, and easing the western pressure on Pakistan. Would there be any dividends at all, or just cumulative costs? These questions require deep strategic deliberation.
India will now be talking from a position of strength after changing the status of Occupied J&K and its plan to bring demographic changes there. Does it not make more sense for Pakistan to turn down any offer of talks from India under these conditions?
Yes, it makes sense not to engage India unless there is a cast-iron assurance from a trusted third party that India would not only reverse its demographic offensive in the captive territory but also restore its disputed status. This, at the moment, does not look likely. If we proceed from the mindset that India has given Pakistan a fait accompli, we would be giving India a huge advantage that would make it difficult for Pakistan to offset it later or redeem its own demands. Even if there is a hypothesis of a fait accompli, absent a military option and dwindling diplomatic support because of the coronavirus epidemic, I would say: hold your horses. The story has not yet fully unfolded.
The Indian Prime Minister, Narendra Modi, has been more decisive, action-oriented and unconventional in his attempt to settle the Kashmir dispute in India's favour. The Pakistani leadership, however, appears to have failed to anticipate and counter him.
India may appear to be strong in the short run, but it has sown seeds of its own probable ruination. The entire India is turning into Kashmir. Riding on the crest of hatred and religiosity, it has done to Kashmiri Muslims what Hitler did to Jews and other minorities in Germany or people in the neighbouring states. If one can't glorify those horrendous acts, you can't glorify the BJP-RSS-led actions in IOJK. The settlement of Kashmir will be made by the Kashmiris, not by Modi in Delhi. Given the RSS agenda of Hinduising India, Narendra Modi has inflamed civilisational fault lines whose fires won't be doused easily. It may not be of much value to ponder on what Pakistan's leadership has done so far, but it is exceedingly important that we peer into the future with wisdom and full awareness of the risks and opportunities we face, especially regarding Kashmir and also about our dream for a secure and prosperous Pakistan.
The Economic Coordination Committee (ECC) had recommended restoration of trade ties with India, which was shot down by the cabinet after gauging the public mood. The Pakistani leadership appears to be wavering and giving contradictory signals. Why is that?
That was perhaps a coordination snafu as evidently all stakeholders had not be been taken on board. Hopefully, this would not happen again. A holistic approach is required. No issue between India and Pakistan is a stand-alone issue. In fact, most of the issues stem from, or are influenced by, the core, keystone issue of Kashmir. If it was possible, Kashmir would have been set aside long ago, in the 1950s and 1960s, after Simla, in the early 2000s. But it did not go away, because Kashmir is rooted in the very concept and ideology of Pakistan that drove the historic movement for the creation of a new state in South Asia. After the ascendancy of the BJP-RSS nexus in India, that raison d'etre for Kashmir and Pakistan combined has become even stronger.
Army Chief Gen Qamar Javed Bajwa talked about burying the past and regional cooperation at the first security dialogue held in Islamabad. His intentions may be good, but some analysts maintain that it is too early to show this kind of one-sided flexibility. Then there are those voices which say that this soft message coming from the COAS can be misinterpreted both by the Kashmiris struggling for freedom and by the enemy as a sign of Pakistan's weakened resolve on the issue. What is your take?
The statements of the army chief are obviously taken very seriously and therefore this statement also was scanned closely by the people of Jammu and Kashmir and Pakistan, as well as the diaspora community worldwide. Since then, at the 240th Corp Commanders Conference, chaired by the Chief of Army Staff, the latter "… reaffirmed complete solidarity with our Kashmiri brethren in their struggle for [the] right of self-determination." The Pak-India past cannot be buried without resolving the Kashmir issue in accordance with the wishes of the people of Jammu and Kashmir. So I would choose not to read it as one-sided flexibility. Reciprocity is the essence of diplomacy. Honestly, in the case of Kashmir, all the flexibility has to come from India, not Kashmiris or Pakistan, who have been robbed of their fundamental rights.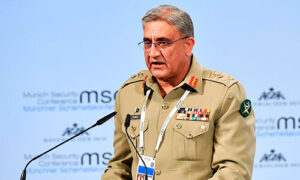 In your view, what strategy should Pakistan adopt from now onwards?
Having upped the ante on Kashmir, and rightly so in the aftermath of India's blatant and illegal steps in August 2019, Pakistan should firstly continue to take its policy pitch to international interlocutors. So I would say: stay the course with perseverance. Secondly, some people may be suggesting that the anaemic economic of performance of Pakistan is caused by the Kashmir "imbroglio." I hate it, when the word 'imbroglio' is suffixed to Kashmir. The real drivers of Pakistan's suboptimal economic achievements are different. One of them is perpetual internecine discord; the other is mismanagement of the public sector. Don't blame Kashmir for that. Thirdly, the space that has opened up in the diplomatic and communications realms must be used to the hilt and expanded. To taper it off or to squander it would be a grave mistake. Fourthly, the disproportionate reliance on diplomatic channels will not bring full dividends. The political pincer needs to be activated. After all, the issue of Jammu and Kashmir is about the civil and political rights of Kashmiris. The pressure for their realisation will come from the national and international squares and streets, from parliaments, and from global citizens, not from closed chambers, which would become relevant once the Kashmir freedom movement has matured for decisions.
Are India and Pakistan doomed to live in a perpetual state of conflict? Will South Asia never see peace like, for instance, West Europe has seen since World War II? We do not want constant warfare in the region. Pakistan, and the people of Jammu and Kashmir, want to have peace with the 1.3 billion people of India and all other South Asian nations. Peace will benefit us all and push this region to an era of accelerated human development. Yes, peace and stability — but not at the expense our core national interests. Kashmir is one of them. Core interests cannot be redefined because of transient difficulties. To strive for peace, issues like Kashmir have to be addressed, not shelved, because they involve the destiny of 20 million people and 85,000-square-miles of territory.