Culture is a word with only seven letters, but it could at a time, cover 70 diverse aspects of life. Culture is a composite that reflects the geography, climate, history, traditions, languages, economy, manufactures, folk arts, artistic creativity and the range of expressions in the public domain of a community or a country, a small tribe or a large nation.
There is a tendency by some to associate culture primarily with the creative and performing arts such as poetry, literature, drama, dance, music and their respective expressions in mass media or social media.
Yet that way, while being pertinent, is only a limited way to perceive the comprehensive, all-embracing meaning of culture.
Some aspects of culture are static and fixed. Others change with time. So too the media — which now converges, even while retaining some original features and evolving into new forms.
The content of human-made media such as that through paintings, songs, speech, writing et al cover parts of cultural content. News media reports daily events and trends. But all such human-made media content — including the fine magazine named Narratives — are able to mirror only a small part of the totality of reality and the culture of any society.
By their very nature, the contents of human-made media such as in books, newspapers, radio, audio and video tapes, TV, cinema and their multiple fusions and mutations in new media are all subjectively chosen, selectively presented and therefore unavoidably suppressive.
Reality is far, far larger than the reality that is reported by media or that is represented in media. No single medium, news or non-news can ever capture and convey a 360 degree, 24-hour, 365 day portrait of a given day or year that captures every speck or species of reality and of cultural activity in that period.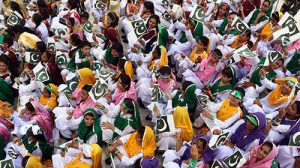 The limitations of human-made media are directly relevant to viewing the relationship between media and culture. Where culture is totality, media is only a small part of the whole. In an era when we are engulfed by media excess, it is necessary to step away from the immediacy of media output to note how media — while being part of culture — is nevertheless both profoundly limited as well as powerfully transformational in its role and impact. This stark contrast is possibly yet another manifestation of the extreme dualities found in nature at large — and in human nature.
For instance, some facets of culture simply do not change even as human-made media proliferates and creeps into every single crevice and corner of human activity. Religion is like an unbreachable fortress. Faith-related practices, be they ways of worship, homage to sacred places, recitation of words of holy texts, ceremonies related to births, marriages and funerals, remain exactly the same as they have been for hundreds or thousands of years.
Some parts of social behaviour in which people interact with other people who share features of ancestry and of customs with them also remain immune to the impact of media.
Even a significant change of location and exposure to entirely new conditions and climate seem to make no difference. A vivid example is that of Pukhtoon localities in the hugely-diverse city of Karachi, in which women can remain as invisible in tent-like burqas as they are in remote villages or busy towns of Khyber-Pukhtoonkhwa Province over 1000 kilometres away.
But even in the case where there are no extremely conservative segments such as the one cited above — and it is only fair to point out that many women in KP are able to assert and achieve their own autonomous choices and lifestyles — media may bring an unprecedented level of awareness which does not lead to behavioural change.
Even today in 2021 when poor, landless peasants — including women — have instant access to cellphones, and some even to the internet — some, not all, large landowners in the very same area with similar access to new media and to a new global awareness of women's rights are still capable of conducting or ordering killings of women in the name of family or tribal honour. Most often, if not in every single case, such killings are conducted on mere suspicion, leave alone solid proof.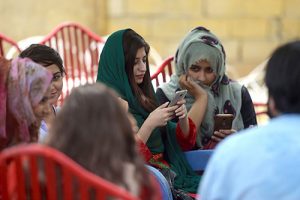 Exposes of such brutalities and inequities, even naming names makes little difference to deeply-rooted primitive mindsets and practices.
The abiding potency of an invidious masculine cultural dominance can also thrive in a thoroughly contemporary city like Islamabad, whose history stretches back for only about 60 years. In July this year, the news media reported the venal actions of a guest-house proprietor who forcibly stripped women to parade them in front of his friends while recording this demeaning spectacle on camera. Images of the arrested culprit behind bars show eyes and a face that defies the lens to shame him. Perhaps in a perverse way, exposure by media is actually being covertly courted by such minds. And the news media obliges!
Where the media-intensive campaign against corruption by the politically-powerful and by public office holders being relentlessly pursued by the PTI government surges onward and prevents brazen continuation at the top, the malaise of bribe-giving and bribe-taking remains palpable and pervasive at other lower levels. Daily, incessant reporting by news media, the naming of names, the levelling of charges, the shoddy spectacle of breakdown and neglect of essential public services due to embezzlement and fraud seen and heard every single day seem to make no difference at all to the persistence of the plague. Is the culture of corruption too embedded and endemic to be eroded or refined by media?
Even as we rue the fact that media may have made only a limited difference to reducing the culture of corruption at various levels of public office, we owe it to the truth to acknowledge that media has certainly stimulated profoundly progressive changes in other aspects of culture.
These changes begin with a never-before-seen simultaneity of shared experience of events and trends on global, national and local levels. This process of collective presence at one and the same time despite being distant from each other across countries and continents has a direct impact on the culture of human affinity, of learning and even of positive changes in lifestyles.
Whether viewing the launch of a new rocket into outer space to land on the Moon or on Mars, whether joining together in dread and in grief at the ravages wrought by COVID-19 in rich and in poor nations alike, whether enabling touch-button access to oceans of trivial data as well as invaluable information on YouTube, whether reading a thoughtful and soundly-researched essay or book in print or on a screen — or even listening to an audio version of the same — diverse media platforms have infused vibrant vitality into culture across the world and across Pakistan.
The phenomenal flow of sheer energy of information on human activity has introduced a fundamental change in the culture of information control.
Where previously the creation and transmission of media content was centralised and concentrated, the same is now completely decentralised and diffused. Any individual, child or adult, woman or man, barely literate or well-educated with access to the internet via a cellphone can produce content and instantly distribute the same to either a selected few, or to a hundred million. This has given a completely new dimension to culture — authentically mass level, promptly-timed, individually-centred capacity to conduct two-way communication.
Individuals and groups — couples, families, communities, organisations, countries — have parallel relationships with culture and media. These parallels facilitate personal as well as collective participation. One lesson of humanity's history is that being together is better all-around rather than being alone.
The new media promotes a previously unknown sense of separateness. While that isolation may be good for privacy, it is bad for sociability. Being preoccupied with the small screen while in the company of others is disrespectful and indicative of disinterest in the physical presence of other beings.
Does the selfie — the ultimate new medium — strengthen self-centeredness and selfishness — just as we need selfless camaraderie and humanism to preserve our priceless planet and shape a culture of balance and harmony with nature, and with each other?