It is never an event. It is always a process of several steps, at times far from one another, that slowly progress toward the goal. And the process is always difficult to comprehend in real time. It's deliberately built to confuse. One step leads to the next but each step is crafted in a manner that it seems an end in itself and not connected to the whole. Around each step a discourse is created that hides its real purpose. The steps being taken today are an essential part of one single process, a process of political disempowerment and permanent subjugation.
This is why it is important to see this latest move — the delimitation process — in its right perspective. It is an essential part of the process that was accelerated by the Indian government's cataclysmic move on August 5, 2019. The removal of Jammu and Kashmir (J&K)'s semi autonomy, downgrading it into two Union Territories directly ruled from New Delhi — while Kashmir was put under an unprecedented military lockdown and curfew — was a major blow. Now the devastating changes envisioned by New Delhi through the August 5, 2019 decision are being systematically implemented. If you connect all these moves that stem out of the August 5, 2019 decision, the final goal of this process becomes amply clear: demographic change and turning the 68 per cent Muslim majority of J&K into a disempowered minority in their own home.
There are several layers to this process, which are running simultaneously to fully implement the RSS's ideological and civilisational project in J&K. While the legislative and administrative measures are being introduced on a day-to-day basis, the delimitation process is an essential step to permanently disallow even a remote chance for a halt in or reversal of this process in the future. Unlike the previous regimes in New Delhi, Sangh considers the traditional pro-India political camp from among the 68 per cent Muslim majority of J&K a hurdle in its goal. A Hindu Chief Minister in J&K is their stated goal and a long-standing promise to their supporters. They are also explicit about their agenda to replace the traditional pro-India leadership permanently. They aim to create their own alternative, like the local versions of MRM (Muslim Rashtriya Manch). That plan hasn't progressed as envisioned in the last two years. It has been easy for the Indian state to create an administrative structure, especially in the higher civil and police bureaucracy, where the representation of this 68 per cent Muslim population is negligible. But the establishment of a similar political structure has been a difficult task. With the current demographics and composition of assembly constituencies, it is impossible to make any future assembly, and thus the political government, a mirror image of the top administrative structure in J&K. The delimitation process is a convenient mechanism to achieve or make a major push towards that goal.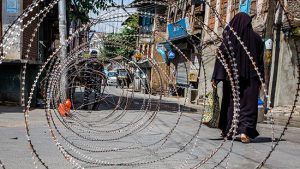 The importance placed on the delimitation process by New Delhi is thus understandable. In fact, J&K was downgraded into a Union Territory and put under New Delhi's direct control to, among many other administrative and political manipulations, create an assembly where even the traditional pro-India political camp from within J&K's Muslim majority can never become a hurdle in RSS's larger project. And even if statehood is restored at any point, these parties must not have the requisite numbers to form a government. The restoration of full statehood, meanwhile, is highly unlikely in the near future. Even if J&K is indeed made a state again, it may be something like Delhi, where New Delhi's appointed Lieutenant Governor will hold all the powers. Even after an absolute electoral disempowerment through this delimitation process, the subsequent elections (which New Delhi wants as the next immediate step) can only elect an assembly and government that will be completely subservient to the unelected Lieutenant Governor.
When the leaders of the pro-India camp met with Prime Minister Modi and Home Minister Amit Shah in June, the Indian government made it amply clear that they see delimitation as the beginning of a three-step process. First delimitation, then polls for these freshly delimited constituencies to elect a new assembly, and finally restoration of statehood. They didn't spell out whether that restored statehood would be full or truncated. There is a clear reason for this ambiguity. Once the delimitation process is concluded and a new assembly set up, that 'elected' assembly can vote to seek a truncated state with New Delhi's encouragement or agree to a mechanism where the powers would still stay with New Delhi's appointed Lieutenant Governor. That assembly can also be used by New Delhi to provide a "democratic stamp" on the decisions of August 5, 2019.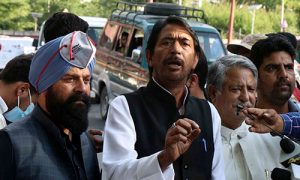 For decades, the Indian government used the successive elections of J&K's legislative assembly, voter percentages and state governments formed through these elections as a counter argument internationally as well as domestically against any demands for plebiscite in J&K. On August 5, 2019, they locked up almost every one of those elected leaders — three former Chief Ministers were booked under the draconian Public Safety Act, another former CM wasn't allowed to enter Kashmir, while almost all the former legislators and ministers were bundled into police jeeps and jailed. After two years, they were summoned for a meeting that didn't even have an agenda. They are again needed to play their assigned role in ''democracy.'' This clearly illustrates the role of the pro-India political camp in the larger scheme of things.
It is extremely unlikely that New Delhi will agree to restore statehood to J&K before the elections. They don't want to restore statehood unless they have changed the system to an irreversible degree. And it will be impossible after the leadership of the pro-India camp ostensibly representing the rights of the 68 per cent Muslim majority legitimises this delimitation process and bails out New Delhi at this critical juncture. If this traditional pro-India camp had to participate in this process, which they always intended to, they should have insisted that they would only join the delimitation process once full statehood was restored. The only reason for the little relevance they regained after being humiliated and consigned to the dustbin by New Delhi on August 5, 2019 is that New Delhi needs them to make this delimitation exercise a 'broad based legitimate process' with an aim to preempt and address any future criticism.
The setting up of this delimitation commission is a direct outcome of the J&K Reorganisation Act that accompanied the abrogation of 370 and 35 A and repeal of J&K's own constitution on August 5, 2019. Participation in this process will thus be a tacit acceptance of the August 5 decisions. It will trap these parties literally into a political whirlpool and make their exit from the next two steps impossible.
What is going to happen in this delimitation process and why is it important? The delimitation process does not have a set rulebook to create new or redraw existing constituencies. In fact, it is dependent on the opinion of the members of this commission. This delimitation commission is led by former judge of the Supreme Court of India, Justice Ranjana Prakash Desai, Chief Election Commissioner (CEC), Sushil Chandra Sharma and State Election Commissioner (SEC) KK Sharma. And as there is no legislative assembly in J&K, five members of parliament (3 from National Conference and 2 from BJP) have been nominated as associate members of the Commission. These MPs do not have any voting rights. The role of the political parties and members of the public is limited to giving their recommendations only. There is no way to challenge the decisions of the delimitation commission. It can only be altered through a new delimitation commission, which is highly unlikely.
The RSS and its affiliates in J&K and outside have put forth ideas that provide an understanding of their blueprint regarding the delimitation, the complexion of the constituencies, their number and distribution across J&K. This discourse also provides a clear clue as to where this process is headed.
The Sangh and its affiliates have been peddling several falsehoods deliberately with an aim to confuse the issue. The total Hindu population of J&K is 28 per cent and it is impossible to make this minority an electoral majority until their goal of demographic change through large-scale settlement of Hindu population from outside J&K is achieved. To manoeuvre around this major difficulty currently, they conveniently resort to double speak. Inside Jammu province, they have systematically disempowered the Muslims who form 35 per cent of the population. A large number of this Muslim population of Jammu province is primarily Gujjar and Bakerwal Tribals, who face a communal and bigoted campaign against them by the Hindutva groups. There have been several cases of lynching by cow vigilantes. In fact, a leader of a prominent Hindutva group in Jammu even called for a social and economic boycott of Muslim Gujjar Tribals. The Muslims in Jammu's Hindu majority districts are being consistently targeted and demonised as encroachers and accused of waging "land Jihad" to "change the demography of Hindu majority districts of Jammu.'' These Hindutva groups also use derogatory terms for the Muslim inhabitants of Jammu province and call their presence in Jammu an "Islamo-fascist invasion." After the large-scale massacre of Jammu Muslims (More than two hundred thousand killed and several hundred thousand evicted from Jammu in November 1947 through a well organised plan), the Muslim population of Jammu province was substantially brought down. Subsequently, the entire political power and economic growth, industrialisation etc within Jammu province has been concentrated inside Jammu city and its adjoining Hindu majority districts, completely excluding the hilly districts of Pirpanchal and Chinab valley, where the majority of Jammu's Muslim population reside. There has been negligible presence of Jammu Muslims in Jammu province's top administrative structure.
Just look at the blatant hypocrisy. When the Sangh and its affiliates raise the rights of Jammu province within J&K, they purposely hide this dichotomy. Instead, they make it sound as if they represent the entire population of Jammu province, including the 35 per cent Muslim population. So on a pan-J&K level, they speak on a regional basis but internally in Jammu province, they do everything to exclude the Muslims. This is evident in their discourse on delimitation as well. While their aim is purely to increase and redraw the constituencies in Jammu province in a manner that the Hindu population has enough numerical strength in most of these constituencies to provide electoral strength to Hindutva groups, they want area and not population to be the primary parameter for the delimitation process. As per the 2011 census (which is the basis of this delimitation process) the population of Kashmir is 68.8 lakhs, with an area of 15520 Sq. kms. The population of Jammu province is 53.7 lakhs, with an area of 26393 Sq. kms. In Jammu province, a large chunk of this area falls in Pir Panchal and Chinab valley hill districts, which are all Muslim majority, while the Hindu population is concentrated around Jammu-Sambha-Kathua and parts of Udhampur belt. They want a share that is hugely disproportionate to the overall Hindu population (28 per cent) in J&K.
Daya Sagar, an adviser to the RSS affiliated J&K Study Centre, in an article in the State Times (published from Jammu) says population must be one among the five parameters in the delimitation process. "Population is only one of the five parameters and cannot shift the balance towards Kashmir Valley over-riding other parameters… all constituencies shall, as far as practicable, geographically compact (surely reference is to area), regard shall be had to physical features (surely refers to features like terrain etc.), existing boundaries of administrative units (surely refers to features like nearness to administration), keep in view facilities of communication (surely refers to roads in the area); and conveniences to the public (like distances, nearness to administration/public representatives). Population is one of 5 factors & matters more as regards seats reserved for SC & ST." He claims that "had the Delimitation Commission worked truthfully in 1994-95, surely about 45 to 44 MLAs would have been distributed over the then 6 Jammu Region districts (Doda, Udhampur, Kathua, Rajouri, Poonch, Jammu ) and only max 39 to 38 MLAs in Kashmir region districts (Srinagar, Badgam, Anantnag, Pulwama, Baramulla, Kupwara)."
The Sangh claims regarding the earlier delimitation process that was completed during presidential rule (direct rule from New Delhi) in 1992 (and implemented in 1995) are also false and misleading. They claim it was tilted towards Kashmir Valley. With substantially more population in Kashmir, this earlier delimitation process had, in fact, added more seats to Jammu province and Ladakh. After the 1981 census, a delimitation commission was set up in J&K under the chairmanship of Justice J N Wazir. It was reconstituted a few times and finally Justice K K Gupta of the J&K High Court was made its chairman. This Commission gave its final order in 1992, delimiting the total number of constituencies to 87. This meant an addition of 11 new constituencies. Among these new 11 constituencies, 5 were given to Jammu, 4 were given to Kashmir while two were given to Ladakh.
The J&K Reorganisation Act passed on August 5, 2019 by the Indian Parliament has added 7 new constituencies, raising the total number of assembly seats to 90 in the Union Territory of J&K. This new delimitation commission has a mandate to create 7 new constituencies and redraw the existing constituencies without any clear procedures or parameter to do so. There are also 24 assembly constituencies in J&K assembly that are reserved for part of the erstwhile princely state, which is with Pakistan since 1947.
Currently, there are 46 assembly constituencies in Kashmir Valley and 37 in Jammu province. In Jammu province, 15 among these constituencies are Muslim majority. Although Jammu province has 62.5 per cent Hindu population, they are concentrated around Jammu-Sambha-Kathua belt and parts of Udhampur district. This is why redrawing of the constituencies by the delimitation commission will be important.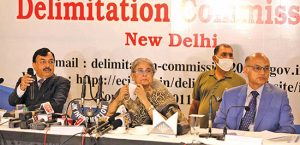 Gerrymandering isn't a new concept and it has been successfully used in Northern Ireland to increase the political heft of the Protestant Unionists. There is a strong apprehension that both "cracking" and "packing'' principles of gerrymandering will be used to remove or dilute the numerical strength of Muslim voters in the constituencies, where they have a majority currently. There are three ways that this can be achieved. First, by carving out constituencies in a manner where Muslims will be consolidated in a few and stay a numerical minority in others. Second, reserve seats for Scheduled Castes (SC) in constituencies where Muslims are a majority, create new constituencies in a manner that the Muslims voters are numerically not enough to win an election. As per the rule, 7 seats will be reserved for Scheduled Castes. The precedence is that these constituencies are chosen as per the concentration of SC population in a constituency and the first seven constituencies with highest SC population are reserved. There is apprehension that this precedence may be avoided. There are already demands that a few constituencies from Kashmir Valley should be reserved for SC although there is almost no SC population in Kashmir valley. The SC population is, in fact, entirely concentrated in Jammu province's Hindu majority districts.
The RSS affiliated Kashmir Pandit (KP) groups and the ruling BJP is seeking reservation of 5 constituencies in Kashmir for the KP population. In an article published in Organiser (March 6, 2021), BJP's Kashmiri Pandit leader, Ashwani Kumar Chrungoo wrote that ''there should be a clear cut reservation/nomination for the minority community in the valley (comprising Kashmiri Pandits, Kashmiri Sikhs and non-Kashmiri speaking Hindus in the valley) in the Legislative Assembly and also one seat each should be reserved/ nominated in the Lok Sabha and Rajya Sabha for them."
In his article 'How BJP can plant Hindu CM in J&K' published by Mid Day (July 5, 2021), Ajaz Ashraf provides context to this demand for increase in nominated constituencies. The J&K Reorganisation Act passed by the Indian parliament on August 5, 2019 has made all constitutional provisions applicable to the Puducherry Union Territory applicable to J&K Union Territory. The Puducherry Assembly has 30 elected members while New Delhi nominates three more members, who have voting rights. Using the Puducherry mechanism, the Sangh groups are seeking addition of 9 nominated members who will have voting rights to J&K's new 90-member assembly. As the Modi government will nominate these members, this gives a big advantage to them. Quoting the 2011 census, Ashraf says that "the Hindus are 1.69 lakh or 2.4 per cent of the population of Kashmir's 10 districts."
The one new aspect to this delimitation process will be reservation of seats for Scheduled Tribes (STs). Unlike SCs, STs didn't have a reservation in J&K till now. As per the new arrangement, at least 9 constituencies will be reserved for STs across J&K. The BJP is going to use this measure as a big concession for the Muslim Gujjar and Bakerwal tribals, who have otherwise been under consistent attack of Hindutva groups in Jammu. This reservation, however, isn't going to make any difference to the representation of Gujjar and Bakerwals. In fact, there were nine legislators from the Gujjar and Bakerwal tribes in the last legislative assembly of J&K. The total number of ST legislators in the previous assembly was 16. Instead, the reservation of constituencies for scheduled tribes will bring members of smaller scheduled tribes into the fray. Political forces inimical to the Muslim Gujjar and Bakerwal tribes, especially in Jammu, can rally behind a non-Gujjar tribal in the constituency. This is why there is a likelihood that constituencies in Jammu province, where the Gadhi tribal population is concentrated would be reserved as ST constituencies.
There is also a demand from Hindutva groups and political parties with a base in Jammu's Hindu majority districts to allot seats from within the 24 seats reserved for the areas of erstwhile princely state of J&K that are under Pakistan's control. Dogra Swabhiman Sangathan (DSS), a party led by former BJP minister Lal Singh, has demanded that the delimitation commission must open six seats to be kept vacant for Mirpur and Muzaffarabad and add that to the overall tally of 90 seats. These six constituencies, he has said, should be filled by the refugees who settled in Jammu since 1947. As per government estimates, there are 36,384 families (around one lakh ninety thousand people) of these refugees currently living in different districts of Jammu province who have always exercised their right to vote. The voters from among these refugees are registered in electoral rolls in Jammu and are already voting in various constituencies there. Singh has also demanded that the delimitation commission must withdraw two seats from Kashmir valley and reserve them for Kashmiri Pandits who are living in Jammu.
The most vocal Hindu organisation in Jammu — Ikk Jut — has been placed as a pressure group taking extreme positions, so that the official machinery doesn't go slow to move towards realising Sangh's ideological project. This group opposes the delimitation process. Instead, they seek another reorganisation of J&K Union Territory. They want a division of Kashmir valley into two Union Territories without an assembly, after carving out an area exclusively for Kashmiri Pandits. They also demand that Jammu be simultaneously turned into a full-fledged state.