Mor Moharan continues to win hearts on TVONE.
As the story progresses suppressed emotions are being revealed and conspiracies are being hatched.
The beautiful, gutsy heroine Rohi is facing the hostility of the local landlords in her area as she protests against their callous acts that damage the environment. And that too in a feudal society where women have no voice.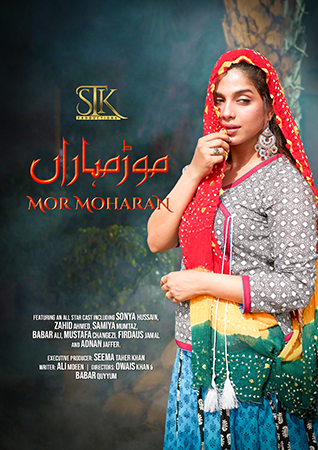 Sadly, one of them is her own father Malook Shah who in partnership with his old friend Princess Almas is planning to set up a coal power plant. While Malook adores his only child, he would not like his business to be jeopardized.
Meantime Princess Almas's son Sikandar has fallen head over heels in love with Rohi. She too is attracted by his boyish charm.
But with Rohi opposing the power plant will Almas support this relationship?
The coming episodes promise some tension in this track.
The other roadblock to Rohi's dreams is the handsome feudal playboy
Ahmed Gardezi. A sugar baron and avid hunter, Gardezi has no concern for the environment and also sees Rohi as an impediment to his plans.
He and Rohi have some fierce encounters and the battle lines are drawn.
The suspense in this track is also escalating as neither side is willing to retreat.
The most endearing character, however, is Gardezi's saintly grandmother. Her dialogues are a joy to hear and her simple language reflects the purity of her heart.
The performances of all main characters are convincing and the actors seem to be living their roles. The stunning locales and the haunting music is the icing on the cake.
Pathar ki Dewaar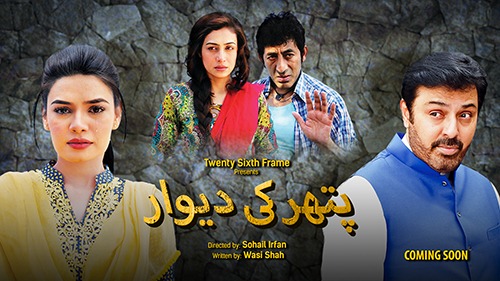 A young woman faces multiple trials and tribulations.
The challenges she faces and how she fights against the forces of evil and greed is the crux of this story
Aymen is a responsible and courageous girl from a middle class background living in very difficult circumstances.
Her father has married a young girl, her brother is a thug engaged in petty crime and her sister who had eloped with someone and is now pregnant has been thrown out by her lover and is back home.
Aymen is the sole breadwinner of the family.
Another crisis occurs when Aymen's rogue brother is arrested and to have him released she approaches Behram a powerful gangster to help her. The lecherous Behram is attracted to her and wants to seduce her.
But Aymen actually loves Sarim and both want to marry. Will she ever overcome the dangerous hurdles in her path? Can she fight against these menacing forces alone? Will she and Sarim survive the scheming around them ?
This compelling story has ample twists and turns leading to an exciting climax.
Directed By: Sohail Irfan Written By: Wasi Shah Producer: Twenty Sixth Frame Entertainment Starring: Noman Ejaz, Kashif Mahmood, Kiran Haq, Asma Abbas, Adnan Shah Tipu, Sohail Sameer.
Chaand per Daagh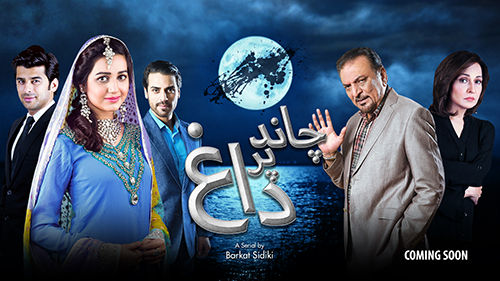 A love story that faces many challenges.
And highlights the trauma of acid burn victims
Roshni is a pretty young girl who works as a volunteer for an organization that provides treatment and shelter to women who suffer disfigurement due to acid burns.
The head of the organization is Adeeba, a smart woman who is also their tenant occupying the first floor of Roshni's family home.
Adeeba is totally committed to this cause and is an inspiration for Roshni.
Roshni's frequent visits to Adeeba's home lead to her meeting Salman, Adeeba's handsome son. Gradually a sweet romance develops between the two. But many trials and dangers await them.
Rustam, the spoilt, wayward son of a business magnate sees Roshni and falls for her. When she resists his attempts he flies into a rage and throws acid on her. Now what?
If Roshni survives will she be disfigured? Will Salman still love her?
Will Rustam be punished? Find the answers in Chand Per Dagh
Directed By: Barkat Sidiki, Written By: Riffat Siraj, Produced By: Barkat Sidiki
Starring: Humayun Ashraf, Anum Fayyaz, Zeba Bakhtiyar, Abid Ali, Nyla Jafri, Sheryar Zaidi,Yasir Mazhar, Iqra Mughal, Zeba Shehnaz, Faree Naz
Sheher ke Raatain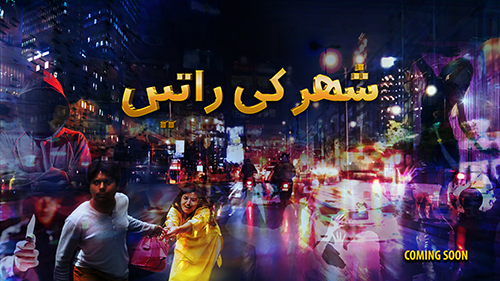 There is dark underbelly to every sprawling city of light – "Sheher Ke Raatain" brings you stories of the people who reside there peeping into palatial homes or pigeon loot like little apartments, in the suburbs, or a tucked away ally in a crowded mohallah.
As the sunsets over a city scape – we have a story to tell
Only on TVOne – coming soon
Special Transmission on the state of floods
Lalkar – A call to the nation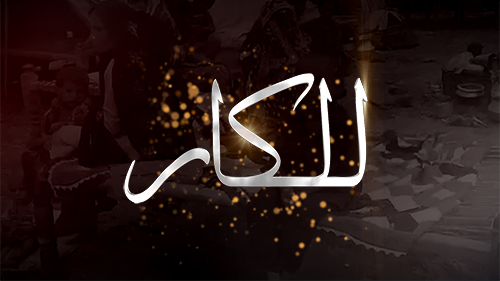 To highlight the impact and devastation of the recent floods
Airwaves Media launched a Special Telethon called Lalkar to generate donations and support for the unfortunate affectees.
All 3 channels TVONE, Newsone and Waseb presented documentaries, live interviews and expert advice from credible sources.
TVONE began the transmission in the morning with Azfar Rehman and popular hosts Sidra Iqbal, Maya Khan and Sahir Lodhi.
Notable NGOs discussed the level of destruction, the likelihood of epidemics and the alarming outlook for agricultural produce.
From 1pm to 3 pm Seraiki channel Waseb had Dr. Nuzhat as a host who discussed health and agricultural issues as well as the frightening possibility of food shortages in the area.
Between 4pm and 6 pm well known Lahore anchors Hina Ejaz and Ali Mumtaz along with Flood Relief Co ordinator Areeba Magsi focused on the havoc in Balochistan and the need for immediate and long term rehabilitation measures.
All three channels kept up a steady call for donations for flood affectees
Habib Piracha concluded the transmission ending with a moving and inspiring dua.
Morning Star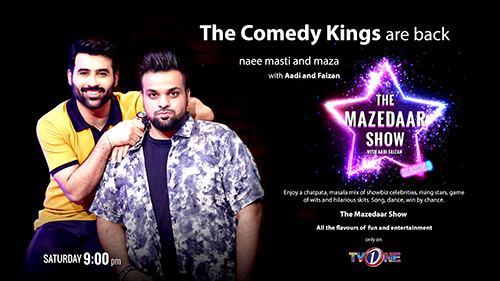 July just got more jubliant as TV One's "Morning Star with Azfar Rehman" celebrates its momentous 100th episode, and what a glorious ride its been.
Earlier in the month, our beloved host Azfar Rehman gave us another fabulous reason to rejoice and celebrate after winning the 'Best Morning Show Host' award at the Rising Pakistan Fashion and Lifestyle event in London.
Azfar's wit and intellect at the helm of the show makes it for a pleasurable viewing experience for early birds every morning from 9 – 11.30 am. Informative and entertaining guests add to the overall appeal of the show.
With bakra eid around the corner, the morning show went all out to give their audience eid special shows with some of the most beautiful people in the showbiz industry. Neelam Muneer, Sana Fakhar, Javeria Abbasi, Amar Khan, Aijazz Aslam, Omer Shahzad, and Anam Tanveer amped the glam quotient with their uninhibited, lovely selves. They were a sweet treat to watch as they fully participated in a wide array of fun and games with Azfar.
If that wasn't enough, The Morning Star in collaboration with 'Goats for Water' and 'Uptrade' ran a contest on their social media pages and 2 lucky winners were awarded with a goat each. Yes, you heard that right!
July saw a plethora of hugely engaging and enterprising people grace the morning show. Varah Mussawir, who spearheads Firefly, The Crafters Guild and the annual Indie Art and Craft show, was on the show with 3 talented ladies Hamda Shahid, Fatima Siddiqui and Amber Saifee to curate a miniature version of the event and discuss some of the 95 other brands associated with the annual event.
Our regular and popular panel of esteemed doctors like Umer Butt, Alina Nasir, Kiran Javed, and Khurram Mushir continue to improve lives with their professional advice and solutions for medical problems. The highly entertaining and flavourful banter between Azfar and Chef Muneeza is one of the most sought after segments of the show. Another constant but weekly segment that has gained popularity is the unique combination of a tarot card reader Unsa Shah with wazaif rendered by Imran ul Haq Kilyanvi and Afifa Imran.
From renowned singers like Alycia Dias, designers like Marium Tiki, stylists like Rija Bakhtiar and Huma Tahir, to promoting sports with Jujitsu champion Amir and film and theater talent like the cast of Doda and Bobbles, the morning show always has something for everyone.
Airing every Monday to Friday, from 9 – 11.30 am, on TV One, "Morning Star with Azfar Rehman" continues to raise the bar with quality infotainment for its audiences and curate wholesome content daily. So tune in for your daily dose of fun with your favorite host, only on TV One.
Khwaja Naveed Ki Adalat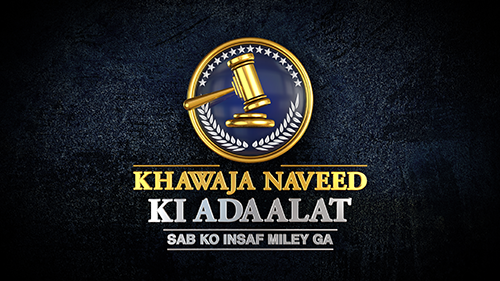 High Drama in The Courtroom!
For it is the Peoples Court
And Khawaja Naveed is in the Chair
Whether it is marital problems, property ownership, child custody or business disputes- Khwaja Naveed puts all wrongdoers in the dock and provides immediate relief to the innocent.
The best part being his sympathetic manner towards those who are wronged and giving stern warnings to the culprits.
His vast legal experiece offers knowledge of the law while his volley of humorous darts provides much entertainment in the courtroom.
Khwaja Naveed Ki Adalat has spawned several imitations on other channels
What The Fun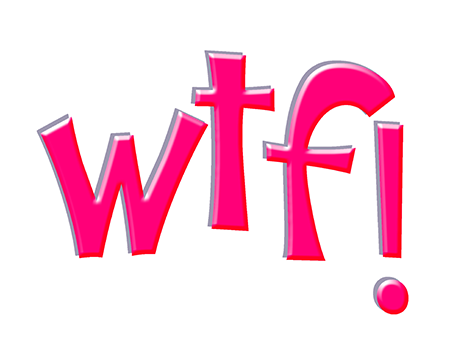 In a smart town by the sea Mohsin Abbas call out to 2 families for a bit of fun & frolic, quizzing them in games of wit & speed What The Fun – a family show like never before.
The Big Pick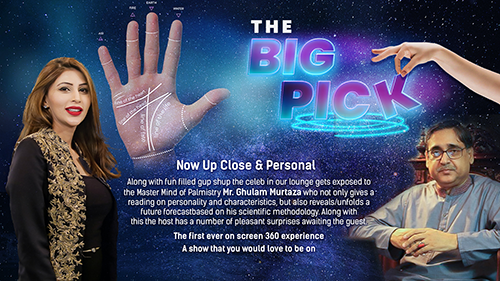 Now Up Close & Personal
Along with fun filled gup shup the celeb in our lounge gets exposed to the Master Mind of Palmistry Mr. Ghulam Murtaza who not only gives a reading on personality and characteristics, but also reveals/unfolds a future forecastbased on his scientific methodology. Along with this the host has a number of pleasant surprises awaiting the guest.
The first ever on screen 360 experience a show that you would love to be on.