Before his Russia visit, Prime Minister Imran Khan said the Ukraine crisis had nothing to do with Pakistan. On arriving in Moscow, he commented, "What a time I have come. So much excitement." Both his statements show a complete lack of appreciation that the Ukraine War was the most important event in our current history which would have a devastating impact on the future of Pakistan.
When Putin moved his troops into Ukraine, nobody expected the response of the West to be so aggressive, so strong, as they imposed the harshest economic sanctions on Russia. The West denied the SWIFT bank transfer system to Russia as well as shutting off their airspace. In a series of other measures, the Western bloc also denied shipping for transactions in Russia and halted the Nord Stream 2 gas pipeline, with giant companies from the West closing down their operations in this former communist state.
BP, which owned 20 percent of Rosneft — Russia's biggest oil company — closed down and wrote off its Russian interests with assets over $25 billion. Refugees, fleeing Ukraine, quickly exceeded 2 million, with expectations of up to 5 million which would make Ukrainians the world's largest refugee population. About 85 percent of Russia's foreign reserves of $600 billion were frozen by the West. As the oligarch billionaires were sanctioned, dramatic news releases showed their super luxury mega-yachts being hunted in the chase for oligarch assets.
The Ukraine War has become a game changer for the Western bloc and for Russia as the world divides into two camps. Even Switzerland, a traditionally neutral country, has joined the EU camp. Despite the prevailing mood of 'you are either with us or against us,' Imran Khan wants Pakistan to be unaligned, citing the immense loss of 80,000 lives and $100 billion economic losses by participation in the Afghan wars. His public statements show that his political heart does not lie with the United States. Can Pakistan avoid commitment in this new world divide?
At a time when Pakistan's economy is threatened by its CAD (current account deficit), we desperately need more dollars and more exports if we are to meet our liabilities. The dollars come mainly from China, Saudi Arabia and the UAE. The exports go mainly to the EU and the US.
Not just the PTI government, but all of Pakistan is under attack from inflation and the current account deficit. The Ukraine War has already seen commodity prices rise with astonishing speed to new record heights but you ain't seen nothing yet. It's going to get worse, much worse, very quickly. Cost of imported energy lies at the heart of Pakistan's dollar crisis. Since September 2021, international oil priced have doubled as they rose from $63 to $125. In the last month, Dutch gas has risen from Euros 84 to 208 per ton; British gas has also risen by 250 percent, the price of Newcastle coal has almost doubled in a month from $250 to $440 a ton. Oil traders and analysts are predicting oil at $200 and Alexander Novak, Russia's Deputy Prime Minister, is warning that the price of oil could even reach $300 if the US and Europe ban imports.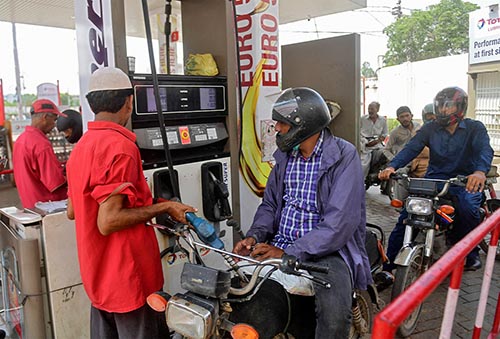 Russia's top 5 exports are crude oil ($123B), refined oil products ($66B), natural gas ($26B), coal ($17B) and wheat ($8B). Russia produces 50 million tons of fertiliser every year (13 percent of the world's total) and exports from Ukraine and Russia of sunflower oil make up 60 percent of world exports. The risk of supply chain disruption due to the Ukraine War is diverting many buyers to palm oil. Palm oil prices have doubled over the last six months, burdening Pakistan which imported palm oil at a cost of $1.7 billion in 2021. International wheat prices have risen by 40 percent over the last month. The impact of inflation in Pakistan, over the coming year, will be severe. The Ukraine War is sending prices of energy (oil, coal, gas) and basic food (wheat, edible oils and fertiliser) up and up with the speed of a rocket. This means trouble for Pakistan.
Imran Khan has an emotional antipathy to the rich and powerful West and resents being ordered what to do. But Pakistan's economic survival is highly dependent on the IMF, EU, GSP+ and FATF, all of which are controlled by Europe and America. Pakistan trembles at every session of IMF negotiations, and is constantly worrying about withdrawal of tariff privileges in its main export markets. Pakistan has suffered penalties of over $50 million imposed by the US on the National Bank of Pakistan, has had long delays and difficulties in keeping the IMF on board with its current programme, remains on the FATF grey list, and is at risk in its trade relationship with Europe (protected by GSP+), its biggest trading partner, if it steps too far out of line.
Pakistan looks to be $40-50 billion short in its dollar requirements this year, with the rising prices resulting from the Ukraine War. Will it be able to beg or borrow such a large amount from China? Imran Khan wants to maintain a balanced relationship with both Russia and the West. How to define a balanced relationship in the context of a Pakistan dependent on the largess of whoever is ready to give, whether China, America, Europe, or the oil-rich Gulf Arabs? Pakistan's balanced relationship seems to have fallen between a rock and a hard place. The Business Recorder, in its headlines of March 8, 2022 stated "Government seeks $21 billion support from China." The government is optimistic in expecting so much from China, while the CPEC is falling behind because of broken commitments as Pakistan defaults on its contractual payments to the Chinese power plants and gives the Rs. 250 billion owed on this account to EHSAAS for handouts. At the same time, the government is giving up a similar amount in petroleum levy on the grounds that there is surplus tax collection. The priority given to winning voter approval rather than honouring contracts indicates that elections are not out of the question.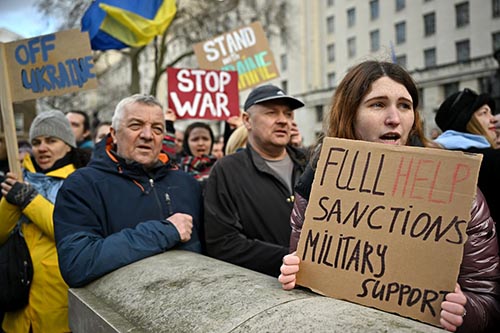 As the economic crisis grows, domestic politics faces instability. Will the no-confidence move against the PTI government unseat Imran Khan, who in turn, threatens that he will be dangerous in opposition? The economic situation is grave, with so little hope on the horizon that any incoming government will take the brunt of public anger in the terrible times that are coming. Even an interim government, till the elections, will attract hatred and its leaders will have no political future to look forward to. The establishment will have to tread carefully if it is to avoid opprobrium so that Imran Khan and the PTI take the fall for the bad times. The establishment will stay clear of frontline politics.
Over the coming year, law and order is likely to break down as food becomes more expensive and poverty increases. After some months, blackouts or brownouts will reappear despite sufficient generating capacity, because, as has already happened in Sri Lanka, there will be no money to buy expensive oil and gas. Corruption will increase as more and more people decide to take the money and run. The State Bank will try to hold the value of the rupee through intervention and selling of dollars. But this strategy can only continue for as long as foreign reserves don't run out. Finally, the State Bank will give up and let the market decide, after delaying the inevitable at the cost of burning our scarce reserves. Investors will start to redeem Roshan Digital dollar accounts yielding 7 percent, which will look unattractive compared with higher yields of 13-15 percent on Pakistani US dollar-denominated bonds and sukuks available in international markets. When the State Bank starts to pay off those existing Roshan Digital dollar accounts, the fall of the rupee will accelerate.
Nothing, not even bad times, last forever. Finally, a solution will be found to the Ukraine crisis, but this will only be after the protagonists have inflicted enough pain on each other for sanity to prevail. The outcome will be determined not by who is right and who is wrong, but by who can take the pain longer. Before a war, countries feel rich, after a war countries are broke. At the start of a war, people argue about right and wrong, after a war people think only of peace and security. Peace is valued more by a people after they have suffered war.
What will happen to Pakistan? In the depths of despair, Pakistan will finally make the long overdue decision to build a nation rather than loot it. Authoritarian leaders will replace populist democrats. Leaders will turn from self-interest to service. Hard work will replace self-deception, education and merit will again be respected, religious extremism and terrorism will be crushed, and the long struggle to escape the quicksand of the past will prevail. This is the only cure, but it could take decades of suffering before people see sense. Meanwhile we must endure the bad times and await the future.