Pakistan's political leadership and decision-makers appear indifferent to the biggest challenge facing the country today: its unbridled population growth, which has increased more than six-fold since independence.
From 32 million in 1947 it was estimated to be 208 million in 2017, when the last controversial census was held. And today, is said to have crossed the 221 million mark — and counting.
According to the Population Council, Pakistan adds 4 to 5 million people every year to its population — a figure almost equivalent to the entire population of New Zealand.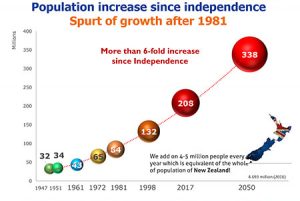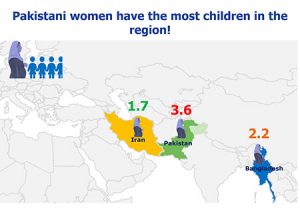 If the country's population continues to grow at its current rate of 2.05 percent, it will require at least 117 million new jobs by 2040, 19 million more houses and 85,000 new primary schools just to ensure that at least two out of three children aged between 5-16 can get themselves enrolled at the primary level.
Yes, a rapidly growing population means an ever-increasing demand for food, schools, healthcare, jobs, housing and infrastructure. No government in any developing country can match such a rapid growth in demand. Period. Yet, managing or controlling the country's population does not appear to be on the list of our national priorities. Successive governments have maintained an ostrich-like attitude towards the population challenge — just burying their heads in the sand in the face of a fast approaching storm.
Barring the occasional lip-service they pay to the cause, there is no actual political or ideological ownership of the population control programme. In fact, now our experts are even reluctant to use the term "population control," which is deemed politically incorrect by them in Pakistan's context. As a result, the message advocating smaller families has long been diluted. The direct slogan of two children per family has been abandoned. Now, the government-run campaigns focus on urging couples to maintain longer gaps between the births of their children. The new national narrative on population growth, instead of giving a direct message to the people, calls for "maintaining a balance between their family size and their resources."
Will this kind of subtle, indirect messaging work? Will it encourage people, especially those belonging to the low-income group and the less educated or illiterate, to act prudently while deciding the size of their families?
Our decision-makers, who appear apologetic when it comes to the population control programme, may think that this indirect approach will work, but if experience is any guide, then chances of the campaign advocating "balance" is unlikely to make any impact.
The kind of aggressive approach and urgency needed to take on the challenge of rapid population growth appears to be missing from the list of national priorities. It is not just the government, but all the national-level political parties, which should be taking up this cause and making population planning part of their manifestos.
The media also has to play its role in creating awareness about family planning.
However, the lead has to come first from the national leadership. If powerful voices focus on the country's population challenge, the media will also make the issue part of its news and current affairs agenda, as well as its entertainment shows and dramas. But the policy-makers would have to be innovative and creative in packaging and repackaging their message on the need for smaller families and longer gaps between the births of their children — which is vital for the health of both mother and child.
Certainly, there is also a need to highlight the economic angle of unbridled population growth. A country cannot move from low to middle and middle to high income groups without addressing the population issue. And no economic plan can succeed without population planning.
Then, the rights argument is as important as the economic angle — the right of a child to healthcare, education, a safe environment, as well as the right of a mother and a father to make informed decisions. It is only right that the nation plan its future and ensure sustainable growth.
Unfortunately, our policy-makers falsely assume that they would meet with resistance to any family planning programmes from the conservative or religious elements in society. But their fears are exaggerated and misplaced. However, even if there is any resistance, the state and the government should not abandon its responsibility.
Experts say that most people are unable to avail the family planning services not because they do not want to for so-called religious or social reasons, but because of the lack of facilities. A Population Council presentation says that women do want to plan families but they cannot because most government-run facilities, especially in rural areas, do not have any stocks of contraceptives.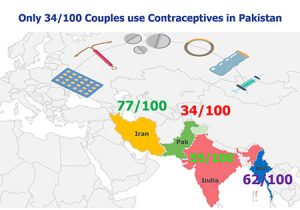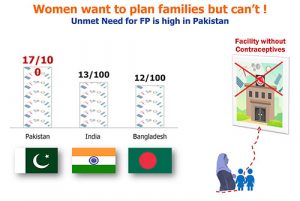 The use of contraceptives by couples in Pakistan, which stands at 34 couples out of 100, is the lowest in the region compared to 55/100 in India, 77/100 in Iran and 62/100 in Bangladesh.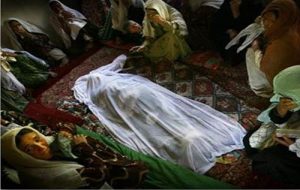 Most countries, including neighbouring Iran and Bangladesh, have fared much better in family planning compared to Pakistan. A Pakistani woman produces 3.6 children on an average compared to 1.7 in Iran and 2.2 in Bangladesh.
In a nutshell, Pakistan's policymakers have to put population planning on the front-burner as its rapidly growing young population, instead of proving to be an asset for the nation, is fast becoming a liability. It is outstripping its depleting resources —from water to food and healthcare, education to jobs. Pakistan is fast running out of time amidst its ticking population bomb. The time to act is now.