His tall, upright carriage and easy loose-limbed walk mark him out as an athlete even today. Almost three decades after he retired from professional cricket, Zaheer Abbas still exudes determination and vigour. One of the game's all-time greats, his records are not just many, but several still remain unbroken. "And mark my words, they will continue to remain so," he laughs.
The winner of two Pride of Performance awards, he has been inducted into the ICC Cricket Hall of Fame, and served as President of the ICC as well. With such an illustrious career to look back upon, it is only fitting that one wall in his study is devoted to cricketing photographs and portraits gifted by fans. Here is a young Zaheer Abbas tying his shoelaces at a county match. There is another picture of the entire Pakistan team standing alongside other competing teams, all photographed with Queen Elizabeth at Buckingham Palace. Another wall is studded with the crests of various cricket counties. And a cabinet holds some of the bats with which he has contributed to cricket lore.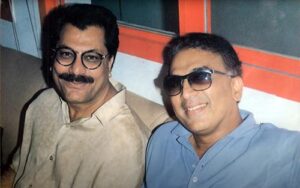 The era during which Zaheer Abbas played for the Pakistan team is remembered as the heyday of Pakistan cricket. All clad in pristine white, the young team was the heartbeat of the nation and every child knew the names of these cricketing heroes.
In the forefront of these heroes was Zaheer Abbas. He was born and raised in the small city of Sialkot, Punjab. "I have had the experience of village life," he reminisces. "We used to play cricket inside graveyards, using the stones as stumps. The balls we used would keep getting punctured by thorns and the bats were flimsy, 10-rupee ones. It was in these stony, thorn-bush riddled fields that the young Zaheer's talent emerged. "After a while, people began to notice that no one could get me out," he recalls.
The family of five brothers and one sister later moved to Karachi when Abbas's father went to the US to pursue a PhD. "My father decided that his family should move to Karachi where my paternal grandfather lived." The family re-located and now the young Zaheer had a bigger arena to play in. "My father was extremely passionate about cricket. In fact, that is how my interest developed. I remember back in the day when he and his colleagues would go to watch matches at the National Stadium, it was an event. They would dress up very smartly. And their wives would pack lunches of paratha and matar qeema for them."
Zaheer Abbas continued to excel at cricket in school and college. He went on to join PIA and it was here that he met another legendary cricketer, Hanif Mohammad, who was captain of the PIA cricket team. "I regard Hanif Mohammad as my mentor," says Abbas. "I looked up to him and he really encouraged me."
In 1969, Abbas was selected to play a test match against New Zealand. "I was still very young then," he recalls. "My mother wouldn't believe I was selected. As for me, I was so nervous, I got an upset tummy." As a result of his nervous stomach, Zaheer was unable to put up a good performance and was dropped from the Test squad. Although this was a crushing disappointment, he continued to keep his head down and work hard and, after a particularly good performance during the Quaid-e-Azam Trophy, he was called to play a test match again.
But this time the stakes were even higher. The team was going to England. "Many people doubted my selection," says Abbas. "They said 'his bat lift is too high, the ball moves a lot in England. He will get out on the slip or be clean bowled.'"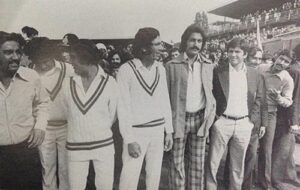 Meanwhile, Abbas's father had also told him that if he didn't prove himself this time, he should consider returning to his studies once again. "I remember, the afternoon before the match, I was taking a nap and I dreamt that a bouncer was about to hit me in the face. I woke up startled and told my roommate, 'Let's go out shopping,' I wanted to clear my mind." In fact, batsman Aftab Gul was later injured by a bouncer.
The new kid in the team, Zaheer Abbas was slotted as number seven in the batting line-up. But fate had other plans. The batsman at number three, Saeed Ahmad dropped out of the game and suddenly Abbas found himself bumped up to number 3 from number 7. "I thought I wouldn't even get a chance to play and I was sitting comfortably with a blanket over my legs, watching the game," recalls Abbas. "Suddenly, I was scrambling to put on my pads."
"I was quite nervous, but on the first ball I hit four runs. This really boosted my confidence." The rest is history. Zaheer scored a memorable 111 in that first match against England on their home turf, a remarkable performance for a newcomer making his English debut. The local papers were quick to take notice and he was promptly dubbed the 'Asian Bradman.' "Even I was a little astounded at that accolade and at my own success," recalls Abbas. In fact, the young man took England by storm that season, continuing to rack up impressive scores.
This included a memorable 274 scored at Edgbaston. The English counties now started clamouring for a chance to sign him on. Zaheer Abbas went on to play for Gloucestershire. "County cricket is the best training ground," says Abbas. Perhaps this is why he ranks England as his favourite country for playing cricket. "I like playing on grassy wickets and the ball really moves. You have to keep your eye on the ball till the last moment."
Zaheer Abbas became a distinctive figure on the field, someone to watch out for; the quiet, bespectacled Pakistani batsman who seemed to effortlessly pick up runs. Did wearing glasses ever prove to be a disadvantage? "I was lucky," he says. "I was never hit in the face, although we had no helmets back then and wickets were uncovered. And I faced some of the fastest bowlers whose balls literally sounded like a bullet flying by." As one of the star players in the Pakistan team, others were concerned for him though. "Bhutto sahib said he would get me a specialist for my eyes and maybe I should consider wearing lenses. I called my father to ask for his advice. And he said, 'just agree with him and thank him.' But I was fine really."
As today, there was no match quite like an India-Pakistan match. It was always adrenaline-pumping stuff — but without the rancour, which can strain the atmosphere. "It was a friendly rivalry. We felt a familiarity with the Indian players. We played serious cricket and formed firm friendships as well," says Abbas. "Till today, I count Sunil Gavaskar, Ravi Shastri, Kapil Dev and others among my friends. When I scored 240, completing my 100 centuries, in India, I gave a dinner party which was attended by all the Indian players. That was the kind of relationship we had." Zaheer Abbas has a wonderful anecdote about how he helped Indian Captain Azharuddin with his game. "He came to me and said, 'Zaheer Bhai, my shots aren't hard enough.' So I gave him some tips and he followed them. On another occasion, Sri Lankan batsmen Silva told me, 'Azharuddin said to ask you for some batting tips.' I helped him too and he was extremely grateful. That kind of situation is unthinkable now. I would be scared to speak to another team-player. I might be accused of match-fixing."
Zaheer Abbas also served as captain of the Pakistan team and, after his retirement, as manager. "The ball-tampering furore erupted while I was manager," he recalls. "We had to forfeit the match, even though later our team was exonerated of any tampering. These things happen. What is important is that we learn from them and frame rules accordingly."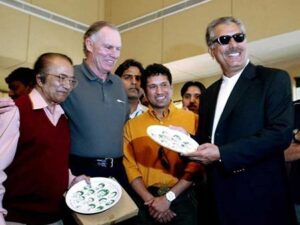 The Pakistan team has always had the reputation of being mercurial; exciting to watch but unpredictable. Why have we been unable to change this narrative? "The PSL and IPL formats are not beneficial, in my opinion. We won't produce big players unless we play big cricket," he says. Also, while it has become extremely popular, Abbas is not keen on the T20 format. "Some time back, Sunil Gavaskar and I were watching a match in Dubai. The batsman hit four runs. We both agreed that if we had hit a shot like that, our captain would have made us run five laps around the field. But the crowd lapped it up and was applauding. Just the runs count. You can play all kinds of crazy shots."
Abbas also feels that players have very long careers now because of the T20 format. "They would never have lasted in Test and ODIs. It has become very easy to make money in cricket now. We didn't make so much money but we produced so many greats. Now you see less of that."
"There was a time when we dominated the Indian team. They didn't have fast bowlers. Now look at them," he says. "Look at their batting. They don't start off with big shots. They will hit high or concentrate on singles as required; it's a strategic game. It's not a game of fours and sixes."
Abbas says that former players like him are not consulted by the cricket board, which is a politically appointed body. "We need to make better wickets; wickets which seam, not wickets that give quick decisions. We need good coaches, we keep changing coaches, making last minute team changes… We seem to have no planning."
He still has faith in the future of Pakistani cricket. "At the end of the day, it's the crowd that makes the match. When you walk into the field and hear that roar, hear them call out your name….it's an indescribable feeling."
"When one is young, your reflexes are very good. But later you play with more experience. Then a time comes when retirement looms and you see if there is any record that is close so that you can complete that before retiring." Over the years, was there any bowler who made him nervous? "Well the wickets were very fast in Australia. And fast bowlers always try to intimidate the batsman. But no. Kabhi darr kar nahi khela."