The year 2022 will certainly be better for Pakistan's film industry than the pandemic-hit 2021, in which just one or two major local movies and two minor ones hit the cinema screens, and that towards the end of the year. We expect that in 2022, at least 20 local movies are likely to be released. Apparently, this is a good number, but way too short to keep Pakistani cinemas running all through the year. Therefore, along with the Hollywood movies, we will also need to import foreign-made Punjabi movies – as per government policy – to ensure that the cinema business remains afloat.
The shortage of local films and the small number of operational screens in the country are two facets of basically one challenge that feed each other. Let me explain a little; for instance, if we start producing 50 plus local films, the new movies won't find screens. And if the number of new cinemas suddenly explodes, they won't find movies to attract the crowds. Therefore, the number of both locally produced movies and cinemas will have to grow in tandem and in a gradual manner.
But perhaps, I am moving too fast. Let's just focus on what is in store for the local film industry in 2022 with the current situation and the challenges we are expected to face. I can safely say that despite being a better year compared to the last, there will be a number of speed-breakers that will prevent a smooth drive on the industry's road to recovery. Overall, there will be more losers than winners.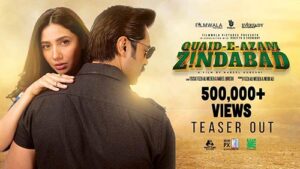 The biggest challenge that will continue to cast its long shadow on the film business is the fear of a new wave of the pandemic and some new variant of the corona virus, such as Omicron. This may disrupt the entire film business chain — from the production of new movies to keeping cinemas open. Let's sincerely hope that we do not see a repeat of the initial days of the pandemic as witnessed in 2020, when the entire cinema business had to be shuttered for at least nine long months.
This forced cinema owners to fire most of their employees and yet book millions of rupees in losses every month just to keep their cinemas in an operational condition, with the help of skeleton staff.
The second challenge remains that of the great economic squeeze that Pakistan faces these days. The interest rate has gone up, inflation is rising; the fast depreciating rupee is unstable and volatile against the US dollar, while economic activity in many sectors has taken a hit. We have also seen that due to inflation and the slowdown in economic activity, most Pakistanis are tightening their belts. The lower and middle classes have little spare money at their disposal for fun and recreation in an environment where going to the movies has become an elitist activity, rather than a pastime of the masses as it was in yesteryears.
Why? Because the cinema culture has changed. In the past there used to be cinemas, but now there are multiplexes inside the shopping malls, where there are fast food courts etc. Now this activity has become expensive, as a lot of paraphernalia is attached to it.
Previously, there were cinema owners, but now there are malls. In malls, multiplexes are usually outsourced and those running them are responsible for arranging movies.
An important factor we cannot overlook is that after the reopening of cinemas in the Covid-19 environment, the younger generation is coming out to watch movies, but older people are reluctant to come to crowded places, which is understandable. Now many people have installed home theatres and even digital cinemas of their own.
We have also to take into account the fact that with inflation, currency depreciation, and higher electricity tariffs, the cost of production of movies and operating cinemas has gone up tremendously.
In a nutshell, there are many speed-breakers, but this does not mean that the curtain will fall on the local film industry. Despite these challenges, the show will go on as it did in the past.
Let's examine a brief historical context. In 1971, we witnessed the dismemberment of Pakistan. We lost territory. Half the country was gone, which means half the market. But the show went on and the industry kept churning out films that were eagerly snapped up by 800 plus cinemas across Pakistan. Imagine, we had more than 80 cinemas in Karachi alone. Small stations like Tando Allah Yar had three cinemas. A place like Badin had two. I can quote number after number. Now our network of cinemas has been blown away. We are rebuilding block by block and we have to be patient.
Then, remember the era of General Mohammed Ziaul Haq, which was very tough for the film industry. Firstly, under the initiative of registration of producers, film production remained closed for nine months in that period. Secondly, the industry had to face regressive censor policies. But the industry bounced back and gave one mega hit after another, thanks to strong content. Movies like Qurbani, Hong Kong kay sholay, Miss Colombo, Bandish, Zindagi, Amber, to name just a few, were smash hits.
This shows that our film industry has a lot of resilience. It always fights back. But the challenges are enormous. For example, take the number of operational screens these days.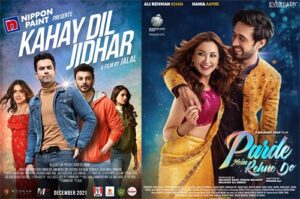 The last movie released in pre-COVID-19 days was Avengers. It was shown simultaneously on 64 cinemas and 160 plus screens. Now, when cinemas reopened and the first local movie — Khel Khel Mein — was released on November 19, it got space in 50 cinemas and 112 screens.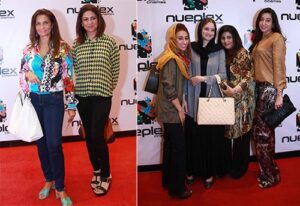 Given this state of affairs, many people ask, will the cinema business become non-existent? My answer: have the good restaurants closed down because we have kitchens at home? There is still an appetite for fine dining. Similarly, there is appetite for the great cinema experience as well.
But to revive Pakistani cinema to its full potential, not just the industry players, but the government must show vision and help create a conducive environment in which the base of the movie production and cinema business can expand with the joining of new players. These players can create the great new-age cinema of Pakistan by venturing into uncharted themes and territories, tell new stories and use modern technology. Pakistanis are very talented people. Today's young generation is smart and intelligent. They can help revive and build our industry in line with 21st century demands and aspirations.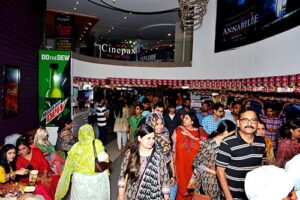 After the Independence of the country, the decision-makers showed greater vision, as they allowed Indian cinema to play its role in the growth of the film industry in Pakistan.
Initially, imported Indian films were allowed and they did roaring business, giving liquidity to the importers, who in turn used the money to produce movies in Pakistan. As our industry strengthened, rather than banning Indian movies, they were allowed to run no more than eight weeks in Pakistan. This allowed Pakistani movies to compete with Indian movies, yet they enjoyed certain protection.
When Pakistan had 800 plus cinemas, new movies were released every week. We had mega or superstars. Many successful movies celebrated their silver, golden and even platinum jubilees.
If we are serious about reviving the film industry, we need a national vision. The industry cannot be revived in fits and starts. We have to keep up a certain momentum. By this, I mean coming up with new local movies on a regular basis and gradually increasing their number.
Hollywood movies are a great help. But more than 90 per cent of their profits are repatriated to their studios. The government should consider slapping a 10 to 15 per cent levy on their profits which can be transferred to a film development fund to promote local films.
If there are conducive conditions, my own company can annually produce 10 movies. There are other players who can do the same. At the same time, we should encourage new players to join in.
The government needs to come up with incentives. It needs a more relaxed censor policy, if we have to compete with foreign content. The government should consider a centralised censor board under the federal government, so that we no longer have to run from pillar to post to get censorship certificates.
Similarly, as a one-point policy decision, the government should announce a Tax Holiday for the film industry for at least five years, if not 10. This will help the industry to attract both local and foreign investment and bounce back in a short span of time.
The revival of the film industry will not just create thousands of jobs, but Pakistani films can also be foreign exchange earners. What the industry needs is government support.
Pakistan has all the capacity. We have all the seedlings. They need to be nurtured. In the end, we have just to keep in mind that in our line of business, content remains the king. I am looking forward to 2022 with optimism, knowing that there will be speed bumps, but we will overcome them. This faith in the Pakistani industry has kept myself and many other going despite all the odds.