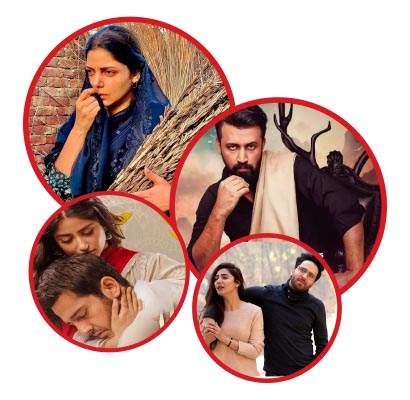 Some interesting and new trends emerged on Pakistani entertainment channels over the last year or so, giving a new push to the careers of some of our singing sensations. Yes, prominent vocalists have tried to break barriers and explore new horizons by taking a plunge in the world of 'serious' acting. Hadiqa Kiani, Atif Aslam, and Azan Sami Khan — all played leading roles in some hit drama serials.
Hadiqa Kiani starred with veterans like Sania Saeed and Nauman Ejaz in Hum TV's Raqeeb Se. Starlets, including Iqra Aziz and Faryal Mehmood were also part of the serial, which created waves.
Then, Atif Aslam made heads turn with his acting debut in Sang-e-Mah — another Hum TV production — along with Hania Aamir and Kubra Khan. Many critics gave Atif a thumbs up from the very start of the serial.
Last but not the least is Ishq-e-Laa in which Azaan Sami Khan gave a promising debut performance along with acclaimed actresses Yumna Zaidi and Sajal Aly.
Hum TV roped in all the three singers for its drama serials. The question, however, remains would we see more of the acting talents of our singing sensations or were these just one-off stints?
Many still remember vocalist Haroon Shahid's entry on the TV screen after having appeared in the film Verna with Mahira Khan. TikTokers Arsalan Naseer and Dananeer also won great acclaim for their debut roles in prime time serials.
---
Drama & Social Messaging
More power to the multi-talented artists of Pakistan!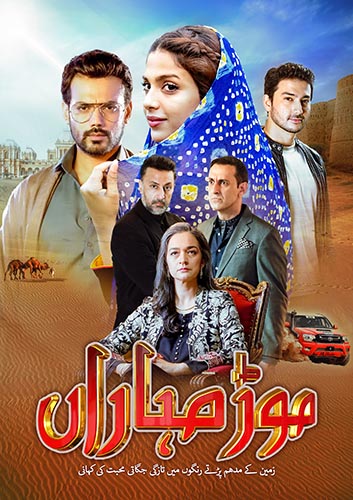 Dramas are not just for entertainment. They can also serve as a powerful tool for social messaging and a catalyst for change. And Pakistani dramas sometimes fused the two, though lately there has been a slow but sure shift of incorporating social messages in the family drama. This indeed is a promising sign as playwrights are moving away from the tried and tested themes to explore new ground.
Now one sees the women protagonists fighting patriarchal norms, young people challenging archaic traditions, and supportive male family members endorsing women's rights in the new-age Pakistani drama. In a popular serial last year, a mother was shown giving evidence against her own son, who was accused of sexual harassment.
TVOne has come up with the thought-provoking serial Mor Moharan which is not just a beautiful love story, but also warns about the devastating effects of climate change — a topic hardly taken up by our entertainment channels.
Kudos to its producer Seema Taher Khan, a committed environmentalist herself, for betting on this topic, which few would want to touch in our commercially-driven entertainment world. Mor Moharan handles the tricky subject of a fight over water, in a barren land, among sons and daughters of the desert. The serial — directed by Owais Khan and written by Ali Moeen — has Sonya Hussyn and Zahid Ahmed in lead roles along with veterans like Firdous Jamal, Babar Ali, Adnan Jaffar, and Samia Mumtaz, in supporting roles.
One also sees channels picking up bold, unusual topics for production these days. Another of TVOne's hits, Dil Na Umeed tou Nahin took up sensitive themes like human trafficking, child-labour, and runaway children. The story is all about the horrors which victims have to endure — real-life stories and faces which one sees on a daily basis. This serial also ran into unnecessary trouble because of PEMRA, but audiences remained glued to their screens to watch its every new episode, while the social media witnessed a heated debate on the various twists and turns of the story.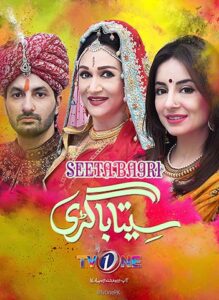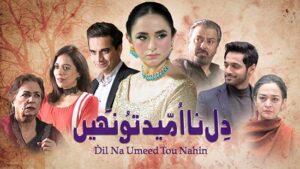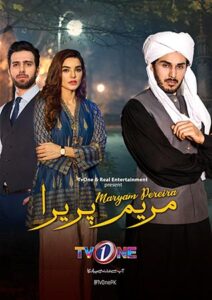 Previously, TVOne broke the norms by simultaneously airing two serials — Seeta Bagri and Maryam Pereira — based on the plight of the Hindu and Christian communities.
---
Emerging New Stars

All these youngsters have made their mark with strong, credible performances and screen presence, showcasing that there is no dearth of talent in this land of the pure. As the seasoned and senior artists retire, fade away, or explore new pastures, there are fresh ones waiting in the wings to make their mark.
---
Our Cinema World
Sadly because of the COVID-19 restrictions, cinemas were not open for months and even the much-anticipated Eid releases got delayed.
One film that made it to the cinema halls was Khel Khel Mein, starring Sajal Aly, Bilal Abbas, and Marina Khan. Although the story was based on a sensitive topic — the Fall of Dhaka — it still managed to win appreciation and a decent viewership because of the way this explosive topic was handled sensitively and artistically.
The other film that was due for release, but banned for its disturbing content was Javed Iqbal: The untold story of a serial killer. The ban triggered widespread condemnation from Pakistani film lovers, artists, and other stakeholders; if the authorities want Pakistani cinema to flourish, then they have to give artistic freedom. The filmmakers had no intention of glorifying a serial killer, and in fact showed him being punished for his crimes.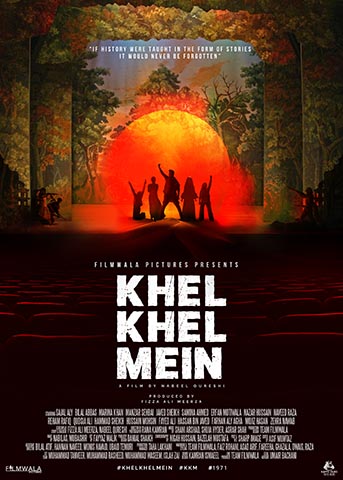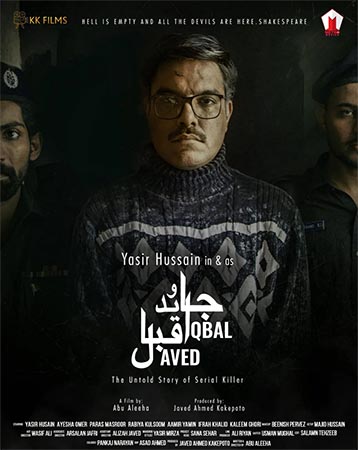 2021 seemed to be the year of weddings for the showbiz community. The list includes: Saboor Ali & Ali Ansari, Mariam Ansari & Owais Khan, Hiba Bukhari & Arez Ahmed, Sohai Ali Abro & Shehzar Mohammad, Nadia Khan & Faisal Mumtaz Rao, Usman Mukhtar & Zunaira Inam, Natasha Ali & Shahzaib Ali and Rehman Ajmal & Tayyab Saleem. And some of them tied the knot with great celebrations despite the pandemic.
---
Star Weddings
2021 seemed to be the year of weddings for the showbiz community. The list includes: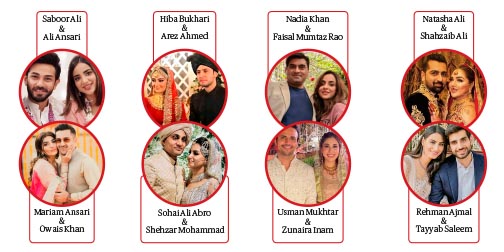 ---
Of Shows & Celebs
The Big Pick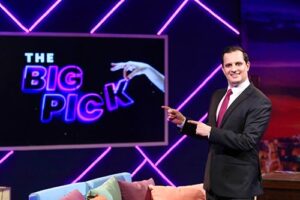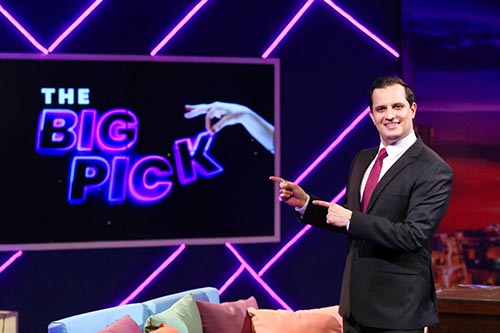 'The Big Pick' is creating buzz these days.
The show, being aired on TVOne, boasts an impressive list of showbiz celebs on its guest list with many stars already lined up for future episodes. Hosted by the popular social media star Hasan Choudary, 'The Big Pick' has a lively contemporary feel with Hasan giving a humorous spin on diverse topics such as sports, politics, newsmakers, and heartbreakers. Lovely Mawra Hosain can be seen in the show, giving frank answers to bold questions, while the versatile actor Imran Ashraf shows his unscripted, spontaneous side.
TV One's Morning Star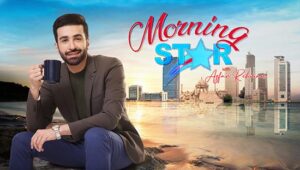 A fresh morning show is currently making waves on TVOne because of a celebrity host and strong content. Aptly called 'Morning Star,' the show's anchor is the popular TV and film star, Azfar Rehman. His guests are recognised professionals from various fields — ranging from health and beauty to career counselling to legal advice and lifestyle trends. A healthy cooking segment and celebrity guests add more flavour to the show.
But it is mainly Azfar's charming, unassuming manner, and lively interaction with guests that is bringing in appreciation from the viewers.
---