On January 16, Prime Minister Shehbaz Sharif in an interview with the Dubai-based Al Arabiya TV urged India to resume talks with Pakistan. Sharif also asked the United Arab Emirates (UAE) to facilitate these talks, saying Pakistan had learnt its lesson after fighting three wars with India. Needless to say that prime minister's plea for talks' undermined Pakistan's well thought-out stance that there will be no talks with India until New Delhi rolls back its August 5, 2019 unilateral steps in the disputed Himalayan region, which violated not only the UN resolutions and bilateral agreements with Pakistan but also dishonoured the symbolic constitutional guarantees given to the people of Kashmir. After abolishing the minimum special status of Kashmir and making it part of the Indian union territory, the extremist Hindu nationalist government has unleashed a new wave of oppression and state-sponsored terrorism in the region, and is working to bring demographic changes there at a rapid pace.
However, Shehbaz Sharif made the bid his talks as he was oblivious of the Indian designs, the plight of Kashmiri Muslims, and Islamabad's position on the issue. This on one hand betrayed the lack of commitment of this government to the Kashmir cause and on the other highlighted the general confusion in Islamabad about its India and Kashmir policy. Even though the Foreign Office later clarified that there has been no change in Pakistan's position on Kashmir, Shehbaz Sharif's remarks had done the damage. Kashmiris were in a state of shock, while the Indian media came all guns blazing the exploit the symbolism of weakness in Shehbaz Sharif's appeal for talks.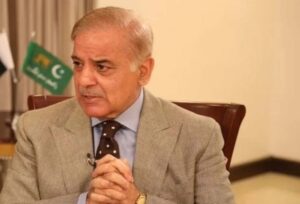 The prime minister's plea for talks with India should be seen in the context of Sharif family's past record of appeasing the Indian leadership at the cost of Kashmir. Former convicted premier Nawaz Sharif went out of the way to give one-sided concessions to India, refusing to meet Hurriyat leaders to please his hosts. Pakistan's former high commissioner to India, Abdul Basit, has recorded this sad chapter of our history, in his book 'Hostility'. So, if Shehbaz Sharif is following the footsteps of his elder brother and is out to damage the Kashmir cause, one should not be surprised. Shehbaz's statement that Pakistan had learnt its lesson by fighting wars with India reflects his defeatist mindset and implies that it was Islamabad that triggered and started those wars. However, history contradicts his position. It was India that imposed war on Pakistan – be it in 1948, 1965 or 1971.
Shehbaz Sharif's appeal to the UAE to act as a facilitator shows that the prime minister has no idea of diplomacy or statecraft. Does the oil-rich but tiny gulf state have the capacity, ability and even willingness to carry the cross as desired by our prime minister? Will India, which always says no to third-party mediation, accept the UAE's role? But these obvious questions mean nothing to the prime minister, who has embarrassed Pakistan on several occasions during his foreign trips because of his off-the-cuff remarks, fumbles, and theatrics.
Former premier Imran Khan's government took the bare-minimum position of "no-talks with India" following New Delhi's Aug 5, 2019 actions in occupied Kashmir. The Imran government also downgraded diplomatic relations with India and barred normal trade with the country's eastern neighbour. But an influential lobby in Pakistan has been working overtime to force Islamabad change its stance unilaterally and accept India's new position in Kashmir. Even during the Imran Khan government, a couple of ministers tried to open trade relations with India, but a strong public reaction and some bitter opposition by other cabinet members thwarted this attempt. The Shehbaz Sharif government soon after coming to power also tried to open trade with India under the pretext of floods. But a strong public reaction halted this move.
The so-called peace doves in the country should be clear that without resolving the Kashmir issue, normal ties between Pakistan and India are not possible. India has committed the original sin of usurping Kashmir that is bedeviling relations between the two neighbours. The dispute is on the UN agenda. It cannot be brushed under the carpet simply because an extremist Hindu government wants to settle it in India's favour one-sidedly. The nation will not allow some spiritless and fainthearted politicians to barter the Kashmir cause. The Sharif clan had tried this route in the past, but failed. And they will fail again. The right to self-determination is the birth right of Kashmiris. They will win it no matter how long it takes.