Pakistanis are witnessing one of the toughest times of their lives. The issues are being debated from the barbershops to the primetime television channels. The burden of responsibilities for these misfortunes are being put on various political players and stakeholders, depending on which side of the fence one stands.
The World Economic Forum (WEF) with its partner institute, the Mishal Pakistan, in the Global Risk Report identified the key immediate and long-term challenges for Pakistan. Every year, the WEF identifies global and national risks for more than 120 economies, including Pakistan.
On Pakistan, the report underlined that a combination of extreme weather events and constrained supply could lead the current cost-of-living crisis into a catastrophic scenario of hunger and distress for millions. This can transform the energy crisis into a humanitarian crisis. Energy shortages – because of supplier shut-offs or natural, accidental, or intentional damage to pipelines and energy grids – could cause widespread blackouts and fatalities if combined with the seasonal extreme weather.
Conflict and geo-economic tensions have triggered a series of deeply interconnected global risks, which will also impact Pakistan. The crises include energy and food supply crunches, which are likely to persist for the next two years, as well as a strong increase in the cost of living and challenges of debt servicing. At the same time, these risks undermine efforts to tackle longer-term challenges, notably those related to climate change, biodiversity, and investment in human capital.
The Global Risk Report 2023 identified the top 10 risks that pose the biggest threats to Pakistan in the next two years. There are:
Digital power concentration and monopolies: Having the control on information and narratives by a select group in the society can lead to digital inequalities, misinformation, and disinformation. This can lead to the erosion of social cohesion and the overall trust in the society, especially citizens' trust in the institutions that provide the basic safety nets in terms of law and order, health and survival and livelihood opportunities.
Failure of cybersecurity measures: The failure to secure citizens' data and cyber threats are the risks of our time, where cyber vulnerabilities can lead to the misuse of personal identities, fraud, theft, and ultimately cyber espionage. Pakistan has witnessed the phenomenon of audio, video, and data leaks. In the absence of a strong legal framework this can also impact the way we interact and trust each other. Encouraging people to abandon public infrastructure in the digital space and working in personal spyholes.   
Rapid and/or sustained inflation: While Inflation in Pakistan has been rising at a rapid pace, estimated by 27% per annum this fiscal, the economic managers have been concentrating on bridging the fiscal gap. The economic team of Prime Minister Shahbaz Sharif has been struggling in addressing the challenge, but matters appear out of its control because of the host of home grown and exogenous factors.
Debt crises, and the race to keep the Dollar exchange rate in control: In the absence of any significant economic roadmap and mid-to long term strategy in placed, the public sentiment moves towards disillusionment as the state of Pakistan remains powerless to handle its balance of payment crisis that stems mainly because of the country's massive debt repayments and servicing and high imports against the backdrop of low export base and falling remittances because of the thriving black market of the currency.   
State collapse: It has also been identified as a possible risk for Pakistan, where the government is unable to maintain authority in maintaining law and order, with various functions of the government unable to be performed due to long-term degenerative process. This could also be due to exploitation of the political aspirations of a certain section of the society or simply direct or indirect interference by other pressure groups within or outside the country, including hostile nations working against the interest of Pakistan.
Lack of widespread digital services and digital inequality: The widening digital divide is also increasing the sense of deprivation among the citizens also. The digital access that connects the state with its people has been unequal in different parts of the country. The grievance mechanisms for citizens through digital platforms have improved the governance mechanisms but have also increased the sense of trust deficit in the system, where digital access is absent.   
Interstate conflict — a serious risk: While Pakistan has secured its northern border with China, the eastern and western borders remain challenging. The new government of the Afghan Taliban has renewed the border settlement debate between Afghanistan and Pakistan. With increasing tensions on the western border, Pakistan is exposed to limited conflict risk on that front. India has been an unpredictable neighbour of Pakistan and has created and maintained a minimum level of threat. This has put substantial strain on both sides of the borders in terms of economic resource allocations.
Terrestrial biodiversity loss and ecosystem collapse: Man-made factors or natural catastrophes can have significant impact in Pakistan. Over 800,000 hectares of farmland has been wiped out by 2022 floods in Pakistan – this has resulted in increasing commodity prices significantly in a country that is already grappling with record inflation. Water stress is also widespread in Pakistan, this particularly impacts women and girls responsible for water collection, with knock-on impacts for health and education outcomes. More widespread scarcity, combined with paralysis of international cooperation mechanisms, has necessitated a degree of water nationalism, resulting in prolonged disputes between neighbouring states and countries. In the face of spreading humanitarian crises and state instability, water infrastructure could continue to be used both as a weapon and target, mirroring past water conflicts and terrorism in Pakistan, India, and Afghanistan. 
Terrorist attacks: For Pakistan, terrorism continues to pose a huge risk that can disrupt the socio-economic and political structure. This can be due to the poor long-term public policy choices or the return of the Afghan Taliban's government in Afghanistan. The pressure on the Tehreek-e-Taliban Pakistan (TTP) to go back home is also an indicator how the group has created space for itself in the country's socio-political spheres.   
Employment and livelihood crisis: Every month around 150,000 people turn 18 in Pakistan. This means, there is a need for 150,000 new jobs every month. Although Pakistan has reached an estimated population of more than 220+ million, the number of households will reach 37.5 mil in 2020 in Pakistan. This puts Pakistan as the 6th country with most households i.e. 6.8. Whereas the number for India is 4.4, Bangladesh 4.06. This puts a significant pressure on the earning and spending patterns of the family, especially when the average median age of Pakistan is still 22.6 years.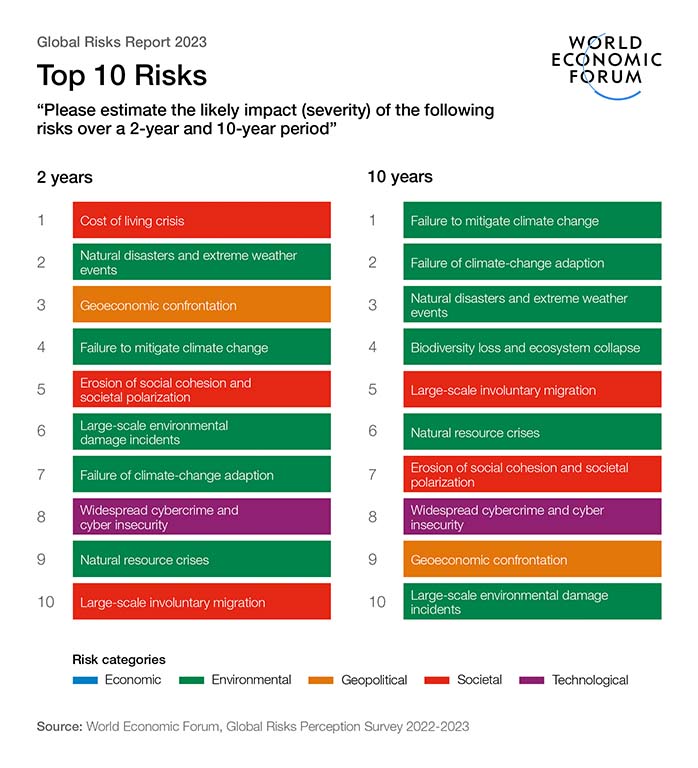 The Global Risk Report 2023 says that both the affordability and availability of necessities can stoke social and political instability in many countries. Last year, the increase in fuel prices alone led to protests in an estimated 92 countries, some of which resulted in political upheaval and fatalities, alongside strikes and industrial shutdowns. The impact of political and economic insecurity will continue to be felt in Pakistan and may also exacerbate instability due to simultaneous food and debt crises. This can result in the emergence of a possible technocracy-based decision-making, which can provide stability and a sense of policy continuity, although this would require a multi-year time frame to implement policy stability for social and economic trust dividends.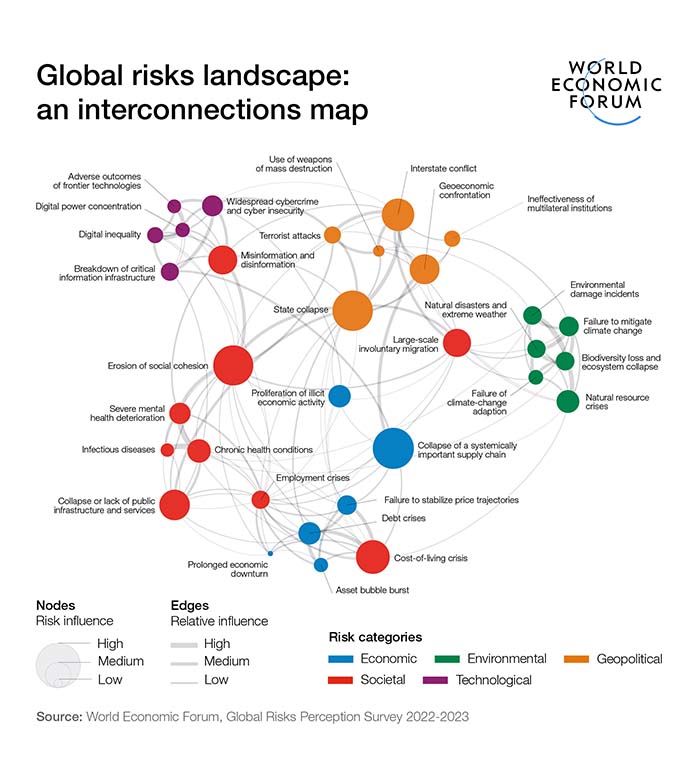 The cost-of-living crisis is the biggest short-term risk, while failure of climate mitigation and climate adaptation are the largest long-term concerns. The geopolitical rivalries and inward-looking stances will heighten economic constraints and further exacerbate both short- and long-term risks.
On the international front, at present, the global pandemic and war in Europe have brought energy, inflation, food, and security crises back to the fore. These create follow-on risks that will dominate the next two years: the risk of recession; growing debt distress; a continued cost of living crisis; polarized societies enabled by disinformation and misinformation; a hiatus on rapid climate action; and zero-sum geo-economic warfare.
Unless the world starts to cooperate more effectively on climate mitigation and climate adaptation, over the next 10 years this will lead to continued global warming and ecological breakdown. Failure to mitigate and adapt to climate change, natural disasters, biodiversity loss and environmental degradation represent five of the top 10 risks – with biodiversity loss seen as one of the most rapidly deteriorating global risks over the next decade. In parallel, crises-driven leadership and geopolitical rivalries risk creating societal distress at an unprecedented level, as investments in health, education and economic development disappear, further eroding social cohesion. The report also sheds light on the rising rivalries risk not only growing geo-economic weaponization but also remilitarization, especially through new technologies and rogue actors.
The coming years will present tough trade-offs for governments facing competing concerns for society, the environment and security. Already, short-term geo-economic risks are putting net-zero commitments to the test and have exposed a gap between what is scientifically necessary and politically palatable. Dramatically accelerated collective action on the climate crisis is needed to limit the consequences of a warming world. Meanwhile, security considerations and increasing military expenditure may leave less fiscal headroom to cushion the impacts of an elongated cost of living crisis. Without a change in trajectory, vulnerable countries could reach a perpetual state of crisis where they are unable to invest in future growth, human development, and green technologies.
The burden of responsibility lies on leaders to act collectively and decisively, balancing short- and long-term views. In addition to urgent and coordinated climate action, joint efforts between countries as well as public-private cooperation is the key to strengthen financial stability, technology governance, economic development and investment in research, science, education, and health.
For Pakistan, the challenge remains to create mechanisms of transparency and accountability, as without that the world will keep on looking at Pakistan as a blackhole, where any monetary assistance, funding or grant will disappear without any trace, unless new governance accountability mechanisms emerge, the country will keep on struggling between its reality and aspirations.