Its Saturday night at home, dinner is finished, and our family automatically gravitates towards our individual comfort spots encircling our radio. Nine p.m. and the characteristic theme music of Studio Number Nau (9) booms throughout the room and the excitement is tangible. This was a big part of our lives in the 1960s, in Karachi.
Though a significant part of the Western world had already been taken over by television, Pakistan well into the 60s remained dominated by radio. As such, the quality of programming that the country produced was par none, as the focus of other nations had already moved towards television material.
I clearly remember tuning in to The Listener's Choice that was broadcast twice a day — once around midday and once at night. For those 30 minutes, we got to hear our favourite English pop songs. The show was hosted by Edward Carapiet and was a way of sending birthday greetings and dedicating songs to our friends and family. The internet was barely an initial thought at the time, and thus this was our means of 'shouting out' to our loved ones and having bragging rights the next day at school etc.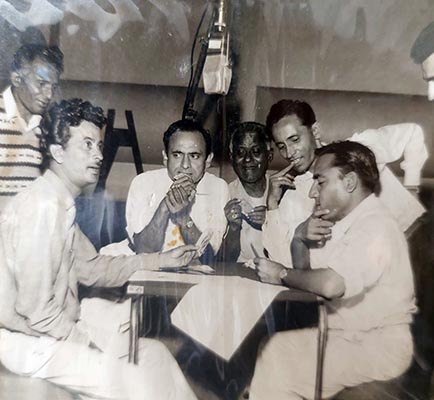 This was the time of Cliff Richard, Elvis Presley, Lulu, Helen Shapiro, Jim Reeves, Trini Lopez and many more. Just like social media is the mechanism to measure popularity today, the higher the number of song dedications you received were equivalent to your becoming 'viral.' What was even more significant for us three sisters was that these songs connected us back to our lives in Australia.
By the early 60s, most of Australia had already moved on to television being the new nucleus in the family. So coming back to Pakistan, we were reintroduced to the importance of radio. The calibre of shows that we were able to listen to, however, never made us feel as if we were missing out.
The weekends were when the most popular Urdu shows were broadcast. Hamid Mian Ke Haan was a must every Sunday morning at 8.30, where the audience peeked into the happenings taking place in a typical middle-class family. Later on Sundays at 11 am, Bachoun Ka Programme was also a regular feature of many households. Hosted by Zafar Siddiqui and Muni Baji, they kept their young audience entranced with stories, short skits and the performances of talented children.
Zafar Siddiqui was my mother's eldest brother and doted on me, the eldest girl within the next generation. Most people had access to his story-telling via the radio, but I was lucky enough to have him regale me with bedtime stories every night. He took on the part of the characters he was describing and whether he was acting out the part of hero or villain, animal or man, his dramatic persona and range would leave me spellbound. He knew all the traditional children's stories and further made up many of his own. We were even more fortunate as beyond his company, we were able to interact with many of the senior actors who were his colleagues as they would attend most of our family events and celebrations. The love was such that on many an occasions they even performed variety shows to entertain our guests and make each event more memorable than the last. It is like yesterday when a young Moin Akhtar and Agha Sarwar took to the stage and kept the audience in a continuous state of laughter.
Just as Pakistanis have been proud of the production level of our TV Dramas for the last 40 years, at the time Radio Pakistan Karachi made us proud as a source of high-quality dramas. This was largely thanks to Zulfiqar Ali Bukhari, the Director General of Radio Pakistan. With his beautifully modulated voice and love for drama, he produced, penned and performed in plays as well. His portrayal of both the father and the son in the play Light House Key Muhafiz was remembered and talked about for months.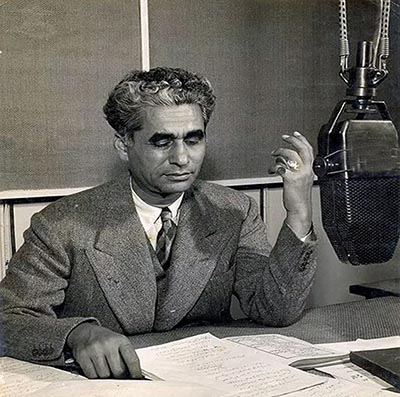 A much awaited time of year was the annual drama festival, Jashn-e-Tamseel, where a different play was broadcast every night for seven consecutive days. The plays garnered such interest that it was common for people to purposely rearrange schedules so that they could get home in time to tune in. The usual bustling city would shut down with the shops closing early and very little traffic on the road. That was the power of drama in the golden era of Radio Pakistan.
Studio Number Nau was another programme which could be depended on for brilliance. Performers such as S.M Saleem, Mahmoud Ali, Abdul Majid, Zafar Siddiqui, Fatima Khanum, Humaira Naeem, Ibrahim Nafees, Mughal Bashar, Sahab Qazilbash, Irfan Ali, Qayyum Arif, and others always kept their audiences glued to the radio till the very end. As time passed these senior artists were joined by other unforgettable artistes like Talat Hussain, Sajida Syed, Qazi Wajid, Rehana Siddiqui, Talat Sidiqui and kept alive the magic, making the show one of the most popular and most awaited drama series in the history of Radio Pakistan.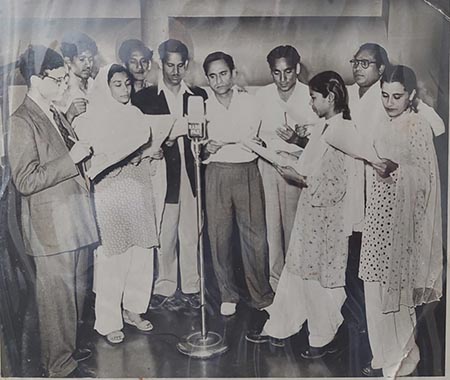 These very same artists were also the ones who brought magic to live theatre, an integral part of Karachi's vibrant cultural scene. Famous stage plays like Mirza Ghalib Bunder Road Pe, Lal Qila Saay Lalu Khait and Taleem-e-Blighhan were staged at the Theosophical Hall situated across the road from Radio Pakistan. The impression left by watching one of these plays was something one could never forget. The dialogue delivery, body language, and costumes of the actors on stage were so powerful they would leave the audience spellbound.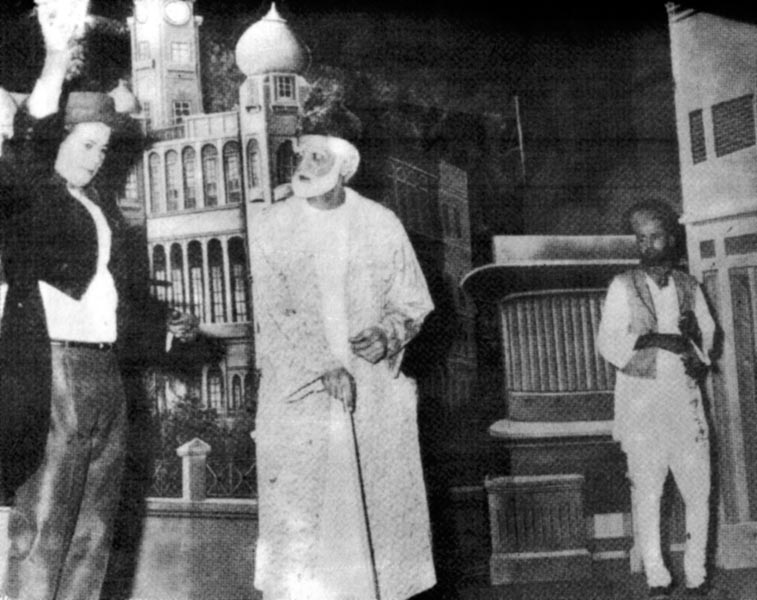 The same could be said for plays staged in English such as the ones that were staged by Javed Jabbar and a group of his friends, from Karachi University, who presented Julius Caesar and two hilarious American comedies; You Can't Take it With You and The Man Who Came To Dinner. A few years later they staged The Promise, a three-character Russian play, including Hasan Jawad. Watching those incredible plays left a lasting impression on a younger audience, with dreams of one day duplicating their success with the same elegance.
We were fortunate that being St Josephines, we were given opportunities to give our inner dramatists full rein. Throughout our school and college days, we were encouraged to take part in elocution competitions, debates and plays. Our English teachers encouraged us to improve our oratory and debating skills and inter-school competitions were held where students from our school would compete with students from our sister schools of St Patrick and St Paul and The Karachi Grammar School. Participating in such debates, including the rush of besting our main rivals from Grammar School, are some of my treasured memories.
Looking back, it's funny how some people stick out more than others. Benazir Bhutto, a Grammarian, was one of the talented debaters that took the podium at our auditorium. Little did we know then that we were watching history in the making! Two of Asif Ali Zardari's sisters were students at St Josephs at that time and I am sure that they did not know they were watching their future sister-in-law debating on stage. Whether at the diplomacy table, business negotiations in meeting rooms, or on stage in front of large audiences, the skills instilled and developed through those programmes helped many a student be successful in their later careers.
In terms of drama itself, St Joseph's College had two main dramatic events each year including the inter year competition. There we were encouraged to hone our talents and those who loved to act and direct would undertake to put on plays. In my second year of college, our group staged a mime of Cinderella where I got the opportunity to put all my acting skills to work as one of the ugly sisters. Oh the excitement of preparing for that competition! The endless practices, the costume fittings and the continuous laughter and camaraderie is something that one can never forget. Our take on the story had the sisters and the stepmother interpret their roles as comedians resulting in a lot of audience laughter and the first prize.
The other main dramatic event of note was the Annual Drama. For me the most unforgettable was the production of George Bernard Shaw's Arms and the Man. Being an all-girls college we had to take on the roles of men as well. The audience was captivated by Nazli Jamil as the cynical Captain Bluntschli and Sahira Ansari as the dashing Segius Saranof.  Both of these portrayals were amazing and received a standing ovation. These two girls were the shining light of our college and we freshmen idolized them. Sahira went on to greater things in the arenas of acting and directing when she joined PTV and soon achieved great fame in her chosen line of work and eventually married her co-star Rahat Kazmi, becoming Sahira Kazmi.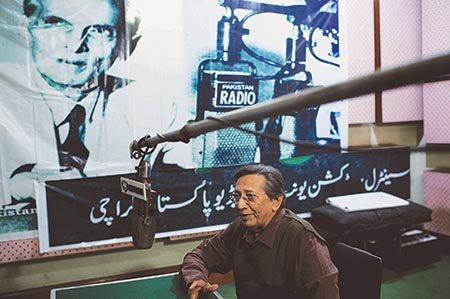 Looking back, the fond and treasured memories that we had of us being 'stars on stage' are then somewhat dampened as I remember that there were also a lot of rules that had to be adhered to. I was one of those who would have loved to have taken to the stage, but I adhered to family expectations and studied science.  However, I found my happy compromise when I became a teacher which gave me a routine of having a captive audience multiple times a day. I've been blessed with the best of both worlds, being a respected teacher and performing before a live audience and having the creative space to inspire and perform.