The death of the iconic Kashmiri leader, Syed Ali Shah Geelani, is considered an enormous loss for the Kashmir resistance movement. He had incredible courage and political skills that made him one of the long lineage of resistance leaders. Two generations of Kashmiris were inspired by his fearless political style and intransigence. Geelani had established high standards of leadership, making it extremely difficult for other leaders to follow suit.
Over the past 30 years, many youth have idolised him, worked with him and even sacrificed their lives for the cause of freedom. From the streets of Indian-held Kashmir to Kashmiris living abroad, he enjoyed unparalleled support.
Geelani is gone, but his legacy and struggle will live on as the quest for freedom runs in the blood of the Kashmiris. No political party or politician can survive in Indian-held Kashmir without speaking of the injustices and betrayals inflicted upon the people of Kashmir by successive Indian governments. Resistance, identity and preservation of the historic link with Pakistan and beyond are vital parts of the Kashmiris' imagination and tryst with destiny. Gilani was an icon of that imagination.
Six days after the death of Syed Ali Geelani, his immediate aide, Masarat Alam Bhat, was named his successor. Masarat has spent 17 years in prison. He was widely regarded as someone who could follow in Geelani's footstep and put up a hard resistance against India.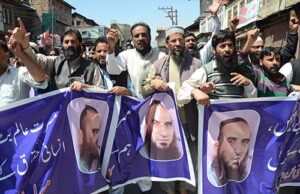 Head of the Muslim League of Jammu and Kashmir and now leading a faction of the All-Parties Hurriyat Conference (APHC), Masarat was arrested several times on charges related to activism in the 1990s. He claims to be a stone-thrower since childhood, and in his speeches has repeatedly pointed out that the Indian occupation of Kashmir should be ended without making any compromises.
Masarat made a name for himself in 2010 by publishing protest schedules. A close aide of Geelani, the latter mentored him all these years to take over the reins of the Hurriyat after him. The 50-year-old Masarat has a widespread following among the youth of Kashmir and like his mentor, he openly expresses his allegiance to Pakistan. He was released in 2005, but arrested only a week later for raising slogans in favour of Pakistan.
These are tough times in Kashmir's history, and it will be quite challenging for the current Hurriyat to remain active and relevant as most of its leadership is languishing in jails, along with Masarat. The organisers, ring-leaders and influencers are also under strict watch and there is no political space left for any activity in Kashmir. Even those people who express their opinions on social media outlets are being arrested. The Hurriyat will, no doubt, stay with its people in such turbulent times, but it lacks any significant outside support at the moment.
The prevailing political environment has divided the Kashmiris into two factions: those who support the occupation and those who denounce it. With Masarat Alam taking charge of the Hurriyat, it will become more difficult for Delhi and Islamabad to foster any middle-ground politics in Kashmir.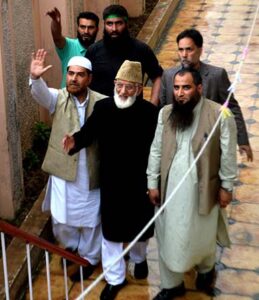 The Kashmir struggle has largely changed its tactics. Over Ground Workers (OGW), who form the lifeline of the movement, are waiting for the right time to assert themselves. One USIP report estimates their strength at around 50,000. It can safely be assumed that the movement is now more entrenched than ever before. The Kashmiris' anger, isolation and political aspirations are very much alive. Several Indian commentators acknowledge this fact and advised New Delhi to initiate a dialogue process with Pakistan and the Kashmiri leadership.
As far as the ideological content of the movement is concerned, it has fast shifted towards a much stronger anti-India position, coupled with a strong resurgence of Muslim identity politics. The BJP government and its violent arm, RSS, has only fuelled the fire in Kashmir; the recourse to the 1947 Partition has become more regular.
Gilani and his ilk, who took all the criticism for being hardliners, stand vindicated today. New Delhi's emphasis on the idea of a meaningful dialogue on Kashmir has proved to be a shallow repository of unfulfilled promises. The February ceasefire on the (Line of Control) LoC has not made any headway as subsequent steps were not taken to resume the dialogue process.
New Delhi played the most crucial card up its sleeves when it abrogated the special status of erstwhile Jammu & Kashmir State on August 5, 2019. It seems to have no intention of engaging with the existing leadership in Kashmir.
At the same time, New Delhi has not been successful in creating a new puppet-leadership in Kashmir. It is not only coming down hard on the pro-Azadi elements, but also using a heavy hand on Kashmir's former Chief Ministers like Mehbooba Mufti and Farooq Abdullah.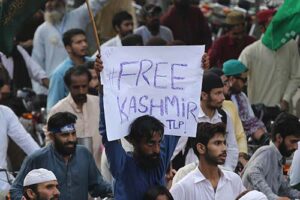 The Indian Home Minister Amit Shah's promise of restoring statehood hasn't been fulfilled either. It is quite clear that New Delhi wants to install a new leadership in Kashmir by raising a second tier of leaders from society, youth organisations and pro-India political parties. In this regard, elections of the 'District Development Council' were conducted a few months back, but the anti-BJP alliance, formed largely by Muslim parties of the IHK secured a majority. It showed that the people of Kashmir have no love lost for New Delhi, let alone the BJP.
Besides, New Delhi has already shown its more potent cards, and BJP's plan of manoeuvring a demographic change in Kashmir. In such circumstances, no engagement with the Kashmiri leadership is likely to take place.
The APHC leaders, including Masrat Alam, are likely to undergo unprecedented state repression in the days ahead. Unfortunately, the BJP government has no exit strategy apart from heightening repression and jailing dissidents. The manner in which Geelani's dead body was snatched and buried under siege is evidence of India's approach towards Kashmir. Geelani was not an ordinary person. Despite that, his family and friends were deprived of offering him an Islamic burial and a final send-off.