Social media is much like a telenovela. It is divisive, brash, melodramatic, hugely popular and elicits exaggerated reactions. Both have a contained story arc, which in the case of social media often starts with a hashtag (#). Both lead to a rush of endorphins making them addictive, and hence powerful. This is why despite criticism of its so-called "evil" ways, the fact is that in Pakistan an overwhelming majority of laws to protect women and their rights started being introduced in parliament simultaneously with the rise of social media.
Nowadays, the reverberations of every social media uproar over incidents of violence against women and children can be heard in the corridors of power and parliament. That was not always the case. Before the last couple of decades, many stages of women's empowerment in Pakistan went by with very little to show in terms of laws and their fair implementation. Even the demand for women's quota at the parliamentary legislation level could not succeed despite decades of efforts. The rights granted to women under the Muslim Family Laws Ordinance of 1961 were in spirit counteracted in just 18 years with the Hudood Ordinances of 1979. The next 27 years were that of one long continuous and even violent struggle. It wasn't until 2006, after much controversy, criticism and opposition, that parts of the Hudood laws were extensively revised in the Women's Protection Bill.
But in the 15 years since, the pace of progress vis a vis women's rights has been much better than at any other time in history, with the introduction of laws pertaining to Domestic Violence, Acid Crime Protection, Protection Against Harassment of Women in the Workplace, Prevention of Anti-Women Practices to the Dowry and Bridal Gifts Act, the Women's Agriculture Act and the Protection of Transgender Rights etc. The list appears quite impressive for those who have seen darker decades, even though this accomplishment is just a mere scratch on the surface.
The last few years have seen a shocking rise in crimes against women. It's not like these crimes did not take place before; it's just that women did not have the platform to tell their story and because they were not connected with each other, they felt they were alone and hence, helpless. Socially conditioning girls and boys into feeling ashamed about talking on gender issues and linking gender issues with honour has, over time, aggravated the nature of crimes against women and other vulnerable segments of our society.
Women are under-represented in all sectors of our society. However, social media is potentially closing this gap. Research has shown that in countries with large gender inequities in life, women are more likely to have a significant online presence. This is where social media and telenovela have another thing in common. Both are women-driven. Telenovelas are meant to capture daytime audiences, the majority of whom are women. And while social media targets any and everyone, the fact is that world over women outnumber men in the use and time spent on social media.
In Pakistan, it is also because the lives of women are confined within the limits set by a patriarchal society, so they have more time and motivation to drive social media trends. Social networks are beginning to shape the story of women's rights from a woman's perspective. #AuratMarch, for example, is making headway and finally starting to show how it feels when the boot is on the other foot. The huge backlash every year is a strong indicator of the success of the women's rights movement. Online networks are a way out for women wanting to break the shackles of rural or urban patriarchy. These platforms create communities with shared experiences, thereby offering the solace that a woman is not alone.
The head of the Department of International Studies at the University of Oregon and vice president of the American Institute of Pakistan Studies, Dr. Anita M. Weiss, wrote in 2012 that "the history of laws affecting women's rights and empowerment in Pakistan involves a complex pattern of advances and setbacks, with the state's efforts to articulate a definition of women's rights complicated by the need to balance divergent views on the place of women in Pakistani society."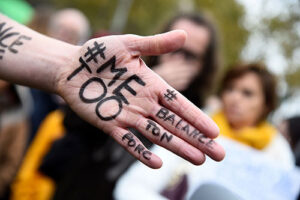 What she basically meant was that our society has not been able to agree on what rights should be given to over 50 percent of its population. Nine years later, social digital platforms are taking charge, by saying that if men are not being able to decide the place of women in society, it's about time to give women the lead in deciding their role, their place and their destinies.
The atrocities, the violence, the harassment that women have traditionally been forced to keep under wraps for the sake of 'honour' can no longer be brushed under the carpet. Social media is making sure of that. It is bringing women's rights issues to the attention of a wider and larger public by taking the message right into their homes. This is forcing action on the streets, as well as in the parliament. Day by day it is becoming difficult for the government to ignore the public pressure created by shares, likes and hashtags. Social media is useful for the 21st century government as a means to gauge public opinion and emotion. Ironically, it is also cornering governments into proving their seriousness in dealing with women's issues.
Violence against women has always been there, invariably obscured by the shroud of honour. With the help of social media, it is now making its way to the top of news rundowns. News on mainstream media comes and goes but the same news is kept alive on social platforms via shared anger. Even the offline role of civil society has become more prominent because of their online activism. And we see that the impact of social media protest is now more if not the same as street rallies. The recent spate of incidents like the brutal murders of Noor Mukadam and Qurat-ul-Ain Baloch and the horrific nature of the Minar-e-Pakistan mass assault of a Tick Tocker are making headlines because of the power of hashtags.
Digital social spaces are encouraging a more level playing field by forcing the hand of traditional media into realising that disregarding violence against women is going to cost them viewers. Even politicians are slowly awakening to the endemic nature of gender-based violence in Pakistan. Social media also has the distinction of bridging the gap between the struggles of grassroots women and policy-making processes. The Domestic Violence (Prevention and Protection) Bill 2021 is the latest and most vibrant example of this realisation. Despite strong opposition from religious, tribal and conservative circles, the bill has been passed by parliament but is unnecessarily awaiting the advice of the Council of Islamic Ideology.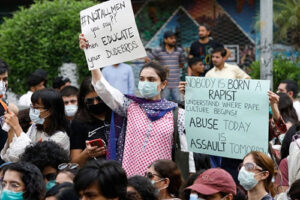 One downside of all this is online harassment. Almost 50 percent of all online women have faced harassment and continue to do so, but let's not forget that while online harassment is equally condemnable, it is relatively easier to deal with. Because of their experience of living in a male-dominated, honour-fixated society, women are better equipped to deal with online intimidation. Earlier, mobs could gather on streets to drown out the voices of change, but now voices are combining their strengths and snatching away the right to be heard. Mobile journalism, though still quite raw, is nevertheless proving to be a great tool in shaping minds and perceptions. What was earlier brushed aside as mere feminist propaganda is now there for the whole world to see for itself.
The United Nation's entity for gender equality and the empowerment of women, also known as UN Women, has put it succinctly: "Through social media, women have a new space to speak up and be heard. With its power to encourage solidarity and collect shared experiences, social media has become a new frontier for women's rights activists to organise and allies to join the fight for equality and justice. From politicians and lawmakers to farmers and small business owners, conversations are connecting women around the world so they can support one another in the push for gender equality."
The global wave of disclosures and solidarity sparked by the #MeToo movement showed the world how social media had the power to cross racial, economic, religious and, in fact, all other boundaries. The #HeForShe movement engaged with over 1.2 billion people, putting the global spotlight on the need to engage men and boys to achieve gender equality, and the annual 16 days of #OrangeTheWorld to raise awareness and prevent violence against women and girls are just a couple of the top trends that exploded on social media due to the unprecedented use of new technology by women.
Taking the conversation forward, Moira Donegan, creator of the controversial "Media Men list," highlighted how social media has, over time, "revealed a rift in modern-day feminism between an ethos of individualism and self-sufficiency and the collective liberation approach represented by the #MeToo movement." Simply put, social media arguments on feminism are basically acknowledging the existence of the individual versus the collective debate. The consensus that is developing is that those who can, should pull themselves up by their bootstraps, but whenever possible they should also help and facilitate fellow women. This will help kick-start the cycle towards eventual gender equality. A recent tweet helped take the dialogue further along by saying that "No, #NotAllMen are violent against women, but #YesAllWomen have to navigate a world where violent men look the same as those who aren't."
The women's rights struggle has far to go and it is still a swim-or-sink-together kind of situation right now. This also means closing ranks against female apologists of violence against women. That's an altogether whole other psyche and deserves another article.
Just like telenovelas are able to tackle issues considered too indelicate to be featured in traditional TV dramas, social media too is raising hackles by talking about matters that are discouraged in traditional conversations. Without ripping off the band aid on taboo subjects related to women, proper and relevant legislation is not possible. The outlawing of the humiliating and invasive 'two-finger" virginity test by the Lahore High Court is a recent example. The credit for this effort goes to women's rights campaigners and the female judge hearing the case.
Social media is the new frontier in the struggle for women's rights. It allows victims, activists, sympathisers and legislators etc. to connect with each other within and across borders, without fear and at a very low cost. Platforms like Whatsapp, Facebook, Twitter and Instagram have the unprecedented potential to raise awareness and force political and legal action. Social media is finally helping change the way women's stories are told; from her perspectives not his.