Large swathes of Pakistan were destined for flood devastation way before the climate change even knew where to strike. Behind the shocking levels of misery in flood devastated areas of Pakistan are more shocking and even more chronic tales of corruption, disinterest, mismanagement and sadism (in that order) by the ruling elites of Sindh and Balochistan.
Be it at the United Nations General Assembly (UNGA), COP27 or the Geneva Donors Conference, government claims of being caught off guard by heavy rains and unprecedented floods are true, but only to the extent that our power elites lack the emotional quotient to understand how corruption snowballs into misery for the poor.
The provincial and federal governments of Pakistan knew what was coming; the meteorological department has been diligent in its weather warnings, and climate patterns for the past 30 years are glaringly there for all to see how nature is losing patience.
Flood warnings for 2022 started early in the year but fell on deaf ears. The much-needed strengthening of canal walls and levees was left to the largesse of nature. Beginning in 2022, politics too was heating up. There was very little space for anything else. Urban flooding was the only concern lurking in our minds.
When rains and floods started pounding Balochistan, it was seen as an opportunity by the powerful landlords downstream. Two events borne out of greed happened back-to-back.
One, not realising or perhaps not caring about serious flood warnings, the Saifullah Magsi canal near Sindh-Balochistan border was deliberately breached to irrigate the adjoining land. Many others soon followed suit. But nature had something else in mind. Within days, the volume and pressure of flood water became so intense that things started getting out of control. Water meant to irrigate land soon threatened to flood it. Panicked attempts to rebuild the breaches failed; they were too weak and too late to stop the incoming flood.
The question one might ask here is: with two huge lakes around why didn't the flood water flow into them? Why did it inundate the surrounding areas? Here we come to the second event. Manchar and Hamal lakes were not evacuated into the mighty Indus River in June and July of 2022 when the administration was informed of impending heavy rains and floods.
The modus operandi in such a situation is: Hamal lake is evacuated through the Main Nara Valley Drain (MNVD) into Manchar lake and excess water from there is let loose into Indus River which then flows out into the Arabian Sea. This step was not taken in time. Some media reports claim it was the Pakistan People's Party's negligence, others suggest powerful feudals and politicians wanted to protect their fishes being farmed in those lakes. In any case, for weeks the Sindh government stuck to its claim that water level in Manchar lake was manageable enough to accommodate the incoming flood water.
All hell broke loose only when devastation started to make headlines. Government claim was found to be untrue. Manchar lake filled to the brim in no time. That was the-devil-and-the-deep-blue-sea moment: save 500,000 people in and around the cities of Dadu and Sehwan or the 150,000 people living in the many surrounding villages.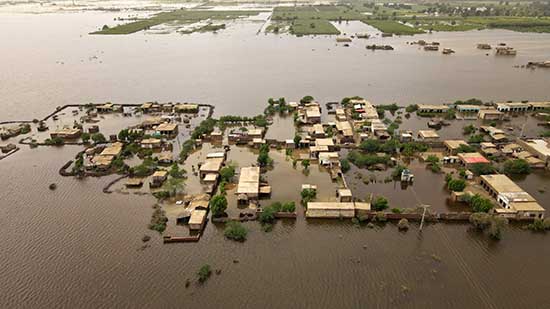 In sheer panic and with no backup plan in hand, more and more canals and drains downstream were breached, but this time to stop the same farmlands of the powerful landlords from getting inundated. But the flow had to go somewhere and those supposedly haphazard cuts diverted it away from agricultural land towards villages and towns.
Also important to note is: if you are facing the sea, areas left of the Indus River (bordering India) received monsoon rains and did not flood, whereas areas on the right bank side (bordering Balochistan) drowned from flood water from the north. That's why flood affectees rightly believe death and destruction in 2022 wouldn't have been as extreme had these lakes been drained into the Indus in time. Both the lakes had similarly overflowed in the 2010 floods. So It's not like the administration didn't know what was coming.
True, climate change was responsible for the 2022 super floods, the severity of which broke every record, but it's not the first time Pakistan faced such a situation. In recent memory starting from heavy monsoon downpours of 1995 right up till 2021, almost every couple of years saw flooding across parts of the country especially Sindh.
Amongst the deadliest were the 2003 floods in Sindh that killed at least 484 people, 2007 floods in Sindh, Khyber Pakhtunkhwa and coastal Balochistan that left around a thousand dead, 2010 floods caused around 2,000 deaths and directly affected about 20 million people by way of destruction of property, livelihood and infrastructure, 2011 floods inundated 16 districts of Sindh, killing 434 and affecting 5.3 million people, 2012 floods killed over 100 in Upper Sindh, 2013 killed more than 80, and the numbers go on right till the 2022 super floods in Pakistan that left 1,739 dead, upended the lives of 33 million people, caused $30 billion of damage and economic losses.
So, to claim that Sindh and Balochistan were caught off guard is not true; they were caught ill-prepared and ill-equipped because they learnt nothing; fact is they didn't care. Let's not forget that by the time COP27 climate conference got underway in Egypt, 27 countries across the globe had already faced serious flooding, deaths and destruction. Nature struck back in a manner the world could actually understand: from Australia to Venezuela with Nigeria, Sudan, South Africa, Thailand, Vietnam, Cambodia and many more countries in between. Then there's California, where at one point over 34 million people (about 90 percent of the state's population) were under flood watch.
Yes, Pakistan faced the brunt of 2022 super floods. Given the state of our withered canal walls, weakened levees and worn out infrastructure, what else did we expect? Media reports from the last couple of decades present a clear picture of how government corruption is directly responsible for all this misery.
Politicians and officials in both Sindh and Balochistan are notorious for skimming off up to 70 percent of the money dispensed for each and every development or construction project in the form of commissions, bribes and kickbacks. What's left after deducting contractor profit is barely enough to break ground, let alone decent quality construction, nature risk assessment etc.
That's why the primary concern at the International Donor Conference on Climate Resistant Pakistan held in Geneva was 'transparency' of funds. So much so that Prime Minister Shehbaz Sharif had to stand on the world stage alongside the Secretary-General of the United Nations Antonio Guterres and actually assure the international community of third party audit of the $10.57 billion in soft loans pledged by multilateral and bilateral creditors for reconstruction in flood-affected areas. Do note that these are loans, not donations; the taxpayers of Pakistan will have to return them, not the power elite.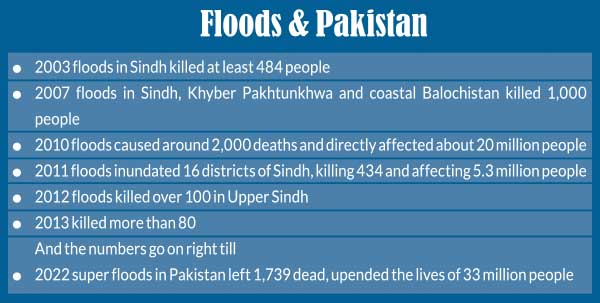 As these are foreign 'donors', the government was pressed to the wall to guarantee transparency, but it hasn't yet accounted for the millions of rupees of taxpayers' money apparently dispensed in the form of 'cash' to flood victims.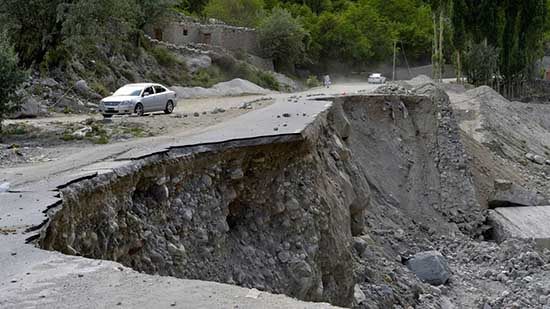 Government leaders are going around the world and rightly blaming big carbon emitters for Pakistan's climate crisis, but this carries a strong risk that our rulers will start to believe their own half-truths, and soon forget that even though Pakistan contributes less than one percent of the world's planet-warming gases, we are just as much responsible for the recent flood devastation because public finances meant for climate resilient development have been mostly misappropriated over the years.
Our leaders need rich countries to compensate us for the climate damage, not to alleviate the miseries of flood victims but to greenwash the missing money trail. Had they really cared for their communities, the situation wouldn't have been so extreme. Now they need the international community to bail them out of their mess. Elections are round the corner and the government is hoping that these promised project-based loans, disguised as 'international help', will help them win points with the electorate.
Climate change is a reality and there's no denying that Pakistan is the biggest victim, but at the end of the day solutions have to be man-made. We can't just sit around and expect nature to cool off. That's not going to happen. We need to fix what we can, by incorporating climate risks into our development planning and genuinely empowering communities at the grassroots through free and fair local body elections. The sooner it's done the better, because despite the warnings and disasters we have experienced in the past, we still have no clear idea where or how to start the process. We risk missing a crucial point if we lay the entire blame on climate change alone. Corruption, bad or no local governance, poor planning, and faulty water management can equally be blamed for the current disaster.
So far it's nothing if not a story of government greenwashing.