COVID-19 has changed the lifestyle of most people in Britain, but perhaps not of our convicted former premier, Nawaz Sharif, who is now seen regularly coming out of the controversy-marred Avenfield Apartments in London, surrounded by relatives, friends and followers.
He is rarely seen wearing a mask or maintaining the safe physical distance required in the current situation, as a band of his followers are always seen around him as he walks around in the upscale neighbourhood of his mansion, or gets in or out of his plush vehicle.
For a man, who came to London for what his family claimed was medical treatment for multiple life-threatening ailments, and whose health they contend is still in fragile condition, this irresponsible behaviour could, in the second wave of COVID, perhaps prove even more perilous for him than returning to Pakistan to face the courts.
I remember the chilly November morning in 2019 when I went to Sharif's Avenfield apartment hoping to record some footage before he left for his "hospital appointment." Like other media persons, I also expected to see an ambulance outside his residence, but instead, a flashy Bentley was parked there. Sharif emerged from his apartment surrounded by family members and some of his London-based close associates — most of them either convicted or wanted by the law in Pakistan. He acknowledged us with a nod of his head, then left for his appointment in style — without speaking to the media.
In the earlier months after his arrival in the UK, Sharif made it a point not to engage with the media. But a lot has changed since then. Sharif finally broke his silence with an anti-army tirade and has regularly started engaging with media personnel and others standing outside his residence or elsewhere with individuals who approach him.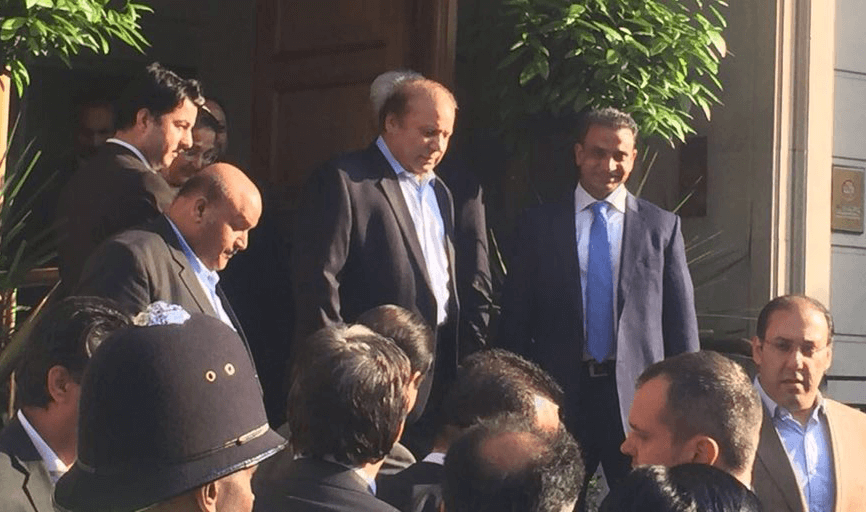 Clearly back in the pink of health, Sharif's attacks against the government and army are becoming more vicious, and are echoed by his daughter and party affiliates back home. In response, Prime Minister Imran Khan has vowed to bring him back to Pakistan – even if he has to personally travel to London for this purpose.
Sharif is not the only one wanted by the Pakistani authorities. Both his sons and a few other relatives and cronies, including Ishaq Dar, the former finance minister, are also wanted on corruption charges.
But taking Sharif or his alleged partners in crime to Pakistan is easier said than done. London is seen as a safe haven for many foreign white-collar criminals, corrupt political elite and money launderers from across the globe. Successive British governments have worked hard to make their country attractive to foreign investors — even those who became wealthy through dubious means. Billions of pounds are laundered through London's financial system every year. Critics, including anti-corruption groups, claim that successive UK governments have turned a blind eye towards the inward money laundering, as it is seen as investment that benefits the country. The world's leading anti-corruption organisation, Transparency International, for example, has been a vocal critic and has in the past called on the UK government to improve its checks and balances with regard to corrupt individuals who see the country as a "safe haven" to invest and hide their ill-gotten wealth.
Along with Pakistan, many other countries are also trying to get alleged financial fraudsters on the run from their respective countries extradited from the UK. One such country is India, seeking the extradition of many of its nationals, including Nirav Modi, Lalit Modi, Vijay Mallya, and Sanjay Bhandari. But so far, these efforts have borne little fruit.
Finally, prompted perhaps by years of criticism, the UK decided to move towards clamping down on financial crooks. After the passing of the Criminal Finances Act 2017, in January 2018 the government introduced Unexplained Wealth Orders (UWOs) to the UK legal system. UWOs shift the burden of proof to the assets' owner/s and can be used when there is a palpable gap between the income of a person and the value of assets they own. This includes anyone, including foreign leaders and civil servants who own expensive assets in the UK — anything ranging from luxury apartments in London to flashy cars.
Some commentators describe the introduction of UWOs as "probably the most important piece of anti-corruption legislation" in recent British history.
And soon after these UWOs came into force, Transparency International, in a statement, demanded that the British government investigate the Sharif family's London properties.
Since arriving in the UK, Sharif has been living in the very same multi-million pound flats, the ownership of which was exposed in the Panama Papers and led to his downfall.
Situated not far from the Palace of Westminster, the home of British democracy, these flats serve as the headquarters of Sharif's own movement to restore "real democracy" in Pakistan. Political heir to Zia-ul-Haq's dictatorial regime, Sharif's democratic credentials remain a moot point. But his fondness for Britain is quite obvious. During Gen. Pervez Musharraf's era when Sharif was let out of prison after a Saudi-sponsored deal, he gave it in writing he would distance from Pakistan and politics for at least 10 years. Sharif promised to stay in Saudi Arabia during his days in exile, but as soon as could, he made his way to the United Kingdom. His relationship with the UK can also be evidenced from the fact that during his third stint in power, he made more trips to London and spent more days there than he did to Pakistan's financial capital of Karachi.
Prime Minister Khan wants Nawaz Sharif to be repatriated to Pakistan so that he can serve his sentence in jail and also face the other corruption cases pending against him in various courts. The Pakistan government has also written letters to the British authorities in this regard, but as the two countries do not have extradition treaties, it is unlikely that London will facilitate the handing over of Sharif or his wealth to Pakistan. And Sharif has further strengthened his case for residence in Britain: his recent statements against the Pakistani army seem a strategic move by him — like many other third world politicians and businesspersons accused of corruption and money laundering — to seek political asylum in the UK.