Regardless of whether Nawaz Sharif's visit visa for Britain is extended or he applies for political asylum, the prospects of him influencing Pakistan's politics in any substantial manner are currently about as remote as the US re-occupying Afghanistan.
It is pointless to try and follow the English legal process of whether his appeal to the immigration tribunal will succeed or not, and whether there remain any unanswered questions of law that may need resolving by the Upper Tribunal. The bigger question is what lies ahead for Nawaz Sharif if and when he does somehow manage to rustle a "leave to remain in the UK" stamp on his passport. Will he be living in exile for an indeterminate period?
Spending life in exile, or in jail, is not an ideally satisfactory option. Either is a depressing prospect, engendering images of many empty days and nights. I've been in jail and in exile — both for my political persuasions — and have personally experienced some truly dismal times. I can understand the limitation in the choices that are available to Nawaz Sharif.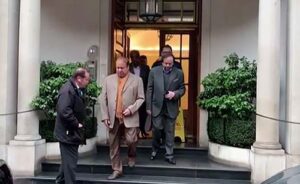 If Sharif was to withdraw his appeal and reach Pakistan and request the High Court to hear his appeal, his politics could actually take a positive turn. His sitting in jail would have the effect of boosting his party's chances of success, and he could pose a formidable threat to Imran Khan's continuing success. The mere announcement of his return would reunite the PML(N) — imagine all the deafening slogans, the razzamatazz of rose petals garlanding and being showered on him, and the hundreds of party workers accompanying him for his court appearances. It is, of course, a grand, high-risk approach as the end result is unarguably tough. Jail is jail, and a 10 year sentence is a very, very long time.
On the other hand, Sharif's exiled abode may present a lovely vista of Hyde Park through the triple- glazed windows of his flat at Avenfield House, but what happens when it's cold, grey and wet? Such is the forlorn emptiness of a wintery exile, even if there are a few family members and a couple of loyalists filling the void, by sitting around talking of food and judges.
General Musharraf once told me that, in the moaning of retired generals, he saw a distinct ennui: they could not figure out how to pass the time. Mushrarraf said he used to ask such retirees, "do you play golf?" The response, "No Sir." "Do you play Bridge?" The answer, "Don't know the game Sir." He would persist. "Do you read books?" And inevitably the refrain, "I only read the newspaper Sir." "Do you enjoy music?" he would ask. "No Sir," they would reply. The general said to me that after these conversations, he told them, "if you choose to do none of these things, you are hastening your end."
Nawaz Sharif doesn't seem to have much interest in either indulging in any leisurely vocation, or actively pursuing his business interests. Whiling away his days without a life partner at the age of nearly 72, and facing numerous medical problems, Sharif's woes can't be fixed by the millions of pounds he has rotting in banks.
Above all of this, the ignominy of being a convicted felon must haunt Sharif on a daily basis. It can never be a pleasant thought that one might end up being randomly abused on a London street every time you want to go for a walk. Even more frustrating, when the troll's head is spared an obligatory knock from a bodyguard. Things are different back home.
Those exiled leaders who are of some use to UK interests tend to enjoy better times. They get favourable mentions from respectable media outlets, helpful TV interviews and the most valuable diplomatic support. None of that appears to be coming Nawaz Sharif's way.
An indefinite absence from Pakistan will inevitably obliterate his political future — especially after the dismal, failed experiment of creating a proxy in daughter Maryam.
Whether Nawaz Sharif chooses to hang around in London or return to Pakistan, there is one certainty he must take into consideration: PM Imran Khan, now fully hand-in-glove with the army, and dealing with a fast-changing regional and global geopolitical situation, will simply not sit back and tolerate a reopening of the old pages of Sharif's politics from the history books once again.