Dilip Kumar, real name Yusuf Khan, one of Indian Cinema's greatest actors passed away in Mumbai on July 7 at the age of 98. He had been in and out of hospital after a series of age-related ailments. A legend in his lifetime, the actor ruled the cinema screens for over six decades. Few could match his eloquent delivery of dialogues and expressive performance. Many copied him, albeit, with little success.
There cannot be a better beginning to this tribute than the dedication Dilip Kumar wrote in his autobiography, The Substance and the Shadow: "Sukoon-e-Dil Ke Liye Kuch Tou Ehtemaam Karun, Zara Nazar Jo Miley Phir Unhain Salaam Karun, Kahan Se Cheedon Fasana, Kahan Tamam Karun."
This legendary actor was born on December 11, 1922 — one of 12 siblings — to a Pathan family settled in Peshawar.
The family lived in the famous Qissa Khwani Bazar, but subsequently his father, who was a fruit merchant, decided to move to Mumbai (then Bombay) with his family.
A chance meeting with Devika Rani in 1947, in a British army canteen where Dilip Kumar worked, changed his life forever. The owner of Bombay Talkies, Devika gave him the screen name of Dilip Kumar and launched him as an actor in a movie, titled Jwar Bhata. His first film was a major flop. In fact, Babu Rao Patel, the reputed critic of a magazine Film India, called him an "anaemic addition" who needs "lots of vitamins and a prolonged treatment of proteins before another picture can be risked with him." But a few films later — Jugnu (1947), Shaheed (1948) and Andaz (1949) — Patel was forced to eat his words.
During his entire career, Dilip Kumar was extremely careful in choosing his roles; in his six decade-long career, he appeared only in 65 movies, the last one being Qila (1998), in which he was paired with Rekha.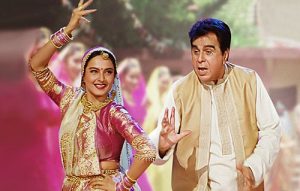 In an interview, Dilip shared that once while listening to a script, he was shocked to be told that he was required to be bare-chested – in a 5-minute scene. He declined the movie, saying, it would be vulgar to do so.
If Marlon Brando introduced "method acting" in Hollywood, it was Dilip Kumar who perfected and took method acting to its zenith in Bollywood. He totally immersed himself in the character, earning him the epithet of 'Tragedy King.' However, a surfeit of such roles began to take a toll on his health. His psychiatrist advised him to stop accepting any more tragic roles. He switched to comedy roles with ease. In fact, he showed his versatility, spontaneity and sense of comic timing with movies like Azad, Kohinoor, Leader, and Ram Aur Shyam. He took a break from work between 1976-80, and bounced back on the celluloid screen with Manoj Kumar's production, Kranti, a film based on India's freedom struggle against the British. The movie was a huge success. Manoj enjoyed a special bond with Dilip Kumar. In his tribute to Kumar, Manoj wrote, "First of all, I must say from the bottom of my heart that if there is anyone other than my parents and immediate family who has given me love and a sense of emotional security, it is Dilip Sahib."
Kumar's leading ladies were many, including Nargis, Meena Kumari and Vyjayanthimala, with whom did several films, but he was romantically linked with Kamini Kaushal and later Madhubala —the Anarkali of Mughal-e-Azam and the love of his life, who he would have married, if her father had not scuttled the romance.
However, at the age of 44, he finally married Saira Banu, who was 22 years his junior in age and with whom he had declined to work in any film. At a party, Saira encountered Dilip Sahib, and bluntly asked him, why he had refused to act with her. Dilip tousled his hair and said, "Do you see the salt and pepper? You are not mature enough to be my heroine." "But you look handsome with your salt-and-pepper hair," she returned. He merely smiled back. Post-marriage he worked with Saira Banu in four movies: Sagina, Mahato, Gopi, Bairaag, and Duniya.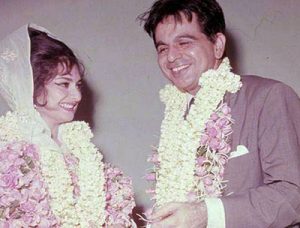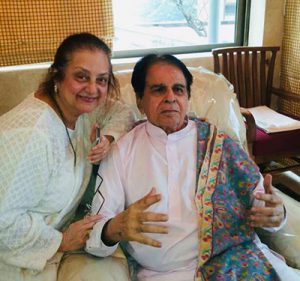 In 1981, me and my eldest brother (Moinul Aziz) were both coincidentally posted in Lagos. He being a die-hard fan of Dilip Kumar must have watched the blockbuster, Shakti, in which Amitabh Bachchan had to measure up to Dilip's acting standards, over 25 times. Amitabh, in his contribution to Dilip's autobiography, recounts this casting coup in Shakti, in the following words: "For the film industry, and for cinema-lovers, it was a momentous casting triggering unprecedented curiosity. It couldn't have been otherwise, since it was a healthy test of competence for any actor to match the class of Dilip Sahib's work. I, however, was scared on two counts. I feared how I would stand in the presence of the actor I had been idolising for years and appear unmindful of his awesome personality. Secondly, the character of the son nurtured a strong resentment and hostility towards the father. Even though it was make-believe, I winced at the thought of confronting the man I respected, admired, and loved so much."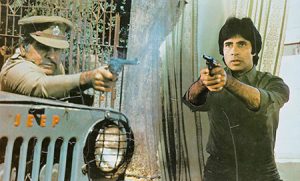 That was the magic of Dilip Kumar's persona!
In her piece for the autobiography, Sitara Devi, wife of the famous director K. Asif, the man who gave the epic, Mughal-e-Azam, writes: "When Dilip Bhai came over and walked into our living room, I was speechless for a moment. I had expected a young man of reasonable good looks and personality, but right in front of me was [a man] radiant, sophisticated, and regal in bearing and manner. One could tell in an instant that he was someone special, someone who had Allah's blessings."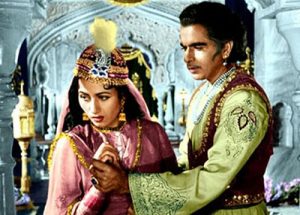 Many fans felt that he missed out on international fame by refusing to act as 'Sheriff Ali' in David Lean's 1962 classic, Lawrence of Arabia. The role went to a then unknown Egyptian actor, Omar Sharif, and he went on to acquire tremendous international recognition through this role. But Omar Sharif needed it, Yusuf Sahib didn't — he was loved and admired from Los Angles to Auckland.
Jaya Bachchan's greatest professional regret is that she did not get to work with Dilip Sahib and in her words, "I regard it as a loss because he is the only actor in Indian Cinema, whose iconic performances in film after film throughout the 1950s and early 1960s, inspired me." To Abhishek, she said: Watch all movies of Dilip Sahib, if you wish to learn acting.
Dilip Kumar bagged a record of eight Filmfare awards. In 1991, he received the Padma Bhushan. In 1994, he was awarded the prestigious Dadasaheb Phalke Award. And in 2015, he received the Padma Vibhushan. Reacting to these awards, Jaya Bachchan wrote: "The Padma Bhushan is too minor a recognition for him. The Dadasaheb Phalke Award too was given very late to him. It is his graciousness that made him accept both without resentment. What he deserves is the Bharat Ratna (India's highest civil award) and it should have been given a long time ago. Narendra Babu, it is never too late – consider giving him this award, posthumously. Although, it may mean nothing to his soul, but a world to his fans." Pakistan bestowed the Nishan-e-Pakistan, the country's highest civil award, upon him in 1998. Incidentally, Dilip visited Pakistan twice — once to receive the award, and he used the opportunity to visit Peshawar, his hometown; and a second time for a Fatimid Foundation fund-raiser for thalassemia patients. In his final tribute to Dilip Kumar, Prime Minister Imran Khan shared that Dilip Kumar had help him raise funds for the Shaukat Khanum Memorial Hospital in a big way.
It is heartening that Dilip Kumar's residence, along with Raj Kapoor's, in Peshawar have been bought by the Khyber Pakhtunkhwa government. Both will be restored and converted into museums.
Upon his passing away, Pakistani newspapers not only carried the news of his demise and the outpouring of tributes, but also wrote editorials. Dawn wrote: "Tomes have been written about his magical and unparalleled talent as a movie star… American-born actor Tom Alter asked him the secret of his brilliance. Pat came the reply: 'Sher-o-Sukhan.'" Business Recorder's editorial, while tracing his career ends with, "not only has India lost its greatest film icon in his death, but it has also lost one of the greatest proponents of communal harmony in a country of 1.4 billion people and peace between his country and Pakistan. Dilip sahib, no doubt, will always live in our hearts as a 'King.'"
The News, in its editorial 'The Legend of Dilip,' remarked, "Dilip Kumar was no ordinary actor. He was a legend who developed the art of method acting and took it to new heights." The editorial ended with, "Dilip will never be forgotten — in India or in Pakistan." In wife Saira Banu's words, "To say that he is a citizen of the world is certainly no tall claim."
Shiv Sena, the militant wing of RSS/BJP, had once dubbed Dilip Kumar as a Pakistani agent. However, in a wonderful and ironic twist, Maharashtra's chief minister, Uddhav Thackeray, decided to give Dilip Kumar a state funeral and expressed his reverence for him by visiting his house. However, a BJP bigot from Haryana had the gall to make an extremely insensitive and crude remark: "He made a lot of money using a Hindu name." He was taken to task by BJP's very own, Urmila Matondkar, with an acerbic tweet: "Shame on you." Indian cricket captain Virat Kohli tweeted, "Today, an icon who was loved by generations passes away. Rest in peace Dilip Ji," Indian Prime Minister Narendra Modi tweeted, "Dilip Kumar Ji will be remembered as a cinematic legend. He was blessed with unparalleled brilliance, due to which audiences across generations were enthralled. His passing away is a loss to our cultural world."
Interestingly, Dilip Kumar had an unlikely brush with politics. From 2000 to 2006, he was a member of the Rajya Sabha from the Congress Party.
Asif Farooqui, a member of the Congress party and a friend of the family, in his contribution to the biography wrote, "Yusuf Khan was the man who remained unscathed by the ways of the world. Once he told me: 'Yusuf Khan is scared of Dilip Kumar.' I asked him what he meant by this. With an ambiguous glint in his eyes, he exclaimed: 'Only Allah knows who Dilip Kumar is and what all he can do!'" Asif writes further, "I have seen him read the Holy Quran as a true scholar. What is remarkable is the way he tries to understand the message of the Quran. He has minutely read each sentence (verse) and made notes on the pages in red, green, and blue ink. Whenever he needs clarifications, he seeks the advice of Islamic scholars."
Yusuf Khan Sahib may have passed away, but Dilip Kumar will live on in the hearts of hundreds of thousands of his fans across the world forever.