Muhammad Rafi was born in Amritsar, but moved to Lahore, where his father ran a men's salon. Rafi's musical talent was spotted by his elder brother's friend, Abdul Hameed, who persuaded the family to let him move to Mumbai in 1944. He sang a K.L Saigol song in his first public appearance at the age of 13, in Lahore. Rafi also appeared in two movies. Besides Saigol, he was influenced by C.M. Durrani, with whom he sang a few duets. His first playback song, a duet with Zeenat Begum, was recorded in 1944.
Rafi and Naushad's team was a super hit and it produced classic songs for films like Baiju Bawara and Mere Mehboob. S.D Burman perfected Rafi as the singing voice of Dev Anand and Guru Dutt. Rafi enjoyed great personal and professional rapport with Shankar-Jaikishan (Junglee, Suraj etc), Ravi (Chawdveen ka Chand, Neel Kamal), Madan Mohan with whom classics were composed such as 'Teri ankhon ke siwa,' 'Yeh dunya yeh mehfil,' and 'Tum jo mil gaye ho.'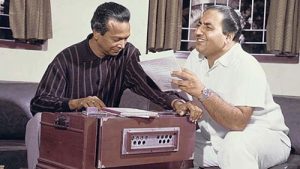 The composer O.P. Nayyar was once quoted as saying, "If there had been no Rafi, there would have been no O.P. Nayyar." His songs from films Naya Daur (1957), Tumsa Nahi Dehka (1957) and Kashmir Ki Kali, were all time Binaca Geet Mala hits. Rafi Sahib could strike the chords of the most hardened hearts — he could evoke emotions and passion — for love or regret, with equal impact.
Rafi sahib's voice had amazing versatility. He changed the tonality, sound, base and rhythm to suit the person for whom he was singing. He made a special effort to ensure that his voice suited the person, on the large screen. For Rajendar Kumar it was melodious hits like, 'Mere mehboob tujhe meri mohabbat ki kasam' (Mere Mehboob) or the Filmfare award winning song from the film Sooraj, 'Baharon phool barsao mera mehboob aaya hai.'
Rafi's sweet toned and clear voice matched with the typical dialogue delivery of Dilip Kumar, for whom he sang several hit songs ranging from 'Maang kay saath tumhara' (Naya Daur) to 'Aaj ki raat mere dil ki salaami le le' (Ram aur Shayam). Rafi sahib used to change his mellow and smooth voice to suit Shami Kapoor's boisterousness — so if it was 'Yahoo! Chahe koi mujhe junglee kahe…' (Junglee) or 'Aasman se aaya farishta,' (An evening in Paris), for the audience it was Shami Kapoor singing!
Rafi sahib was naturally endowed with musicality and melodic innovation. For Dev Anand he sang very differently. Amongst many, the most popular songs were 'Tu kahan ye bata,' (Tere ghar kay saamne), 'Din dhal jaye' (Guide), 'Hum bekhudi mai tumko pukare chale….' (Kala Pani) and the most lilting, 'Tere mere sapne' (Guide).
Guru Dutt's first choice for male playback singing for himself and for his movies was Rafi sahib. 'Chawdween ka chand ho' is still sung by young and old. Rafi's numbers in C.I.D. ('Ankhon hi ankhon mai ishara ho gaya') or in Mr. & Mrs. 55 ('Keh do jee keh do is dil mein'), were tremendous hits of that era.
Lata Mangeshkar recalls in many of her interviews how a misunderstanding developed with Rafi sahib, ultimately leading to them not singing together for three years. "Talat sahib, Mukesh bhaiya and I used to discuss this issue of royalty. All of us agreed that today our voice is in top form and money keeps rolling in, but who can predict what is in store for us tomorrow?" The recording companies reacted against this ganging up of singers. Some agreed to pay, some flatly refused. They approached Rafi sahib and persuaded him not to join the bandwagon. Lata tried her best to prevail upon Rafi but in vain. Lata said much later in an interview, "One day, Mukesh Bhaiya took me for a drive in his car and explained everything. He said that while Rafi sahib was a well-meaning soul — he did what he said and said what he did — but some others were a bunch of two timing squealers, who readily agreed with us and then quietly slinked away for a recording behind our backs. Thus an effort was made to create two factions in our association and it succeeded." The result was that music lovers were denied three long years of the duets of the two geniuses.
Following a rapprochement, Lata and Rafi bounced back in 1964 with 'Jo wada kya wo nibhana pareyga,' from the film Taj Mahal. What a success this lilting number was! Lata made a poignant gesture in memory of Rafi sahib. In every programme she appeared in after his fading away, she would sing this song, in his memory. Lata has sung the highest number of duets with Rafi sahib, 440 in all.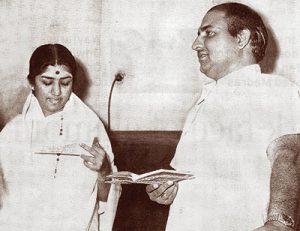 In search of Lata Mangeshkar — a biography by Hirish Bhimani, the writer, speaking of Rafi Sahib, remarks, "Rafi — a humble, God fearing, family loving man." Rafi got along well with his contemporaries, singing duets or singing for them. It is believed that after several failed retakes by Kishore Kumar of the song 'Ajab hai daastan teri aye zindagi,' the song was given to Rafi at the behest of Kishore, who remarked, "Rafi sahib will sing this one better than me." Similarly, he sang with many contemporaries like Talat Mehmood, Manna Dey and Mukesh.
Rafi's mellifluous, sweet and dulcet voice was used by a galaxy of renowned musicians and composers. M/s Shankar-Jaikishan, O.P. Nayyar, Naushad, Lakshmikant Pyarelal, Kalyanji Anandji, S.D. and R.D. Burman, Anil Biswas, Chandergupt and Hemant Kumar. Some of his other famous songs are, 'Din dhal jaye raat na aye' (Guide), 'Suhani raat dhal chukee' (Dulari), 'Le ke pehle pehle pyar' (C.I.D.), 'Likhe jo khat tujhe' (Kanyadaan) 'Ye ankhen uff yumma.' (Jab pyar kisi se hota hai). And of course the classical (although he wasn't trained in classical music) 'Madhuban mai Radhika nache re,' pictured on Dilip Kumar. From the same film, Kohinoor, the duet with Lata, 'Do sitaron ka zameen par hai milan aaj ki raat,' these are rare gems of Indian film music.
Many of his songs became a signature identification with the actors he sang for, 'Chalkaye jaam' (Dharmendra), 'Yahoo! Chahe koi mujhe jungle kahe' (Shammi Kapoor), 'Likhe jo khat tujhe' (Shashi Kapoor), and 'Aane se uske aaye bahar,' (Jitendra). Rafi earned several awards, including the prestigious 'Filmfare award' seven times.
When Rajesh Khanna acquired a super hero status in the mid '70s, he found Kishore's voice most suitable for his screen image. Rafi sahib went under a cloud. But only a few years later, he roared back on the airwaves with numbers like 'Kya hua tera wada' (Hum kisi se kum nahi), 'Main ne poocha chand se,' (Qurbani) or 'Ye jo chilman hai.' He was an amazing singer.
This writer's five personal picks from his numerous songs are:
'Woh jab yaad aaye, bohut yaad aaye'
'Aaye bahar bunke lubha kar'
'Tujhe kya sunnaoon main'
'Aaane se uske aaye bahar'
'Saathi na koi manzil, diya hai na koi mehfil'
On July 31st 1980 — a Thursday night in the holy month of Ramadan — Lata is informed by a journalist that Rafi Sahib has passed away and reacts in a sad tone, "What can I say? I cannot fathom whether the moon has set in the sky or the sun has set on the horizon of film music. Rafi sahib in unison, your admirers sing, Abhee na jao chorr kar…."
To quote from the same melodious number, 'Chawdhween ka chaand ho ya aftaab ho… jo bhi ho tum khuda ki qasam lajawab ho.' To this day you are and were Lajawab.