The Pakistan team is playing a record number of T20s this year in preparation for the upcoming T20 World Cup. Besides the ODI/T20 tour of South Africa, two series against England are scheduled in July and October. The 7th edition of the ICC T20 World Cup, originally planned for October-November 2020 in Australia, is now scheduled in Oct-Nov 2021 in India. Sixteen teams will participate in this event, as they did in the 2014 edition. The top 10 ranked teams (as of 31-12-2018) qualified automatically, while six teams did so through the 2019 ICC T20 World Cup qualifier. The format of the tournament comprises two rounds. The first round will consist of two groups of four teams each, and the top two teams from each group will join the top eight ranked teams in the second round called Super 12s. The second round will again have two groups of six teams each. Group one consists of Australia, Pakistan, New Zealand, the West Indies, and two qualified teams among the following six teams, i.e. Sri Lanka, Bangladesh, Ireland, Netherlands, Scotland, Namibia, Oman, and Papua New Guinea. Group two consists of India, England, South Africa, Afghanistan, and two qualified teams from the first round.
India and England are likely to qualify from the second group for the semi-finals as the other four teams in Indian conditions are unlikely to cause any upsets. It's the first group where there will be a tough fight to qualify for the semi-finals. Australia is the favourite in this group, while the second place will be contested between Pakistan, New Zealand, and the West Indies, and probably Sri Lanka. Although New Zealand is doing well at the moment, having beaten Pakistan 2-1 last December, in the Indian playing conditions its match-winning bowlers like Trent Boult, Kyle Jamieson, and Tim Southee will be less effective and it will be a competition among the batsmen. The West Indies, the current champions, did win the last T20 World Cup held in India, and also the one held in Sri Lanka in 2012. The West Indies is the only team that has won the T20 title twice, and both times in the subcontinent. With hard-hitting batsmen like Chris Gayle, Kieron Pollard, and Carlos Braithwaite, and upcoming stars like Shai Hope, Kyle Mayers, and Rahkeem Cornwall, they can cause an upset. Pakistan has its work cut out and needs to win at least three of the five matches, but only four wins will guarantee a place in the semi-finals.
Pakistan has started preparations with tours of South Africa and Zimbabwe. With top SA players opting to play in the Indian Premier League (IPL) rather than against Pakistan, winning most of these matches has had little impact on preparations for the World Cup, except trying out different combinations. However, after the tour of Africa, better preparation will be done through the remaining PSL-6 matches, where quality spinners will also be in action.
Pakistan's real test will come in July with their England tour, where they play three ODIs and three T20s against the top ranked team.
England and Pakistan will again play two T20 matches in early October in Karachi prior to their proceeding to India for the World Cup. England play New Zealand in May-June, Sri Lanka in June-July, and Pakistan in July followed by India in August and September before coming to Pakistan in October. On the other hand, the Pakistan Cricket Board (PCB) has yet to plan something for August-September for the team to get ready for the mega event. A training camp in Lahore in the August-September heat won't be enough for the preparations. A three-match series in Pakistan against Australia or New Zealand would be ideal, but unlikely due to the reluctance of these players to tour Pakistan. This will leave Sri Lanka or the West Indies as options.
Team selection will play a big part in Pakistan's chances to make it to the semi-finals and beyond, everything will depend on who we play at four, five and six. Our top three, comprising Fakhar Zaman, Babar Azam, and Mohammad Rizwan are proven match winners and certain to play in the top three positions, while the number four position should be either Mohammad Hafeez or Shoaib Malik, which requires an experienced player to anchor the match in case of early wickets against the new ball or who is capable of stepping up the run rate when the top three provide a good start. However, only one of the two fits in the team, as two 39-year-old players would be a burden on the fielding team. For the number five position, selectors are trying Haider Ali and Asif Ali. However, Harris Sohail also remains an option as his technique is better than his seniors. The number six position is for a batting all-rounder, and Shahdab Khan and Imad Wasim are the obvious choices. And finally, there are Faheem Ashraf, Hasan Ali, and Shaheen Afridi at seven, eight, and nine/ten. Pakistan should play two spinners along with Hafeez or Malik. The spinners will most likely be one leg spinner, either Usman Qadir or Shahdab, and a left-arm spinner, either Imad or Muhammad Nawaz. Extra pacers are likely to be Mohammad Hasnain and Haris Rauf, although Mohammad Amir remains a much better bowler with a proven record as a match winner, especially in ICC events like World Cups and the Champions Trophy.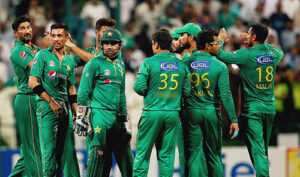 The main selection decision is the one regarding middle order positions. Haider Ali is young and has potential as a big hitter and the matches against England will decide if he can handle pressure. His main competition is with Asif Ali who has been given enough chances without cementing his place. Either of the two will be selected, but not both. For reserve batsman, the options are Sharjeel Khan, Haris Sohail, Sarfraz Ahmed, unless one of the new players like Danish Aziz or Mohammad Wasim play well and grab the chance given to them.
Misbah is a defensive coach and is unlikely to try something new. It's the players selected and nourished under Mickey Arthur that form the nucleus of the current team and give us some hope. Babar, Hasan Ali, Shaheen, Faheem, Rizwan, Fakhar are all the result of a consistent approach by Mickey Arthur and each has turned into a match-winner. Unlike Mickey, the current coaches select players like Rauf, Nasim Shah, Hasnain, Musa Khan etc. based on their ability to bowl 145-150 kilometres per hour deliveries irrespective of their wicket-taking or economic bowling. Performance in a Big Bash tournament should not mean automatic selection in the Pakistan team, unless the team is going to Australia to play Australia. On Indian pitches, the raw pace is likely to get hit all over the park and will result in going for 10-12 runs an over.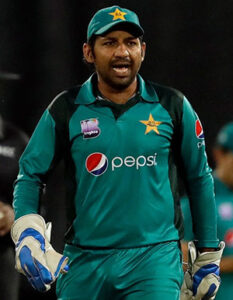 For the reserve wicketkeeper, Pakistan needs to look beyond Sarfraz. At the age of 33, he is not likely to develop into a big hitter. He should be the reserve keeper for test matches, but for white-ball cricket we need a batsman-wicketkeeper who makes it among the top six as a batsman. When Sarfraz was at the top of his form, he was best at number seven and never merited a place solely as a batsman. By playing him in ODI or T20 tournaments we are wasting the opportunity to develop the next keeper/batsman.
Pakistan coaches and selectors need to give new players like Danish Aziz, M Wasim, Arshad Iqbal chances against Zimbabwe, and whoever performs well among these players, should be played against England. Selecting players like Iftikhar Ahmed, Asif Ali, Khusdil Shah, Hussain Talat again and again, will not yield different results. Mickey Arthur rated Imad and Shahdab highly, and if these two are given extended run and confidence they will along with seven others mentioned above form a permanent nine members of the playing eleven with the last two positions to vary according to the pitch and opposition.
Among the youngsters, Haider Ali, and Hasnain have the potential to become future match winners, while the hunt for a hard-hitting wicket-keeper batsman must remain a priority. The 15-member team likely to be selected would include: Sharjeel, Babar, Fakhar, Rizwan, Hafeez, Haider, Shahdab, Imad, Faheem, Hasan, Shaheen and M Amir with Nawaz, Rauf, Hasnain and Qadir as reserves. The extra players to travel with the team for injury replacement should be Sarfraz, Sharjeel and Danish Aziz.