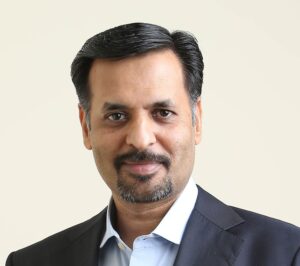 Mustafa Kamal and Karachi have a synergy which started from his fruitful stint as mayor of Karachi. Outspoken and telegenic, with an impressive array of facts and figures at his
fingertips, Kamal embodies the 'never say never' Karachi spirit, which made him one of the most successful mayors of Karachi. In 2010, he was shortlisted for the World Mayors Prize by the City Mayors Foundation. Following differences with the Muttahida Qaumi Movement (MQM) supremo, Altaf Hussain, Kamal moved to Dubai in August 2013, where he worked with the Bahria Foundation. He moved back to Karachi in March 2016 and set up the Pak Sarzameen Party (PSP), of which he is the current Chairman. The PSP did not win a single seat in the 2018 election, but Kamal is not unduly pessimistic. He says he has learnt many valuable lessons from the loss.
Karachi, with its myriad problems, has long been Kamal's favourite topic and he actually has solutions. Over to Mustafa Kamal…
Having been a hugely successful mayor of Karachi, how would you define Karachi's problems today?
MQM was given a mandate for 35 years, but apart from the work I did during my stint as mayor, what else does MQM have to show for itself? They had 35 years, 11 elections, the post of Governor and their workers as MNAs, MPAs, provincial ministers and federal ministers.
We made characterless people our guardians, and they joined hands with thieves and robbed this city. Who could save this city when those they trusted opened the gates for robbers?
The second issue is that the provincial autonomy granted by the 18th Amendment did not make the provinces autonomous. Only the chief minister (CM) became autonomous and he did not allow that autonomy to trickle down to the province itself. This has caused us untold damage and has turned the CM into a dictator. I ask for an amendment to the 18th Amendment, so that the province itself can become autonomous.
Then the National Finance Commission (NFC) Award, granted by the federal government to the provinces, that too benefits the CM; he is the master of all that money. There is a law that the Provincial Finance Commission should benefit, as well as the district that receives the money. That is the formula. But it doesn't happen.
The CM takes the money and says, 'Meri marzi,' I will decide which districts will receive the money and which ones will not.
Next, we have the census. If Karachi's census results are incorrect, then nothing is right. The census has to be conducted properly.
I have a formula for fixing Karachi's issues. There is no need for any new laws or a new constitution.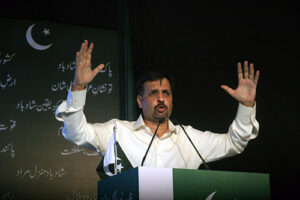 Of late, the Karachi Package, that is expected to transform the city, has been in the news. However, you have opposed the package, saying that it is like curing a brain tumour with Panadol.
Karachi doesn't need a package, because we don't need help. We need authority and our rights. We are the ones who finance the whole of Pakistan! We earn 70 percent for Pakistan and 90 percent for Sindh.
Who is in a position to give us aid? It's like the labourer who works hard the whole month and on pay day as soon as he emerges from the factory with his pay package, you snatch it and then take two biryani packets from the Sailani Welfare Trust and give it to him in return, saying, 'Here, this is your package.'
The same thing is happening with Karachi. This package is like Sailani's biryani packet for me. I don't want this package. I want some money from my salary which you are pocketing. Let me spend that on myself and help create a larger pie to share. We don't need packages, we need authority.
If "unscrupulous people" are running Karachi, how can they be dislodged, and who will replace them?
We are offering ourselves. Look at my legacy of experience as mayor and as MPA, minister, senator. After being in all these positions, none of my enemies can accuse me of even one rupee of corruption, or of doing anything illegal. When I was mayor, Karachi became one of the 12 most progressive and successful cities of the world. At night, when people were fast sleep, we would stay awake to serve the city. We were like the chowkidars (guardians) of the city.
What is Karachi's biggest asset?
Karachi's human resources — Karachi's minds, the people, they are doing wonders in different parts of the world. Actually they are the ones who should be leading Pakistan, but unfortunately, due to our flawed policies, we have lost those brains. The dynamics of being a mega city has benefitted Karachi. Look at the communities living in Karachi — Pathans, Sindhis, Punjabis, Balochis, Hindus, Christians, Memons, Gujratis, Kashmiris, Bengalis. All these minds have made Karachi more dynamic. It's like a mini-Pakistan.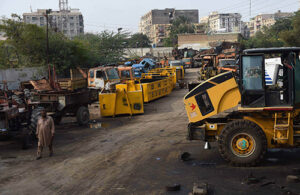 Which mega-city of the world can be compared to Karachi?
First would be Shanghai and second, Istanbul — although Shanghai enjoys autonomy, which Karachi does not. Their mayor controls the airport, the seaport, police. All the mayors have the police under them, they have the enforcement authority.
Throughout his tenure the former mayor of Karachi, Wasim Akhtar, complained that he did not have authority nor autonomy?
He was lying. He was given money for the development of Karachi by the PPP. He was given 14 billion rupees, and instructed that he could not spend more than 2 crores on any one project.
If we had a huge project, we would sometimes divide it into four halves, which is legal, and get the development work done. If we take this amount into consideration, it means Karachi gets 750 projects of 2 crore each. If I got this amount, you would not see one pothole or any garbage in Karachi, perhaps, I wouldn't be able to construct new buildings, but as far as the city's maintenance is concerned, I would be able to accomplish it.
The MQM did not need to make underpasses or corridors, because we had already done that. But the least they could have done was, cleaned up and maintained what we built for Karachi. If Wasim Akhtar is saying he doesn't have the authority to fix the potholes on the roads, he is lying. And if we suppose that he really didn't have any authority, why did he stay on for four years and tolerate the abuses from all sides?
If Wasim Akhtar was put in charge of London, he would probably convert it into Lyari. It's not about authority, it's all about character.
If you were to become the Karachi Mayor once again, what is the first issue you would tackle?
I would go for maintenance of the city — fix the potholes, clean the city, pick up the garbage, plug the water leakages and cut the illegal connections.
How would you deal with garbage? It's a burning issue, yet nothing has been done about it so far. Even the Chinese couldn't figure out this problem.
If today there is 12,000 tons of rubbish, in my time it was 11,000 tons. But there was no judicial intervention, no media coverage, no NGO spoke out, no one brought any Chinese here. The people deputed to pick up rubbish then are still with them today; they still have the machinery, the landfill sites are still there, and it will cost the same amount of money.
They are minting money but they are lying that they don't have the authority to pick up the rubbish because they are corrupt. The vehicles are lying stationary but they are showing billions being spent on fuel. They are pocketing the salaries of half of their employees, who number in the thousands. I have challenged them to have a debate and prove that I'm lying, but they don't want to face me; they cannot lie to me. I did not run Karachi on a power-point presentation, I have been on the ground.
You are asking the people of Karachi for their votes once again. Do you see yourself as the best alternative?
With every passing day, the problems of Karachiites are multiplying. After losing the last election, people felt the PSP was finished. But we have emerged stronger, because we have learnt from our defeat. Look at the huge crowds we have been drawing everywhere! On our call, people are flocking to our rallies. This is the PSP's strength. I believe people have no option but us now.
If people are flocking to your rallies, why did you lose the last election?
I lost just one election in 2018. The results were completely different from the early polls, in which we were in the lead. Anyone can guess what happened. I do not wish to dwell on it too much; we have moved on from there.
What makes you think it will not happen again?
Because the environment is not the same and, also, we are not the same anymore. We are a different people now.
How would you assess the rule of the PPP and the MQM in Sindh?
How can the PPP accuse anyone else of looting the country? They have been ruling Sindh for 13 years now. There is no alternative to them, because the MQM attached themselves to their ethnicity, which proved wonderful for the PPP. They chanted slogans of, 'Jaag Mohajir Jaag,' they called for breaking up Sindh, when both the PPP and the MQM know that they cannot even separate a street of Lalukhet. But the PPP takes this slogan and sells it to our Sindhi brothers, and they, in turn, say, "Look, our Mohajir brothers want to break up Sindh, they want to divide your dharti maa; come under our flag, save our Sindh and forget our corruption."
The MQM is fooling the Mohajirs and the PPP is fooling the Sindhis. Both are playing their own cards. If it was up to the PPP, they would make MQM drink an Aab e Hayat that would keep them alive for 200 years!
The difference between the two and the PSP is that we do not divide anyone on the basis of ethnicity. I have people from all the provinces in my party. I'm not using the Mohajir card or any ethnic card.
What about the PTI?
It's right before your eyes. The PTI still cannot believe that it has won the elections.
What is your take on the crime situation in Karachi?
Frustration is leading youngsters to crime. When you progress and set up infrastructure, factories come up, you create jobs and facilitate people. Today, if there is no water in the pipeline, gutters are overflowing, rubbish is piling up outside the house, there is no electricity, no gas in winter, roads are broken, the youth who are travelling in Qingchis or on the roofs of buses have no stake in this society and nothing to lose. What is a youngster supposed to do then, except slash, steal and kill?
Post the rains in Karachi last year, for the first time ever, people from Defence protested outside the Clifton Cantonment Board office against the terrible state of the roads in Defence. Unfortunately, the axe fell on the Surjani Town residents, who were evicted from their homes, although there are many houses in Defence too which are built on drains.
Allah runs the world, but he does not send help unless people themselves do not make the effort. If you abuse the authorities daily in talk shows at night, does that mean you will get water in your house during the day?
Cruel is not he who governs us and deprives us of roads, water, education, facilities; cruel is the one who quietly puts up with all this and dies bearing this burden. I say to the people, "Make an effort to convert this hellish world into heaven and die doing so. If you are successful in your struggle, you will be blessed with heaven after death too. And if you don't struggle and just keep praying five times a day and drop dead, Allah will ask, "When I made you a human being and created conditions for you to work, why did you not make an effort and call on me for help? You did not even try."
Our silence leads to an increase in our oppression.