We find ourselves in a world where fake news and lies are animated at scale by troll factories, and rating-hungry media cleaves us into hermetically-sealed factions. Abetting propaganda, Pakistan's influential media houses select incendiary content over measured and reflective takes.
Going against the tide, we have decided to re-launch Narratives, after a two-year hiatus. Our friends remind us that in this fast-paced digital economy, the days of the print media are numbered. We, of course, disagree. With the re-launch of Narratives as an independent journalistic endeavour, we are committed to presenting Pakistan's case and its unfiltered story.
We are not here to share cute cat videos or promote Eurocentric liberalism. Instead, we are committed to broadening the public debate in many spheres, with a local, nationalist and progressive perspective.
A line-up of distinguished experts and analysts will sound off on the hot topics of the day, from politics to economy.
We believe that the infrastructure to develop, test and promote Pakistan-centric progressive ideas are inadequate. Pakistan's intellectual and media elite have systematically promoted imported ideas. They have become the dominant voices in Islamabad, Karachi, Lahore, Peshawar and Quetta, while the original local voices have been sidelined and barred from developing a countervailing opinion and narrative in the local English-language press.
The West has come to see us as a dangerous place, plagued with terrorism and religious fanaticism, where the irrational and unreasonable is taught to the young by the "evil clerics" who are "anti-democratic and virulently anti-Semitic." Unfortunately, Pakistan's neo-liberal talking heads and intellectual and media elite sing from the same sheet of music.
Narratives is here to address the need for a greater capacity to develop ideas, nurture creative public intellectuals and other leaders, make critical concepts accessible to everyone, challenge and highlight misguided policies, false conflicts, and political timidity. Our mission is to hold the powerful to account. The free press must expose hypocrisy, financial and intellectual corruption, wrongdoing and the abuse of power.
But it is an uphill task. Just a handful of billionaires, with strong political allegiances and financial motivations, now own most of the Pakistani media. We, at Narratives, are independent, and we need your support to survive.
In the inaugural October issue of Narratives, President AJK Masood Khan reimagines the Kashmir policy, while Pakistan's best-known diplomat and intellectual, Maleeha Lodhi explains the post-Covid world's challenges. Leading economist, Dr. Ashfaque Hasan Khan reviews the flaws and weaknesses of the current National Finance Commission Award, and Lt. Gen (r) Tariq Khan gives his take on national security.
The issue also carries insightful articles on the debate surrounding a single national curriculum by former information minister and leading intellectual, Javed Jabbar, India's future under Modi's fascist regime by (Retd.) Ambassador Syed Javed Hasan, the last interview of the late Baloch nationalist leader Hasil Bizenjo, and the woes of artists in the time of Corona by actor Sajid Hasan. Budding politician and singer Jawad Ahmed shares his aspirations for 'Tomorrow's Pakistan.' Readers will also meet a Pakistani icon and this month's newsmaker.
And yes, we will be breaking a few scandals and giving our take on the upcoming US elections. Politicians, conglomerates, climate change-deniers, corporations and foreign stakeholders use fake news, propaganda and disinformation to sow confusion, dilute facts, create divisions, and pursue agendas. But we are here to state facts as they are, and analyse and debate issues relevant to Pakistan. But we cannot do it alone. We need your support to keep the lights on.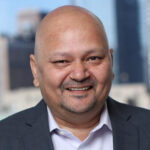 Ibrahim Sajid Malick
Editor, Narratives
Technologist, social entrepreneur & digital anthropologist.