Netflix has again consolidated its position as the world's top entertainment streaming service on the back of another non-Western hit – 'Squid Game.' The nine-episode Korean blockbuster series ranked No. 1 in the United States days after its release, and since then has become the most watched show in 90 countries, including Pakistan. Its global popularity has also taken the social media by storm with Hashtag #SquidGame viewed more than 22.8 billion times on TikTok, and is trending with hundreds of thousands of tweets daily. While such global acknowledgment remains common for a Western drama series, such rapid and huge success is phenomenal for a Korean one.
Netflix's heavy investment in overseas markets should not come as a surprise against the backdrop of a massive surge in the number of subscribers from outside the United States and Canada. Not only this, there is an increasing trend of the US audience watching more and more non-Western and non-English-language content. Also, there is a huge difference in the cost of content created in the markets other than the United States. For example, take Bridgeton, which became an instant hit with a whopping cost of $7million per episode. But in comparison, Squid Game proved equally, if not more successful, just at a mere cost of $2.4 million per episode.
As estimated by Deloitte, a business consulting firm, in Korea alone Netflix contributed $4.7 billion to the country's economy and created 16,000 jobs. This has brought the Korean media industry into the limelight in an unprecedented way. Furthermore, the possibility to take content from anywhere in the world and spread it globally means that now the United States and the United Kingdom alone are not the definer of popular world culture. Storytelling is a global art, and great stories can come from any culture. The English-speaking audience can watch the dubbed or subtitled content just like audiences from around the world have done with the American or the British content.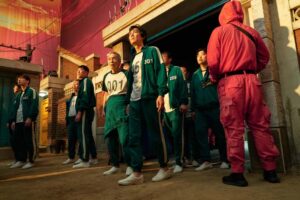 Getting back to Squid Game, what makes it such a record-breaking hit? Well, the story at a basic level is a cross between Hunger Games and Parasite. It cashes in on the global cultural obsession with game shows and the idea where the protagonist must overcome an ordeal of terror to survive. Set in modern-day Seoul, the story is about destitute people trapped in debt, lured into playing games to win money or die trying, while a group of curious billionaires watch for pleasure.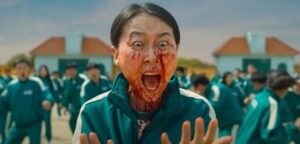 However, what sets this dystopian horror apart from other such shows is its brutal adaptation of children's games. The way innocence and vulnerability symbolised by childhood is used to inflict prolonged violence, intensifies the horror and sense of helplessness. It hooks us as we watch with horror knowing that something sadistic lies beneath a seemingly innocent children's game. It engages us as we place ourselves in the position of the characters facing moral dilemmas. We ask ourselves what we would do and how we would react in a similar situation. We are forced to look inwards and realize the decision is not so simple as the moral choices come in clash with the influences of group dynamics and compliance.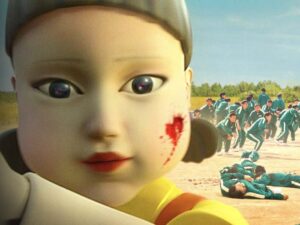 The show has rightly been labelled by many viewers as a gruesome metaphor of the socio- economic inequalities and sheer lack of empathy prevalent in many capitalistic societies. The desperation of the participants triggered by their impoverished circumstances is such that they are willing to risk lives for money, which is seen as a life- altering prize. Even when given the option to quit the game, participants are convinced into playing by others to avoid the hell that awaits them outside. Each has a heartbreaking story to tell. The protagonist Gi hun (Lee Jung-jae) , made redundant from his job, is a gambling addict with huge debts. He cannot afford life saving surgery for his mother or even a proper birthday gift for his daughter. Sang-woo (Park Hae-soo), a graduate from the prestigious Seoul National University, thought to be a successful businessman, is in fact hiding from the police after stealing money from a client. The show portrays how the promised payoff for all the time and money invested, the loans taken for education or mortgages never come for low-income people in a capitalist system. This is what resonates with low-income group people world over. The gapping and growing divide between the rich and the poor, a by-product of capitalist societies. People in Pakistan, no exception to these inequalities, find themselves relating to the show.
Another reason for the show's popularity amongst Pakistani audiences is the character of Ali Abdul (Anupam Tripathi), the migrant from Pakistan. His character has been much talked about on social media. His subservient and overly obsequious character is an accurate portrayal of an illegal immigrant in a strange country trying to fit in, and afraid to be caught or notified to the authorities. While his physical strength and compassion makes him well-liked, it is his dullness and naivety in the Marbles Game that takes the audience with surprise. For someone who as an immigrant, struggled, worked and held his ground in a strange country, confronted his boss, learnt a new language and assimilated himself in an alien culture, his character seems to verge on stereotypical racism.