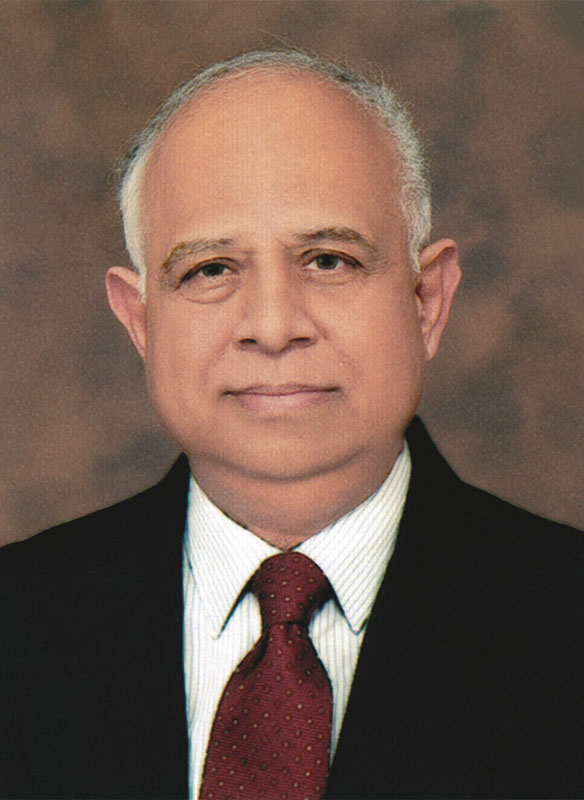 To write a book review dispassionately is difficult if the reviewer enjoys a very cordial relationship with the author.
Ikram Sehgal's ability to express his views without fear or favour is undeniable. However, one may not agree with everything that he writes or has written, but it is also a fact that many of his forecasts have been prophetic.
A Personal Chronicle of Pakistan is a 12-volume work of Ikram Sehgal and I am refraining from calling it a magnum opus because with the facile pen that he holds more is to come… This epic compilation is almost 2.5 million words long and captures the history of Pakistan and the international politics of a period of spanning over four decades. All the articles have appeared in assorted publications such as Nation, Nawa-i-Waqt, Balochistan Times, The News. What emerges predominantly in all his writings is his soft attitude towards his constituency: the army. He is unwilling to see it from any lens other than his own. Just like a true soldier. No wonder volume 1, which is the most voluminous of the 12, is titled 'Leave the Army Alone.' Here I am reminded of President Musharraf's famous remark: The uniform is my second skin!
In all the volumes, the articles are classified under the following sections: Economy and Commerce; International Economy and Commerce; Internal Politics; Corruption and Accountability; Foreign Policies and Relations; Internal and External Security; a chapter is devoted to articles of a miscellaneous nature.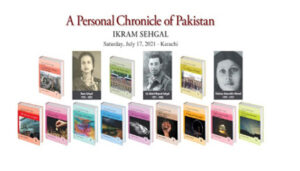 The titles of the volumes and also the articles are eye-catching — Tea & Sympathy; Mango Republic; Teen Sukhi Roti; Shaukat Proposes, Who Disposes? and Hoonz Dilli Doorast. The spirit of the volumes is best captured by the foreword to volume 6 by Nik Gowing in which he recognises Ikram Sehgal's effort as "…. a first draft of history which is more than daily journalism…"
Volume 1 covers the period 1980-1991. This volume is dedicated to his father, Lt. Col. Abdul Majeed Sehgal, and the Pakistan Army (Ikram Sehgal has dedicated each of the volumes to his immediate family and his closest friends and influencers). This four-page dedication expands on his father's accomplishments and other personal family history details. It is a tribute from a proud son to an individual, who despite a short life of 62 years appears to have not only lived a full life but, more importantly, one that was meaningful. Lt. General Ali Kuli Khan in his foreword says, "although our upbringing was similar, unfortunately, the challenges encountered by Ikram have been more difficult. Compared to Ikram my life has been a virtual 'cake walk.'"
The volume titled 'Converting Garbage into Dreams' covers the period 1992-1994 and is dedicated to his mother, HH Sheikh Nahayan bin Mubarak Al-Nahayan and Lt. General Attiqur Rahman. In the dedication, he traces his mother's family lineage passionately, introducing the reader to some prominent and respected politicians of East Pakistan such as Mohammed Ali Bogra, and Huseyn Shaheed Suhrawardy and, interestingly, J.A. Rahim, the ideologue and first secretary general of Bhutto's PPP. He recalls a suggestion made to his mother, post her husband's demise, that she take a house in Dhaka, enabling her to be close to her extended family. She flatly refused: "Whatever I have is lying buried in Abdullah Shah Ghazi's Mazar and is standing in front of me." She also turned down General Irshad's offer of a nationality that could help get her back the ancestral property; she gave a straight refusal. Ikram Sehgal talks highly about his association with Sheikh Nahayan, chairman of Abu Dhabi Group, who is well known in Pakistan as a serious investor. Lt. General Attiqur Rehman is also recognised for his brilliant achievements: "He never did become C-In-C Pakistan Army as he well deserved but for me and many others like me, General Attiq remained an outstanding and honourable soldier who was a credit to the uniform that he wore with pride. Soldiers like General Attiq belonged to another breed of men and are the salt of this Earth." The foreword to this volume is by Sartaj Aziz.
Volume 3, 'The Wages of Truth,' covers the period 1995-1997. It is dedicated to Ikram's sister, Shahnaz Azimuddin and Sister Mary Leo. He fondly recalls Shahnaz's childhood years, her friends, including of Benazir Bhutto, and how she managed Nusrat Bhutto's escape from a hired mob, through the back doors of Hotel Intercontinental. The details of her sudden passing away bring to fore the murderous negligence of medical staff: local anesthesia, intravenously administered, that had an air bubble.
Sister Mary Leo and the next principal of the school in Comilla, Sister Mary Joan of Arc, are mentioned with great reverence and affection. Ikram Sehgal writes, "I loved Sister Leo, and she loved me in return." The must-read articles in this volume, which carries a foreword by Mushahid Hussain, are in section 4 on Foreign Policy. The tribute to Mahatir Muhammad is inspirational, and aptly ends with, "Mahatir, The Magnificent."
The years, 1998-2000, are covered in volume 4, the foreword of which is written by Owen Bennett-Jones, a journalist and one-time BBC host of the programme, Newshour. This is dedicated to Ikram's better-half, Shahnaz. He talks with pain of his summary dismissal from the army with no reasons assigned; this coincided with the loss of his new-born son, Farhad. Ikram traces Shahnaz's family genealogy and his relationship with all his in-laws in detail.
Volume 5, that encapsulates the years 2001-2003, is titled 'Power Play' and is dedicated to his son, Zarrar, and Lt. General Ali Kuli Khan. Writing about his son, Ikram Sehgal the proud father, cites his various achievements. As for Lt. General Ali Kuli Khan, he is someone Ikram adores and publicly expresses his admiration for him. It is visible from the multiple times his name appears in the volume. The interesting reads in this volume are, 'Nationalising Bundoo Khan,' 'Attila on leadership diseases' and 'With Enemies Like Advani.'
The period 2004-2006 is covered in volume 6 titled, 'Passage to Nowhere.' It is dedicated to his daughter-in-law and his friend, Lt. General Lehrasab Khan, and Mr. & Mrs. Moinuddin Ahmed. Ikram pays tribute to both Mr. & Mrs. Ahmed, who taught him at Saint Lawrence College.
Volume 7, 'The Gathering Gloom,' covers the period 2007-2009, The departure of President Musharraf and the induction of Asif Zardari as President is mentioned in several articles. This period signifies a pivotal change of direction — not for the better, but for sure the worse. A must-read in this volume is, "The Singer and not the Song" — it is a precursor to the events that followed.
Volume 8, aptly titled 'The Years of Darkness,' covering the period 2010-2012, is dedicated to his second daughter and two friends from the army. About one of them, Brig. Muhammad Taj, Ikram says, "Taj was a difficult man to live with [in times of peace], but he was a calm person during battle."
In his foreword, Dr. Marc H. Siegel writes, "this series of books will take you on a first-hand journey through Pakistan's [politics] and international politics over the past decades through the eyes of someone who both impacted and was impacted by the events."
Volume 9, 'Merit can be a disqualifier,' covers the Nawaz Sharif era between 2013 and 2014.
Volume 10, relates to 2015-2016, and is titled 'A State of Hypocrisy.' An interesting read in this volume is the comparison between a factory manager's loyalty to the owner/entrepreneur vs. the army chief's loyalties to the state.
There is 'Light at the End of the Tunnel, says Volume II, covering the period between 2017-2018. Dedicated to Ikram's grandson and all his partners and colleagues in business ventures, this volume carries two forewords, one by Ross Perot Jr. and the other by Mel Harrison. Volume 12 is a capping to the 11 volumes and is pointedly titled 'Challenging Pakistan's Destiny.' This volume is dedicated to his regiment and not surprisingly is the longest with 455 pages and is the closest to recent history. It has pictures of a young and handsome Lt. Ikram Sehgal. Readers must read the article, on Khalid bin Waleed: Leader Extraordinaire.
All in all, Ikram Sehgal's A Personal Chronicle of Pakistan adds to the richness of our heritage. It presents, past and recent history of the last 40 years with its many facets. It offers very rich research material for students, political analysts and experts on internal and external
security. The entire set is a must for all libraries, especially of the Foreign Office and Parliament — if there is one in either place and if it is ever visited. There are many lessons to be learnt by policy-makers, if they care to go through some of the 12 volumes.