Though sometimes reminiscent of him, I wouldn't say that Wasim is Sancho Panza, the wise guy, a realist, a character from the Spanish novel Don Quixote, because he is also sometimes Don Quixote, the idealist character.
I remember anxiously waiting alongside Iqra University's higher management team for Vice-Chancellor and President Professor Dr. Wasim Qazi for a critical meeting last year, after COVID-19 had halted life as we knew it. Everyone was worried about their lives and livelihood. Educational institutions were shut down, businesses were going bankrupt, job losses were imminent, and the economy had taken a nosedive.
Dr. Wasim entered the meeting room, asked for the whiteboard, and fervently began scribbling on the board. Turning to address us, he said that thereafter we had to strictly follow the government SOPs, but we would neither discontinue academic activities nor downsize. He then shared his strategic action plan to turn the COVID-19 challenge into an opportunity, quoting the philosopher who said, "what doesn't kill us makes us stronger."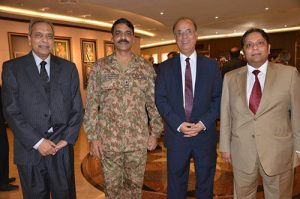 Dr. Wasim's hope, resolve, and clear strategy enthused Iqra University's faculty, staff, and students to learn together to engage, cooperate, collaborate, and continue academic and extracurricular activities online.
I first met Wasim three decades ago in the philosophy department of Karachi University, and we instantly became friends because of our love for humour. He still enjoys a good laugh and laughs the same way he used to laugh then.
He was known as the 'Practical Intellect' at the philosophy department because of his deep understanding of practical matters. In Greek and Muslim philosophy, the practical intellect deals with moral and worldly affairs, and Wasim seemed to embody this.
When philosophy department students organised a party at my house, Wasim unexpectedly came by in the morning and stayed until evening, animatedly chattering throughout that day, like Don Quixote, about the dream he had last night of our old world transforming into a beautiful new world with a new language, new culture, and new society. Sometimes I check if he still remembers that dream, and he does. So too do I.
Like most of us at Karachi University, Wasim also came from a humble background. He told us that once he asked his father for bus fare to go to school because the bus conductor wouldn't let him or others ride on the bus without fare money, and instead of coughing up the required amount, his father replied, "Why don't you take another bus then." Wasim was more determined and hard-working than most of us. When the rest of would be chilling at my house after classes, he would leave to give tuitions — this to help his family financially. Quite amazingly, he had started giving tuition to 9th graders when he was just in 10th grade himself.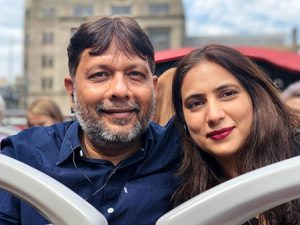 Wasim was deeply inspired by his father's relentless struggle to raise three sons and two daughters and his determination and wisdom to educate them all to the highest possible level. I think his resilience, adaptability, improvisation, and will to overcome challenges come from his father.
I believe Wasim's insistence on universal access to quality education and his motto that the internet is a human right are grounded in his own life's journey. As a student, he attended public educational institutions, and so has a personal experience of the problems and opportunities in public educational institutions. Wasim can empathise with the underprivileged communities, their concerns, fears, and hopes. He has an uncanny talent for leveraging hope to motivate people, and for improvising, innovating, and creating solutions for their problems.
From the onset, Wasim had a clear vision vis a vis work in the education sector. He aimed to develop human resources for sustainable development, peace, and prosperity. He always selected his mentors prudently to achieve his goal of transforming society through awareness and education, beginning his journey under the leadership of the seasoned educationist and Vice Chancellor of Hamdard University, Professor Dr. M. H. Qazi. And in the short span of just a few years, Hamdard, the only private university in Sindh, became a renowned institution of higher education. Next Wasim went on to complete his doctoral work on the administration of educational institutions under the supervision of famous Pakistani philosopher, Professor Dr. Manzoor Ahmed.
Through this journey Wasim learned how to create private institutions of higher education, build their governance models, develop their policies, and create successful strategies while considering the contingencies. He knew the value of the educated faculty, continuously improving curriculum, impactful research projects, and creating a conducive learning environment. And then, he put his training to the test by establishing universities across the country, among these the University of Lahore and the Faisalabad University.
Professor Dr. Wasim Qazi has been the Vice-Chancellor and President of Iqra University since 2017 and has continuously improved its quality of education, research, and culture.
Professor Dr. Wasim Qazi has also participated in developing the government's educational policy, implementing educational reform projects of international and national non-profit agencies. He has worked closely with the Reform Support Unit, the Department of Education, Government of Sindh, the Bureau of Curriculum and Extension Wing, the Department of Education & Literacy, UNICEF, the World Bank, USAID, the Asian Development Bank, and The European Commission (EC).
He has collaborated with Harvard Business School, USA, and other international universities worldwide to enhance collaboration opportunities. In the process, Iqra University has signed Memorandums of Understanding (MoUs) with top-notch international universities to open the doors of academic exposure for its faculty and student body.
Professor Dr. Wasim Qazi advocates sustainable development and passionately motivates all stakeholders to work together to realise the Sustainable Development Goals 2030 and the OIC (Organisation of Islamic Cooperation) Action Plan 2030. He is an open-minded, forward-looking optimist who believes in non-binary thinking, innovation, improvisation, and innovation to cooperate and collaborate with public, private, and not-for-profit organisations to solve local, national, regional, and global problems.
And his amazing journey of excellence continues…