Pakistan is among the top five freelancer markets in the world. With an English-speaking education system and a good analytical mindset. Pakistan is ranked as the fourth most popular country among the top destinations for Internet Communications and Technology (ICT) outsourcing because of the exponential growth of the IT sector. Moreover, Pakistan enjoys the fourth position globally in the category of Software Development and Technology.
As a result of the twin forces of the Fourth Industrial Revolution and the COVID-19 recession, day-to-day digitalisation has leapt forward, with a large-scale shift to remote working and e-commerce, driving a surge in work-from-home arrangements and a new marketplace for remote work. However, it has also brought about significant well-being challenges as workers have struggled to adapt to new ways of work over a short period of time.
The Pakistan Freelancers Network, launched by Extreme Commerce, comprises professionals engaged in creating e-commerce solutions and expertise for Amazon, Ebay, Shopify, and other domestic and international portals for ecommerce and digital trade. The Freelancers Network is also working to prepare Pakistani youth to cater to the global demand for emerging technologies that will dominate freelancing work by 2025, including Cloud Computing, Big Data Analytics, Internet of Things (IOT), and Artificial Intelligence (AI) etc.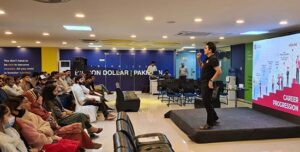 The World Economic Forum's Report on the Future of Jobs states that "In the COVID-19 context, workers have been segmented into three categories: 1) 'essential workers' such as delivery personnel; career and health workers; food shop workers; agricultural workers and manufacturers of medical goods; 2) 'remote workers,' who can work remotely and are likely to keep their jobs; and 3) 'displaced workers,' who have been displaced from their jobs in the short term and potentially will be in the future, and who fall disproportionately into the sectors most negatively affected by the pandemic, namely Hospitality, Retail, Service work, as well as Travel and Tourism.
The Pakistan Freelancers Network has crossed the 1,000,000 (one million) mark and has created a new workforce that can contribute globally from Pakistan, bringing more remittances into Pakistan as compared to the past.
Pakistan is also repositioning its technical workforce, from the traditional low-skill and low-paying jobs to a more sophisticated technical education and skill sets. The recent initiatives by the Technical and Vocational Training Authority Punjab (TEVTA), in a recent agreement with RINSTRA, has outlined its vision for digital storytelling as one of the key skills for technical jobs in the country. RINSTRA is Pakistan's first platform for Digital Storytelling.
TEVTA Punjab showcased RINSTRA and Extreme Commerce at the Dubai Expo 2020 and showed the world how Pakistan is ready to benefit from platform economies. The platform economy is an economic and social activity facilitated by platforms. Such platforms are typically online sales or technology frameworks. The most common type by far are 'transaction platforms,' also known as 'digital matchmakers.' Examples of transaction platforms include Amazon, Airbnb, Uber, Careem, Food Panda, and Daraz.
RINSTRA is creating initiatives to identify storytellers who can be groomed and presented on the world stage. People who have the skills to showcase their expressions through scripting, editing, animation, graphics, and simple film and documentary-making are being identified through competitions and film festivals that are subsequently to be advanced to international competitions. So far, RINSTRA has been successful in engaging more than 120,000 people who are interested in producing quality content in various genres from Pakistan.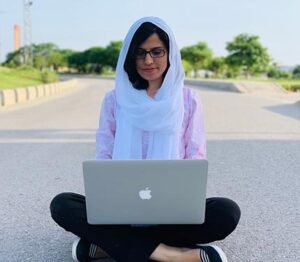 The new initiatives by TEVTA include stakeholders like National Vocational and Technical Training Commission (NAVTTC), the World Bank, the Asian Development Bank, the TVET Sector Support Programme (TVET SSP), the European Union, and the Norwegian and German Governments. This has also brought a paradigm shift from its conventional system approach to a modern skill ecosystem to be implemented henceforth.
Fresh evidence from the Chief Human Resource Officers, who are conducting the World Economic Forum's Future of Jobs 2020 Survey, indicates that, on average, 44 percent of the workers can work remotely during the present COVID-19 crisis, while 24 percent of them are unable to perform their current role. This estimate indicates an aspiration to expand the availability of remote work. The current theoretical share of jobs that can be performed remotely in any given economy has been approximated at 38 percent of jobs in high-income countries, 25 percent in upper-middle income economies, 17 percent in lower-middle income economies and 13 percent in low-income economies.
COVID-19 has impacted the workforce and taught them to improve work efficiency while operating from home. This has introduced new forms that have enabled the work to be done via zoom and meets etc. Additionally, it has enabled the workforce to go digital and stay connected, irrespective of time and space constraints.
The new and emerging jobs being identified for Pakistan are: Business Development Professionals; Digital Marketing and Strategy Professionals; Mechanic and Machinery Repairs; Digital Transformation Experts, and Big Data Specialists etc.
Some of the jobs that are becoming redundant and losing their market share include those that can be done more efficiently by algorithms and computers like data entry clerks; administrative and executive secretaries; analysis work, general and operations managers; sales, assembly, and factory workers. Similarly, accountants and auditors are also being replaced by systems and software-based tools.
The World Economic Forum has indicated in its Future of Jobs Report that, 'the ability of global companies to harness the growth potential of new technological adoption is hindered by skills shortages. The skills gaps in the local labour market and inability to attract the right talent, remain among the leading barriers to the adoption of new technologies. In the absence of ready talent, employers provide access to reskilling and upskilling to 62 percent of their workforce, and that by 2025 they will expand that provision to a further 11 percent of their workforce. However, employee engagement in those courses is lagging, with only 42 percent of the employees taking up employer-supported reskilling and upskilling opportunities. Incidentally, this trend is quite low in Pakistan and the desire for the companies to spend money on training is diminishing every year, as the bottom line lowers every year, with shrinking profit margins.'
Skill shortages are more acute in emerging professions. The ease of finding skilled employees across a range of new, strategic roles, including business leaders, is becoming increasingly difficult. It is hard to find Data Analysts and Scientists, AI and Machine-Learning Specialists, as well as Software and Application Developers, among other emerging roles. While an exact skills match is not a prerequisite to making a job transition, the long-term productivity of employees is determined by their mastery over key competencies. Although Pakistanis are more active in acquiring new digital skills, they lack the sophistication and finesse that is required in these professions.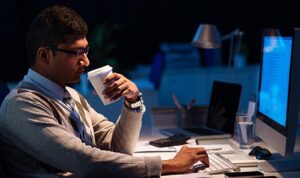 Some of the barriers to removing the skills gap in the local labour market are the inability to attract specialised talent, a lack of understanding of opportunities, low flexibility of the regulatory framework, shortage of investment capital in the ecosystem, lack of flexibility in hiring and firing, and a lack of interest among the leadership in their foresight for the future. These shortcomings can be overcome through a more public policy focus on the need for the jobs of the future and a more active industry-academia linkage that can generate more debate and collaboration for solutions-based, commercially-oriented research.
One thing that is still lacking in Pakistan is the future orientation of the government's policies for placing more emphasis on the need for jobs of the future. This requires a conscious effort which can bring the various arms of the government to work towards identifying and improving the competitiveness challenges of Pakistan and devising ways to improve them in order to create livelihood opportunities for 57 percent of the population which is still below the age of 18. The challenge before the government is to create 150,000 jobs every month, as this is the number of people entering the job market, month after month.