In Pakistan, more than 22.8 million children between the ages of 5-16 have never stepped inside a school. In 1995, six friends in the sprawling metropolis of Karachi decided that this was an unacceptable status-quo. They pooled their resources and funded five professionally designed purpose-built schools in a few slums. And they decided not to stop there. Those five schools have gone on to ignite a movement across Pakistan, expanding to 1,652 school units in over 700 cities, towns, and villages. The Citizens Foundation (TCF), now one of South Asia's largest non-profits in formal schooling has been educating boys and girls from some of Pakistan's poorest, most neglected communities for 25 years. But it has done much more than building schools. It has become — along with the 266,000 children it has helped thrive — one of the most uplifting stories coming out of a country reduced to a global symbol of violence and despair.
The Economist describes TCF as, "perhaps the largest network of independently run schools in the world." It also goes on to mention it as "Pakistan's largest single employer of women in the private sector."
All the schools are located in slums and villages that lie forgotten in the cities, villages, and valleys of Sindh, Punjab, Balochistan, Khyber Pakhtunkhwa, and Azad Kashmir. All have given a new lease of hope to thousands of Pakistani families. TCF students have gone on to prestigious higher education institutions to study engineering, medicine, information technology, business, and vocational skills to help them carve out successful careers. They are often the first children in their families to ever go to school, and almost always the first to ever attend college, with help from a strong alumni college placement program. Many are also teaching their illiterate parents and siblings how to read, helped by a growing adult literacy programme run in some TCF schools after hours.
TCF graduate, Abdul Wahid, gives an example of this sweeping movement of education. He is now a student of BS Physics on a scholarship at one of Pakistan's top universities, the Lahore University of Management Sciences (LUMS). The son of a small farmer who tended his fields in a small village of Bhurawala, Punjab, Abdul Wahid grew up working hard on his father's farm while attending a TCF School in his village all along. Abdul Wahid says, "I remember it was just seven or eight of us who joined TCF initially…it amazes me to think now how much things have changed. Now, mostly all the boys and girls in our village are going to school! I am the very first person in my village to reach university. I am treated with so much respect and admiration; people want to know what it's like being in a university."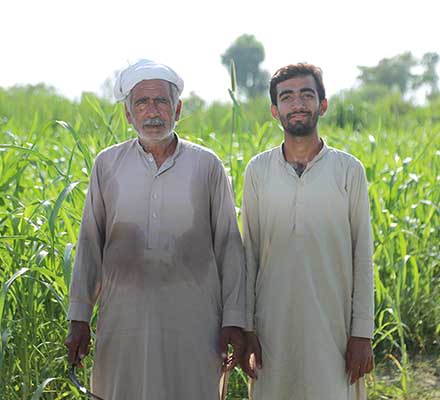 Amjad is a rickshaw driver in Karachi who drives along the winding roads of the city, looking for passengers all day, barely making ends meet. While Amjad strives to make a living wage, his daughters, on the other hand have begun to follow their dreams, carving their own paths to a better future. After studying at TCF Schools, three of Amjad's daughters are pursuing their tertiary education in some of the best institutions of the country. The eldest one, Amina, is enrolled in the Pharmacy Programme at the Dow University of Health Sciences; second in line, Armina, is studying in the Business Administration programme at the Shaheed Zulfikar Ali Bhutto Institute of Science and Technology (SZABIST), while the third one, Muskan made it to Institute of Business Administration (IBA), another premier institute of the country, to study Computer Science.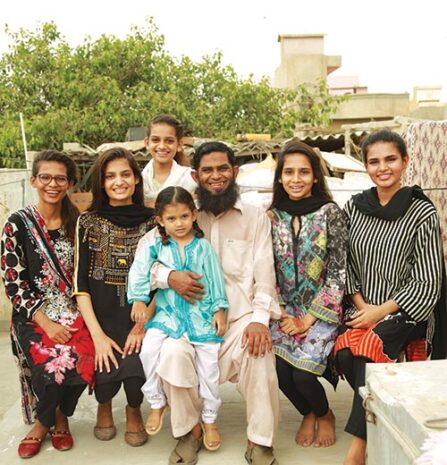 The younger three include Mansha who studies at the TCF College, while Jaweria and Alisha still attend their TCF School as first and eighth graders respectively.

About half of the students at TCF schools are girls, most being the first young women in their communities to step inside a school. Many have gone on to become educators in their own schools. In its quest to welcome more girls, TCF employs an all-female faculty of close to 13,000. These teachers are provided full transport to ensure safe passage to schools located in barely accessible areas. Every teacher undergoes intense pre-service and in-service training at TCF's teacher training centres. Its education experts design a new, high standard curriculum to supplement the curriculum mandated by the government. The teaching approach is child-centred, and reflects strong social and moral values, with universal principles of tolerance, peace and love.
For example, in a TCF school in Daharki, a small city in the Sindh province, the principals and teachers made a concerted effort to deal with discrimination against the children of the town's sizeable Hindu community. The Muslim children, carrying over values taught at home, would refuse to sit with or share water with the Hindu children. The Daharki teachers overcame this discriminatory behaviour through continued, gentle instruction in and outside the classrooms, and soon, the children were able to shun the prejudices taught at home and began to freely mix with each other in the school's open and loving environment.
Many Pakistani parents have never looked beyond making ends meet. By simply enrolling their children in school, they are already breaking the mould. Convincing them to take that first step is often challenging, especially when children help a family earn its living, but TCF school principals do it every day. Every new school is a product of a comprehensive needs analysis and hard-won community buy-in. It is no wonder that these schools are considered as safe zones and havens by parents and children alike, rather than a threat to their traditional values. TCF students' dreams, big and small — of helping their communities, exploring the world, soaring in the skies, or just taking up a profession nobody else in their family ever has before — all tell of a remarkable journey made possible by the power of education. From teachers who travel up to three hours a day to teach in some of the most remote villages in Pakistan, to principals who persuade conservative parents to send their daughters to school, to volunteers across the world who tirelessly raise funds, the story of TCF is one of changing paradigms. It shows that change is not only possible in Pakistan; it is already on its way.