When we took the strategic decision at the start of our Spring 2019 Semester to adopt Moodle Learning Management System (LMS) as an essential part of the Institute of Business Management's (IoBM's) campus-wide technology upgrade, we did not imagine that it would soon become so integral to our operations. Our original plan envisaged achieving three clear objectives within two years viz. uploading of courses designed for online teaching, integrating our digital library system into LMS, and more importantly, initiating faculty training by Fall 2019. The latter objective worked propitiously to our advantage, when the first case of COVID-19 was reported in the country in February 2020, sending shock waves across all sectors, including the education sector. Enthused by the small advantage we had, we decided to speed up the rollout of Moodle LMS, as we clearly envisioned greater reliance on technology for education, in the months and years ahead.
With a complement of 400 permanent and visiting faculty members, split almost evenly down the middle, faculty training on online teaching techniques in addition to LMS, became our top priority. We knew that it would entail skill development in the areas of designing of online courses, preparing materials and digital videos, and achieving optimal student-faculty engagement. It was obviously a challenging task but one that we were reasonably well equipped to handle. We therefore decided to put all our internal resources to bear, and at the same time collaborate with at least one strong external partner to achieve our goals.
Hence, apart from pulling out all the stops to get our faculty members trained on LMS by September 2020, a year ahead of schedule, we set up a video recording facility where both permanent and visiting faculty could book time for recording their lectures and presentations, and we obtained an institutional license from Coursera, so that our faculty members could also register for one or more of the thousands of short duration online certificate courses available on the platform. Coursera courses, we knew, were offered by top universities in the world.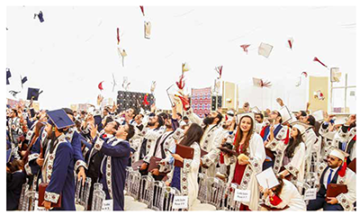 Next, in order, to carefully monitor progress on LMS training at the departmental level, we assigned the heads of departments of every programme in our four colleges, the responsibility for assessing, monitoring, and reporting on faculty readiness. The Academics Department was concurrently charged with overseeing the process, and developing various reports in collaboration with the IT Department.
We realised that in order to achieve our ambitious objective, we would have to gain complete buy-in and integrate our efforts at the pan-institutional level, so that progress continued unhindered. We therefore took the important step of establishing an Online Academic Council or OAC around mid-June 2020, comprising the Rector, Deans, and Heads of Departments to meet with me once a week, and monitor progress on our "Covid Action Plan" and deliberate on any change in policies or procedures that may be required, for its meticulous on-ground implementation.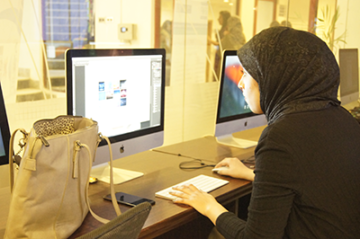 As a result of these concerted efforts, we as an institution came up to speed much sooner than most other higher education institutions, as was observed during the series of Vice-Chancellors' meetings organised by the Higher Education Commission, where we shared our efforts and achievements with other leading universities.
We had taken every care to meticulously plan our journey of LMS technology assimilation, and as a result, we reached our desired degree of readiness well in time. A major consideration in that regard was that we wanted to close our academic year 2019-2020 on time, so that the graduation of nearly 1400 students, expected to complete their degree requirements, was not delayed.
Meanwhile, we kept a sharp eye on Higher Education Commission (HEC) Policy/Guidelines for Universities and Degree Awarding Institutes, reflecting the decisions of the National Core Committee (NCC), the government's lead agency in the anti-COVID-19 campaign, charged with reviewing the status of the pandemic and taking critical decisions for its containment. Finally, the decision to reopen educational institutions, including schools and universities, that had been under discussion since April 2020, came on the 15th of July, 2020, allowing the resumption of on-campus classes in phases, starting from the 15th of September of that year.
Throughout this time, the Academics Department at IoBM remained on guard, overseeing the scheduling of classes, student assessments and uploading of results, as well as faculty and student attendance, in close coordination with the heads of different programmes, and concerned departments, primarily IT and Examinations. Once on-campus classes started, Academics had to readapt their plans and schedules to accommodate nearly 40 percent of the student body, who were identified for attending classes on campus, given the need to strictly comply with guidelines issued by the HEC, while keeping the rest of the classes online.
On the LMS front, while it had become standard practice by the time Fall Semester 2020 classes commenced, heads of departments focused on monitoring the progress of classes as well as student engagement. Specific reports were prepared by Academics in collaboration with IT, for the review of the Rector, Deans and Associate Deans, so that any opportunity for further improvement in the learning process could be grasped.
Apart from the onerous task of maintaining institutional performance at its optimal level, a heavy responsibility on our shoulders was to constantly communicate with our students in order to keep them focused on their education, yet give them space when they were stressed out, and manage the concerns of parents — in short, manage the psychological impact of the uncertainty and chaos created by a pandemic that showed no signs of relenting any time soon. Yet, it feels good to know that we were able to meet most of our targets in what was unquestionably a very challenging year, and also organise our Convocation 2019-2020 successfully in a hybrid format, to send out our Silver Jubilee Class in high spirits, to shape their careers with courage and confidence, even under a lingering pall of uncertainty.